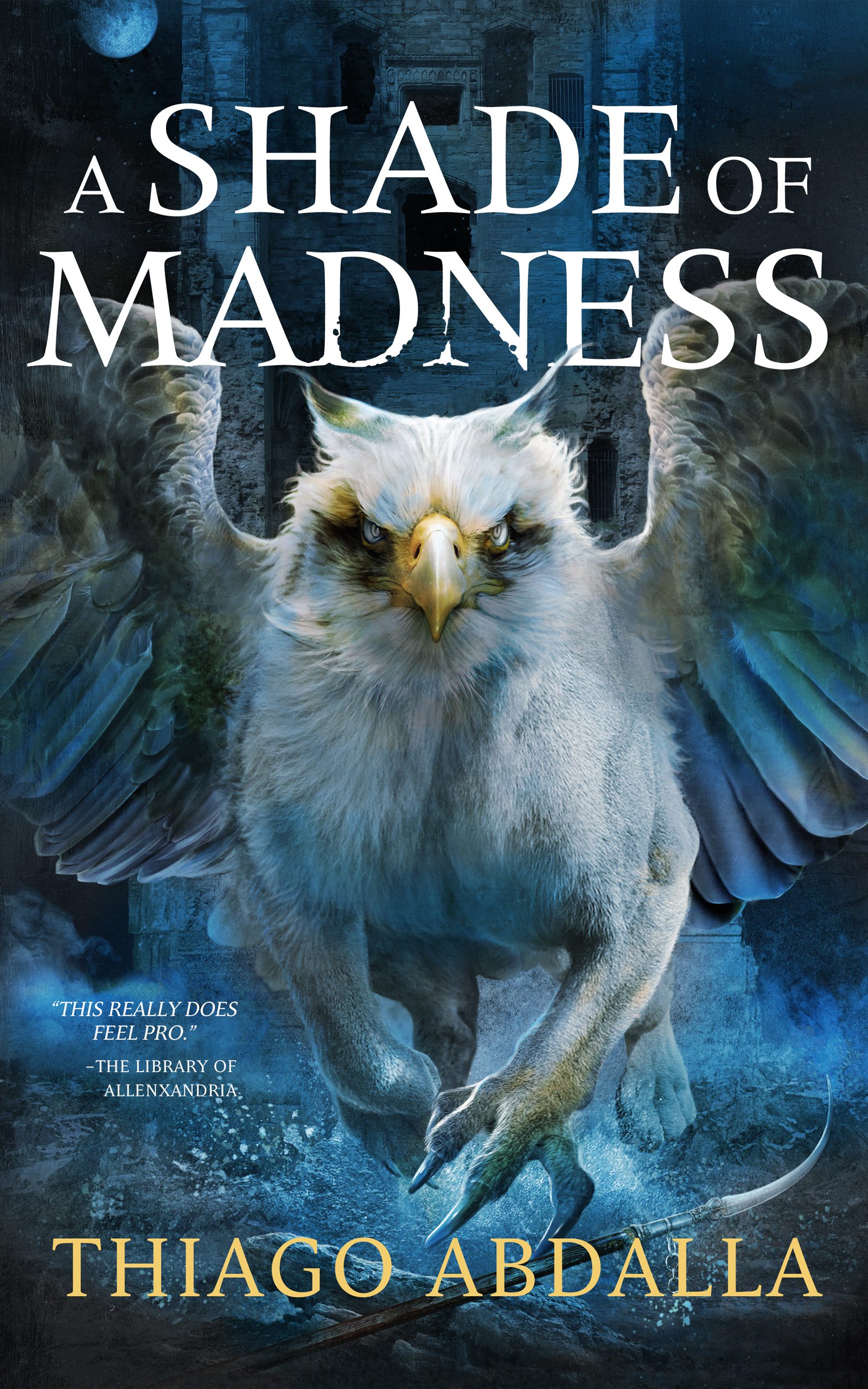 Rating: 10/10
Synopsis
Avarin tumbles into madness through the shattered ruin of a centuries-old peace.
As griffin riders clash against airships above and hordes of madmen below, Lynn finds herself surrounded by enemies. Ones that will test the limits of her faith. To defeat them, she must risk everything… including her sanity.
Adrian has lost the Legion, but new magics on foreign shores might be the answer he needs to rebuild his army. His return to the Domain will bring vengeance, and the hope that he will finally prove himself to his father.
Nasha's curse has taken on a new, terrifying shape. She dreads it could be just what the dead goddess needs to escape from Her prison within the Silent Earth. Will she be strong enough to resist, or will Nasha's curse give rise to the monster she fears to become?
Madness is spreading and it cares not for the borders of men.
A Shade of Madness is the second book in the Ashes of Avarin series, picking up straight after the exciting conclusion of A Touch of Light.
Review
If all of Thiago Abdalla's sequels continue to be as strong as A Shade of Madness then I think we are witnessing the rise of a dominating new fantasy author that rivals authors such as Mark Lawrence and John Gwynne. This was the action packed thriller that I was hoping for to follow up A Touch of Light, which was one of my top reads of 2022. All that to say, A Shade of Madness is a gloriously action packed follow up to what is quickly becoming one of my favorite fantasy series of all time.
It's quite 'maddening' how many reasons I have for loving A Shade of Madness. It was a solid step up from A Touch of Light and holds strong against the second book curse. Honestly, I'd argue that ASOM is BETTER than ATOL. It answered just the right amount of questions yet still holds onto some of the core burdens that the main characters are facing leaving you burning for book three. Let's go through some of best reasons why you need to continue reading the The Ashes of Avarin series.
When reading a Touch of Light you probably realized that the world of Avarin is a big world with many unique cultures. Similar to Robert Jordan, Thiago is a master at creating these cultures in such a way that it is always clear where someone is from based off their mannerisms or things they speak about. I found this very immersive in book one and this continued in book three as well.
The character arcs in ASOM continue starting from page one. There is no slow introduction, no rehashing of events and character details. Thiago throws you back into the fire from page one with very little remorse and practically no time jump. I actually had to read the book one summary twice to fully understand where we were left off to fully understand chapter one. While this might sound a little daunting I assure you that it is worth it. This allowed the story to hit the ground running and draw you in almost instantly.
That was a slight detour from the characters themselves but understanding where the characters begin is helpful to understand that their stories are fully continued and their growth continues to happen as they all wrestle with their past to help guide them to their future. There is even an additional character addition that is completely unique to book two. I found him interesting and a strong edition to the story overall.
The world building continues to amaze me. I know that I mentioned his skill in writing cultures above but the world itself and how it functions from a metaphysical and supernatural level is different and quite creative. And what I really love about that is that he does not spoon feed you the details. He uses it to his advantage and lets it be a part of the story as the characters themselves seek to discover these things as well.
The plot of A Shade of Madness flows well from book one and really takes large leaps in motivation and adding in a larger sense of urgency to what characters are doing and why they are doing them. If you liked book one you'll love the continuing of the plot in it's sequel.
Finally, let's talk about the major themes. Similar to ATOL the big overall theme in this novel revolves around death. However, where I think it differs is that book two seems to focus less on the concept of death and more on how we as humans handle the thought of death. Whether that's our own fear of death or the fear of the death of our loved ones, I found much more along those lines. There is also a larger question of how religion plays a role in the world. Without giving anything away, book two really helps flush out how religion has impacted their world, no matter if it is a supernatural change or how those with religious power play a role. Finally, there is much to be said about the relationship between parents and their children, and family in general. I could say SO much more, but if I did that I would begin giving things away so I shall stop.
If you can't tell I am a major Abdalla fan at this point and I HIGHLY recommend that you check out A Shade of Madness! It is the perfect blend of grim-dark fantasy and thriller that I swear to you will keep you turning page after page until you find yourself wearing and begging for book three.
A big thank you for both Thiago's publishing team and Escapist Book Tours for letting me receive the book early to read and review. You guys rock!