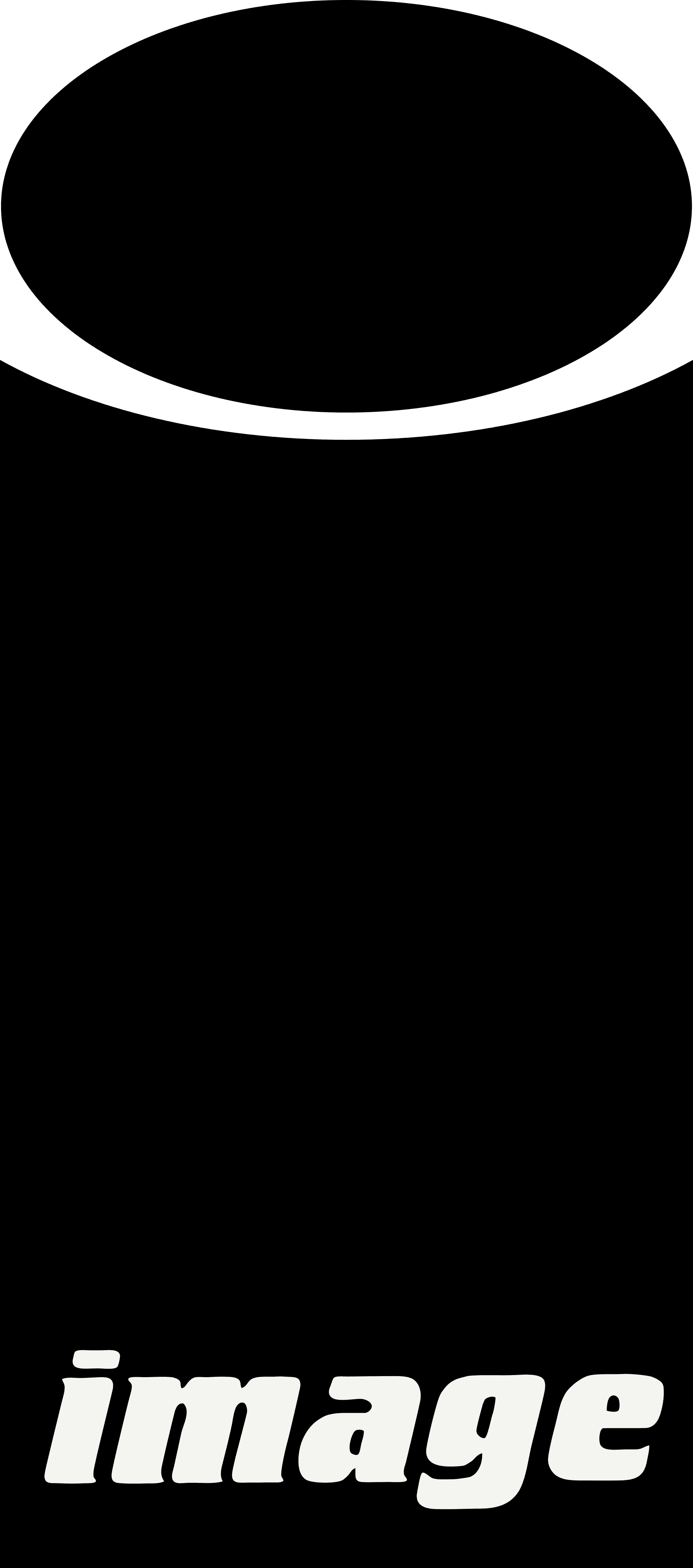 I have decided, since the people over at Image Comics seem to like me and send me ARCs of all their releases, I will begin sharing what I read throughout the week (in case you are into comics and graphic novels). I'll also share any that I have purchased.
While it can oft times be difficult to write a full review about a 30ish page issue of a series, I'll give the synopsis, my rating, and any comments I make about what I've read and why you should give it a shot. Maybe it'll be enough to persuade you to check it out? If not, at least you can enjoy the beautiful artwork.
*Click covers for individual links to Amazon*
–Reviews by David
Ice Cream man #4
Synopsis:
"EVERY GOOD BOY DOES FINE"
Another woeful one-shot! Here, a guy named Joel has drinks with his best friend's estranged dad. As for the best friend? Well, I suppose you could say he's in a bit of a pickle.
Verdict: 
4/5 Stars. Joel attends his best friend's funeral and gives the eulogy. What he doesn't expect is his best friend's estranged dad to show up and take him for drinks. While they mourn their loss, the old adage "he is in a better place" doesn't quite come to fruition.
Still thoroughly enjoying these one-shots. Creep as hell and just enough to fill your bowl.

Head Lopper, Vol. 1: The Island or A Plague of Beasts
Synopsis:
The Head Lopper, Norgal, and the nagging severed head of Agatha Blue Witch arrive on the Isle of Barra to find it overrun with beasts; minions of the Sorcerer of the Black Bog. When Queen Abigail hires Norgal and Agatha to slay the Sorcerer, our heroes trek across the island relieving the horrors of their heads – and playing right into the hands of a master manipulator.
Collects issues 1 through 4.
Verdict:
5/5 Stars. Artwork is Mike Mignola-ish (Hellboy) and that is one reason why I absolutely loved this comic. Well that and the fact that Norgal, aka The Head Lopper, lops heads. Seriously. When the Isle of Barra is overrun with beasts, Norgal steps in and does what he does best. Too bad the Sorcerer of the Black Bog may be too much for him to handle. The head of Agatha the Blue Witch gives plenty of hilarious commentary and the comic has an Adventure Time-esque feel to it. Highly recommend.
Kick-Ass (Kick-Ass #1: 1-8)
Kick-Ass 2 (Kick-Ass #2: 1-7)
Synopsis:
Vol. 1
Wolverine: Enemy of the State's team of Mark Millar (Civil War) and John Romita Jr. (World War Hulk) reunite for the best new book of the 21st century!
Have you ever wanted to be a super hero? Dreamed of donning a mask and just heading outside to some kick-ass? Well, this is the book for you- the comic that starts where other super hero books draw the line. KICK-ASS is realistic super heroes taken to the next level. Miss out and you're an idiot!
Vol. 2
The sequel to the biggest creator-owned comic of the decade–the one that spawned the number one hit movie and the worldwide phenomenon! KICK-ASS is back, just as over-the-top as ever! As everybody's favorite psychotic 11-year-old HIT GIRL trains KICK-ASS to be…well, a bad-ass, RED MIST gathers a team of super-villains to take them down! It's super hero mayhem as only MARK MILLAR and JOHN ROMITA JR. can bring you!
Verdict:
5/5 Stars apiece. The neighborhood's favorite scuba-suit wearing super hero, Kick-Ass. Just a kid who wants to make a change in his city, much like his favorite comic book heroes. Too bad he doesn't actually have any super powers, unless you count ignorance. Lucky for him, after a few run-ins and getting his teeth knocked in, a father/daughter team (who actually know what they are doing) help him out. In return, they ask for his help in taking down one of the city's biggest crime bosses.
Plenty of humor, kicking of asses, and a hero to really root for. If you enjoyed the movie, you'll love the comics.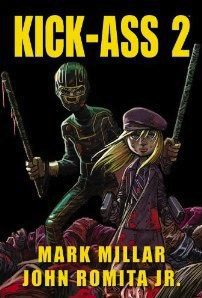 Nailbiter: The Murder Edition, Vol. 1
Nailbiter: The Murder Edition, Vol. 2
Synopsis:
Vol. 1


"Where do serial killers come from?" and why has Buckaroo, Oregon given birth to sixteen of the most vile serial killers in the world? NSA Agent Nicholas Finch needs to solve that mystery in order to save his friend, and he'll have to team up with the infamous Edward "Nailbiter" Warren to do it.
Joshua Williamson and Mike Henderson deliver a mystery that mixes Twin Peaks with the horror of Se7en! This deluxe oversized hardcover of Nailbiter features bonus material never before released including sketches, a process section, the original pitch, and script pages.
Collecting: Nailbiter 1-10
Vol. 2


Sixteen of the world's most notorious serial killers were all born and raised in Buckaroo, Oregon. What is happening in this small town that has created so many serial killers? The worst and most infamous being Edward Charles Warren… the Nailbiter!
Joshua Williamson and Mike Henderson deliver a mystery that mixes Twin Peaks with the horror of Se7en!
The critically acclaimed hit thriller continues with more shocking horror! Is there a new serial killer from Buckaroo?! Are unlocking the town's deep secrets worth selling your soul?
Fans of Wytches, Outcast and The Walking Dead will enjoy this bloody drama!
This deluxe oversized hardcover collects the issues #11-#20 issues of Nailbiter and features bonus material never before collected including sketches, a process section, the original pitch, and script pages.
Verdict:
5/5 Stars apiece. A town where serial killers are born. Heck of tagline to a wonderfully produced story. Full of twists, plenty of blood, and not one character you can actually lean toward liking, Nailbiter is one of the BEST murder mystery/horror stories out there. It is downright terrifying and a bit gory, so viewer discretion is advised.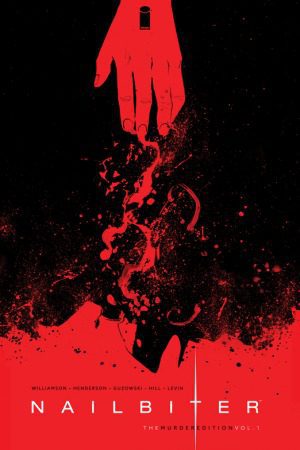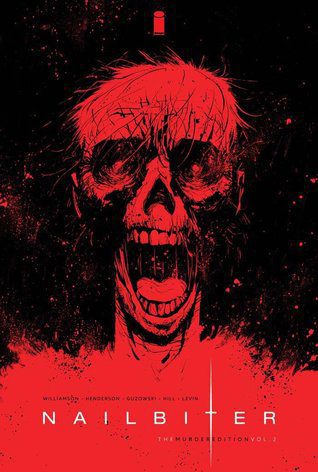 Outcast, Vol. 5: The New Path
Synopsis:
A major turning point in the series! New characters are introduced! Big things are in store for Kyle Barnes as he's faced with something he never could have prepared for–hope!
THE WALKING DEAD creator ROBERT KIRKMAN'S latest horror hit is now a Cinemax TV show.
Collects OUTCAST BY KIRKMAN & AZACETA #25-30.
Verdict:
5/5 Stars. FINALLY, A TURNING POINT. New characters are introduced, an answer is finally introduced as to what the heck is going on, and Kyle comes one step closer to being reunited with his family.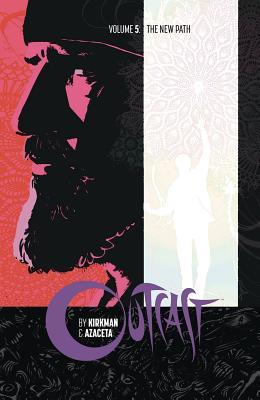 Black Science, Vol. 1: How to Fall Forever
Synopsis:
Anarchist scientist Grant McKay has done the impossible! Using the Pillar, he has punched a hole through the barriers between dimensions, allowing travel to all possible universes. But now Grant and his team are trapped in the folds of infinity, the Pillar sending them careening through a million universes of unimaginable adventure, sanity-flaying danger and no way home…
Presenting the first mind-warping chapter of the critically acclaimed sci-fi epic by superstar creative team of writer RICK REMENDER (Uncanny Avengers, Captain America) and artist MATTEO SCALERA (Secret Avengers).
Collects BLACK SCIENCE #1-6.
Verdict:
5/5 Stars. Remender at his finest. I swear he has some of the best artists, like Scalera, that really know how to bring his stories to life. The imagination the writer has is astounding and he continues to impress me with his worlds-building and creature creations. Come for the science fiction, stay for the heart.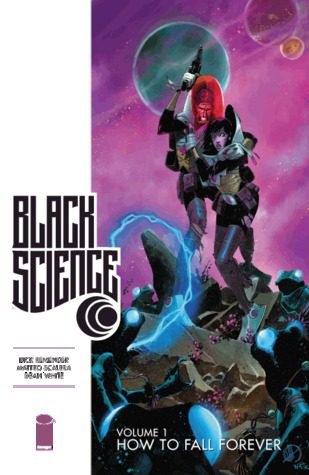 Gideon Falls #2
Synopsis:
The brand-new supernatural mystery series by the acclaimed team of JEFF LEMIRE and ANDREA SORRENTINO (Old Man Logan, Green Arrow) continues. The mysteries of the "Black Barn" heighten as the reclusive Norton begins to unravel new clues just as a murder spree breaks out in the town of Gideon Falls. But how is it all connected?! The puzzle pieces begin to fall.
Verdict:
5/5 Stars. No words. Just continued slow burns to slap-in-the-face conclusions. Absolutely loving this so far.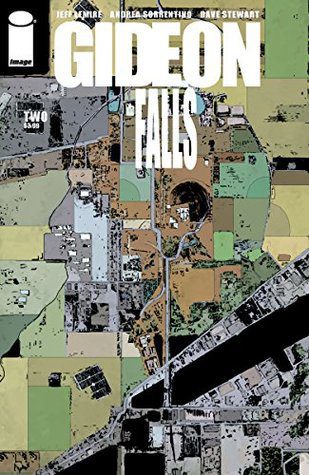 Injection, Vol. 3
Synopsis:
An archaeological dig in Cornwall has gone very wrong, very quickly. And Maria Kilbride has her hands full already, as the effects of the Injection begin to dig in. So Brigid Roth, her old comrade from the CCCU, gets hired to go to a stone circle in the middle of a moor, under a granite tor, to find out why a ritual murder might have torn a hole in the world. What is the Cold House?
Collects issues 11 through 15.
Verdict:
4/5 Stars. Basically an in-depth study on Brigid Roth. While enjoyable, not quite as hard-hitting as the last volume. The eeriness surrounding the stone circle kept me engaged and I'm glad I didn't have a paperback copy because it would be bent as all get out. The artwork continues to bring me back to this series and I'm ready to see how they plan to fight the Injection, instead of just containing it.
Infidel #1
Synopsis:
A haunted house story for the 21st century, INFIDEL follows an American Muslim woman and her multiracial neighbors who move into a building haunted by entities that feed off xenophobia.
Bestselling editor PORNSAK PICHETSHOTE (Swamp Thing) makes his comics-writing debut alongside artist extraordinaire AARON CAMPBELL (The Shadow), award-winning colorist and editor JOSÉ VILLARRUBIA (Promethea) and letterer / designer JEFF POWELL (SCALES & SCOUNDRELS).
Verdict:
4/5 Stars. Shock and awe at the beginning, and then a slow burn until the climax. Not immensely terrifying, but satisfying. The renderings of the "entities" reminds me a bit of Stephen Gammell's work in 'Scary Stories to Tell in the Dark' which, as a kid, scared the hell out of me. Looking forward to seeing where this goes.