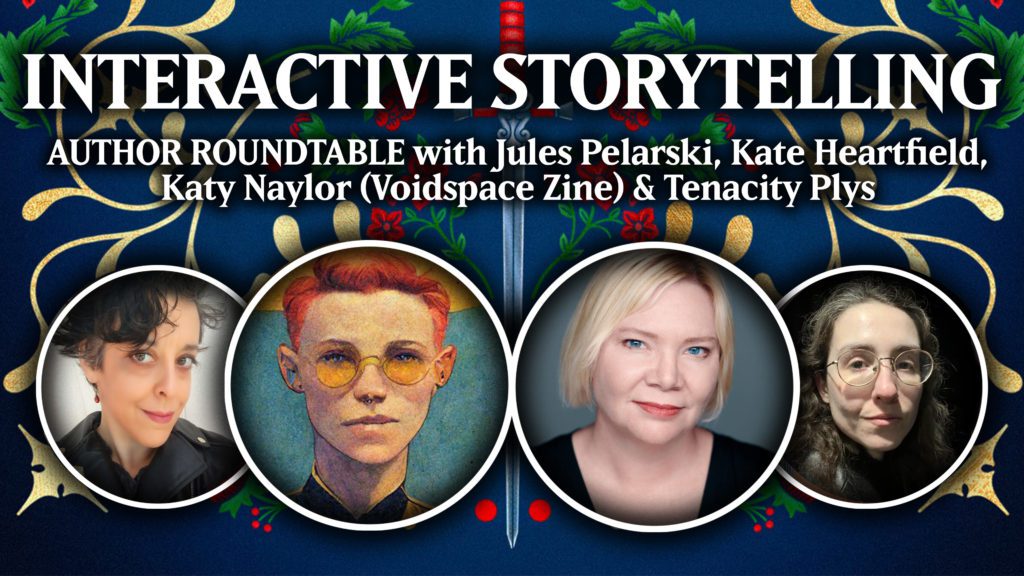 Join authors Jules Pelarski, Kate Heartfield, Katy Naylor (Voidspace Zine) and Tenacity Plys for another FanFiAddict author roundtable! During the discussion, these four talented creatives share their takes on Interactive Storytelling, exploring various interactive mediums, how to create innovative ways for readers/fans to engage with stories, approaches to storytelling through games, art, etc. and much more.
This is the second edition of our monthly AUTHOR ROUNDTABLE series, where we bring a handful of authors together to discuss a topic related to SF/F/H, writing craft, publishing and more.
---
ABOUT THE AUTHORS:
Jules Pelarski is the author of Tempus Fugit, an interactive time travel adventure. Find Jules on ⁠Twitter⁠⁠ or ⁠their personal website.⁠
Kate Heartfield is the author of The Embroidered Book, The Valkyrie, Assassin's Creed: The Magus Conspiracy and more, along with the interactive fiction games The Road to Canterbury and The Magician's Workshop. Find Kate on ⁠Twitter⁠, ⁠Amazon⁠ or ⁠her personal website⁠.⁠
Katy Naylor is the editor-in-chief of Voidspace Zine, and an author of poetry, fiction and games. Find Katy on ⁠Twitter⁠, ⁠Amazon⁠ or ⁠her personal website.⁠
Tenacity Plys is the author of the novella Family Curse, along with numerous short stories, short films and more. Find Tenacity on ⁠Twitter⁠, ⁠Amazon⁠ or ⁠their personal website.⁠
---
The audio of this panel is available to stream and download on:
Anchor | Apple Podcasts | Spotify | Google Podcasts | Podcast Addict | Stitcher | Amazon Music | Overcast | RadioPublic | Pocket Casts | Breaker | Podbay
You can also watch the panel below via the FanFiAddict YouTube channel or stream the audio via Spotify.