First off, I want to thank Lindsey for coming on the blog today and taking a shot at these rapid-fire questions about her life, writing, influences, and other author-y things.
Her "Jack Harper" trilogy – Pivot, Perish, and Peak – was recently acquired by California Coldblood Books, an imprint of Rare Bird Books. The audiobook rights to the trilogy sold to Brilliance Audio, and Emma Galvin – the voice of a myriad of works, including Winter's Bone and the Divergent series – voices Pivot. Pivot started as a self-published novel, moving 65,000 copies and being nominated for and winning many awards. The updated version of Pivot was published by CCB in October of 2019. Book 2 of the series, Perish, will be published in 2020. Finally, Book 3, Peak, will be published in 2021.
Without further ado, let's get to know L.C. Barlow, shall we?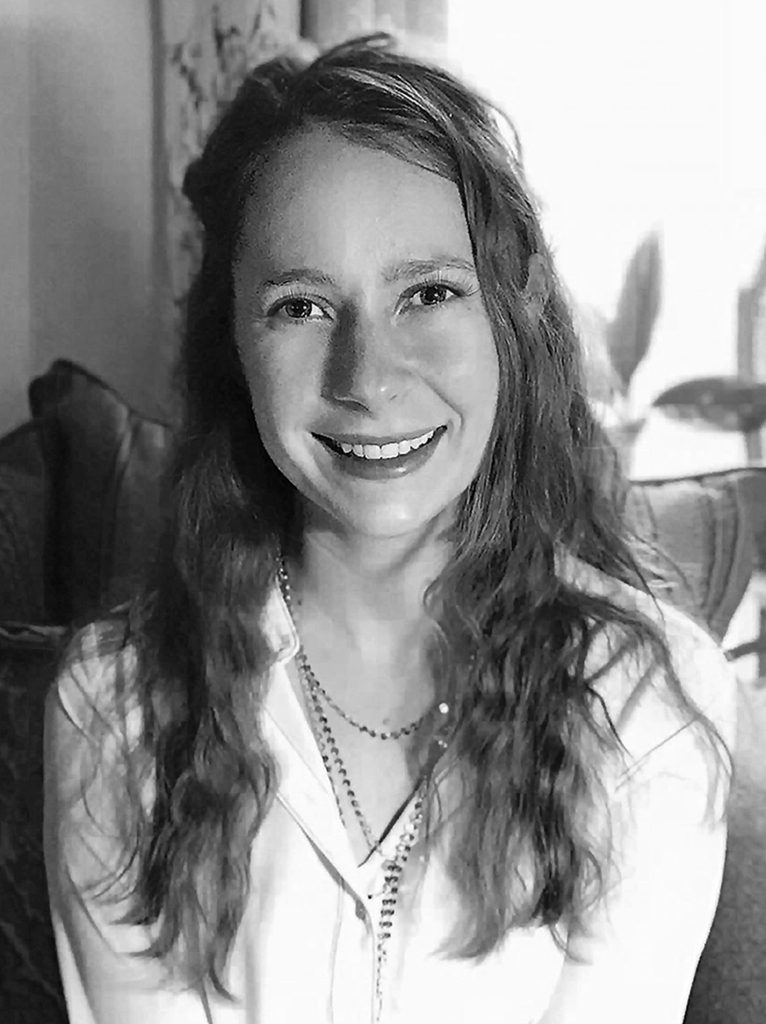 1. Tell me a little bit about yourself (i.e. growing up, schooling, hobbies)
I grew up in Dallas, TX, except for a four-year stint for college in College Station, TX. I have a bachelor's and master's degree in English, as well as another master's in Creative Writing. I love to travel and have often done so alone. I've visited New Orleans, Chicago, Portland, Austin, London, Paris, Dublin, Prague, Versailles, Maine, and many other cities. I lived in New York City for a few months in 2016 while completing an acting class at The William Esper Studio, and in 2014, I stayed with a host family in Talheim, Germany.
Neither one of my parents were much into writing, though they had strengths in other areas – my mom, in particular, is very mechanically-minded and can figure anything out. My dad's expertise was business. Unfortunately, he became disabled when I was about twelve years old. His illness, which I won't get into too much here, lasted about 17 years. I do believe this had a profound impact on me.
I'll add that I do enjoy exercising and was in ballet and gymnastics as a child. I have a large trampoline now and still practice my backflips, front-hand-springs, handstands, etc.
I'm very much into film, and when I find a television series I enjoy, I devour it in a short period of time.
2. How did you get started as a writer? Was it always a dream of yours or something you simply fell into?
The first time I remember saying that I wanted to be a writer out loud was when I was about twelve and hanging out with some friends in my neighborhood. Though I didn't say (or admit) the same thing again until my early twenties, it was/is definitely my heart's desire. I wrote many short stories when I was young, almost all of which I believe were accidentally deleted or are saved on a floppy disk somewhere, never to be found again. During junior high, my friend Stephanie would also write, and we would read our stories to each other over the phone. Eventually, when I went off to college, I started as a biomedical science major. After a year and a half, I decided it wasn't for me and transferred to English, finally deciding to pursue creative writing. I took a horror writing course by accident. I think everyone in that class had no idea what they had signed up for (there was no detailed class description available for us). But it turned out to be great for me. I was able to tap into my writing in a different way, perhaps more deeply, and, frankly, I never really went back after that.
Part of it is likely that horror writing is cathartic. Jonathan Maberry at the 2019 Stoker Awards Banquet said it best when he stated, "Horror writers are the kindest people you will ever meet. Because they get it all out on the page. It's the comedians you have to watch out for. They keep everything inside." It's true. The horror writing community has some of the nicest individuals I've ever met, and I have made many friends. In addition, I have somehow been able to make Pivot come alive in a way I didn't expect when writing (perhaps because it is horror); likewise, writing it was therapeutic for me in a way I didn't expect (again, perhaps because it is horror).
It wasn't until I was working part time at a community college and pursuing my MA in English that, during my last semester of coursework before my thesis, I decided to really and truly try my hand at writing a book. It's hard to say exactly what inspired it. I was just so energized. Undergraduate and graduate school is terribly stressful, and it requires so much work, and I finally thought to myself, "If I put this much work into something that I actually want to do, I might succeed." I had been able to figure everything else out – organic chemistry, Victorian history, etc. – and I didn't really want to do those. So, maybe, just maybe, if I worked and worked and worked, I could do it. So, I pursued it.
3. Are you a full-time writer?
I am not. I also work as a full-time Professor of English at Dallas College.
3. Who are some of your influences, past and present?
I grew up reading Goosebumps and The Bailey School Kids, in addition to more literary novels like The Giver and Walk Two Moons. The Harry Potter series I list as one of the reasons I'm glad I'm alive in this day and age, rather than any other, because I was able to grow up with the books—reading Harry Potter and the Sorcerer's Stone when I was about 12 and Harry Potter and the Deathly Hallows when I was about 20.
The book that made me realize I wanted to be a writer, though, was not in any of those series. That particular book I discovered on the floorboard of a car that belonged to one of my best friends' parents back in high school. As it turned out, it was a copy of The Vampire Lestat. My friend told me to read the first page. I did and discovered pure magic. It was a remarkable moment for me.
I ended up purchasing a set of four Anne Rice novels—her Vampire Chronicles—and read them all, as well as at least ten more, including Blackwood Farm, which became my favorite. Anne Rice's elaborate, flowery language pulled me in. Lestat, given life by Rice, could seduce his reader, and this was something I wanted to be able to do. I loved words, and I was in awe of the myriad ways they could be made to work, the worlds and characters they could create.
When I hit college, that was when I first successfully read Stephen King. I had attempted to read The Shining in junior high, but the beginning had been too slow and dry for me. This time, I researched what King novel to begin with and, out of my research, ultimately chose Pet Sematary. For very different reasons than with The Vampire Lestat, that novel, too, I quickly fell in love with. There was something about the way it flowed, expertly, never wavering as it slowly lowered its reader into darkness, that I loved. Thus, I continued reading King and have read probably fifteen or so of his books.
My studies in English during my BA and MA had ensured my exposure to more literary works that I loved just as much, like Moby Dick (which greatly influenced me), but I also ventured into the sexier, semi-mystery, semi-fantasy, and semi-erotica works of Laurell K. Hamilton right before and then during my MA. I primarily read her Anita Blake series, falling in love with the variety of her characters and the sexiness imbued in each and every one. Though the series often had me rolling my eyes, it also had me smirking, and I devoured about fourteen or so of the novels.
One last literary influence was actually not really a book at all, but rather a theory that I took to heart and mind very earnestly during my MA—Jacques Lacan's psychoanalytic theory. Lacanian theory aided me not only in deconstructing television series during my first master's, but also in getting into the psychology of my own characters, of deconstructing them, as well as simply understanding the movements of plot. Though Lacan did not necessarily help me write, he did help me understand. Many times, when encountering new ideas that might have otherwise seemed foreign to me, I am able to hook them onto something in Lacanian theory so that I can more quickly absorb what there is to know. The Lacanian Subject by Bruce Fink is despised by many graduate students, but I truly appreciate everything it offered and don't know where I would be in my academic or literary career without it. Lacan shows me a different magic—the magic of the human mind.
Thus, I would say that Anne Rice, Stephen King, J. K. Rowling, Laurell K. Hamilton, and Jacques Lacan were my greatest influencers—the first four, particularly when it comes to making me wonder why I, too, am not devoting myself to writing. They showed me that magic is possible on the page, and they motivated me to pursue becoming a participant in and conversant in that magic. They also solidified my interest in popular fiction, horror, and fantasy.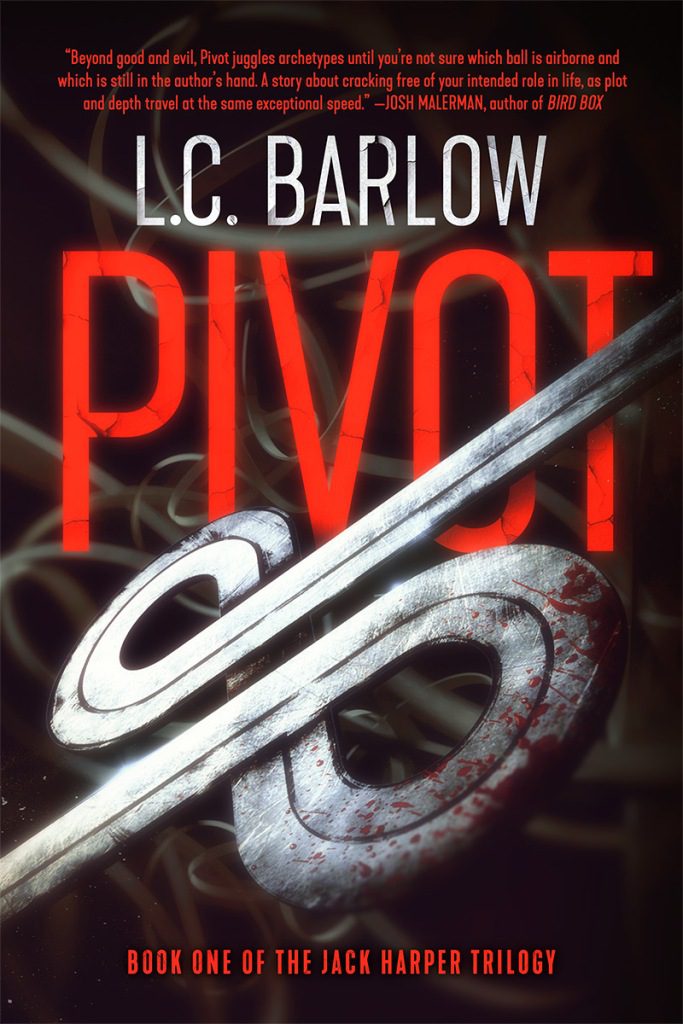 4. Tell me a bit about your writing process. Do you have a daily routine or is every day different?
This is a great question. Every day is different; however, when I have to hustle, I ensure that I set aside exactly two to three hours every day to get the project (whatever that project may be) completed. I prefer to write at night; however, my day job as a Professor of English sometimes makes it to where I must write during the day. I do prefer to edit during the day.
5. Do you plot out your books or fly by the seat of your pants?
I started as a pantser, transitioned to more of a planner, and now am an amalgam of the two.
My process of writing changed dramatically over the course of producing my first book. Pivot was originally self-published, and when I wrote the novel, I didn't really know anything about writing. I wrote the chapters alternating between past and present, with two plot lines that complemented one another. When I finally met up with several people who were willing to help me produce a more professional, publishable version of the novel, they helped me to significantly change, enhance, and build those different plotlines. When an agent took on the novel, he wanted me to separate the book into two books. At first, I declined, but as time went on, I realized that the book needed to be separated into two, that my agent was right, and I did so, taking the time to build the first one up and knowing the second one would be the second of the trilogy and that it needed to be built up like the first one.
The thing, though, was that I had really kind of built that first book through trial-and-error (as pantsers do). I had written over 1,000 single-spaced pages to produce a 250-page single-spaced novel, and even though I had managed to make it work, I wasn't exactly sure how.
I started an MFA program because I had anticipated this problem. Nancy Holder—an amazing writer, woman, author, person in general—was my professor for two semesters and two residencies, and she told her classes about two books that she uses to help plot novels: Blake Snyder's Save the Cat! and Christopher Vogler's The Writer's Journey. I immediately purchased these books and read them. Subsequently, I compared Pivot to see how much its plot points lined up with the 15-point beat sheet in Save the Cat! As it turned out, 13 out of 15 points lined up. Thus, I was able to see how I had made the book work and move onward to the next novel. I used the same beat sheet to help finish the second of the trilogy, and I, like Nancy, will most likely use the two beat sheets from these books for every novel in the future (more of a "planner" way of doing things). Writing requires so much problem solving, and these books improve my ability to address those problems before seeking outside help. They help me produce things that I didn't know I could produce, and I learn something new every time I read them.
Ultimately, though, after learning how to more effectively plot, I also learned that plotting isn't everything. There's just something about letting the novel develop organically that is so important. Really, if you sit down and say exactly what you wanted to say when writing, you've kind of failed. It's only by writing something beyond what you knew to write that you have succeeded – when you write more than you thought you knew. So, when I do pre-emptively plot, I do so while taking it with a grain of salt, and often times the plot shifts dramatically three or four times as I go back and revise. Thus, I'm now an amalgam of a planner and pantser.
6. What was it like self-pubbing, only to get picked up by a publisher? I have to imagine that is pretty exciting!
It was incredibly exciting – no doubt about it.
I think the feeling was a mixture of relief, catharsis, and elation. The entire process from first draft to traditional publication was six years (I have read that the average time from first draft to bookshelf is five years). Many times, I had to mentally let the book go in order to continue living my life (thinking about it too much would drive me insane). Each time I stopped myself from thinking about it, it felt very much like handing control over to fate, and I never knew if the book would make its way back to me. So many minute things have to go right in the process of developing a book, and there's no guarantee that they will. It's tough. All I could do was my part. When the book was finally published, I could breathe again.
I'll add that getting traditionally published also felt like the first time that the thing I created recognized me. I hope this makes sense.
7. Tell me about your Jack Harper trilogy.
PIVOT is the first book of a trilogy I have been working on for about six years. It was released in October of 2019. The second and third books, PERISH and PEAK will be released October 2020 and October 2021.
PIVOT is about a young girl named Jack Harper who is adopted by the leader of a cult, Cyrus Harper, and turned into an assassin against all who oppose him or blaspheme. As it turns out, Cyrus, the charismatic and maniacal mentor (think Charles Manson meets Lucifer from Supernatural), does indeed have extraordinary powers, as he claims. Half of them come from a creature he has locked in his basement, and the other half… well, you will have to read to find out.
Jack's well-being is precarious in such an environment where ruthlessness is relentlessly required of her, and so she both curiously and desperately pursues the creature in the basement. When they finally meet, her world is turned upside down, as he offers her more than she could have ever expected―the possibility of escape and her own secret, magical power.
In terms of PERISH, the book continues Jack's story beyond the cult. She travels to a different state to attempt to start her life anew, but she immediately begins receiving letters from children who are still trapped in Infinitum – Cyrus's old following – the tendrils of which she realizes still exist all across the world. One tendril leads her to Patrick, a man who speaks of a contraption that "bleaches anything white." Yet another tendril stretches beyond death.
Potential aid arrives from an unusual source when Jack encounters Jonathon Roth and his kill-for-hire outfit. Together, they hope to become an unstoppable force, but the truth is that Jack may be falling into her old acolyte ways, and Roth may have found in Jack the very thing that made Cyrus so powerful—his own magical being.
A. Where did the idea behind the series come from?
During high school, a friend of mine was a Lutheran at that time, and she invited me to come to a special event her church was having, where an "ex-Satanist" came and spoke about her experiences to the youth group. I attended, and the experience was so strange. It was just such an eerie speech, an unsettling account of events, and it got me thinking and thinking and playing out scenarios again and again. It was an idea that didn't leave me, even though the woman's story was likely a fabrication. This is what inspired the Jack Harper Trilogy.
B. Did you intend a trilogy when you first began writing?
Yes, I did. Fortunately, the individuals that worked with me helped me see that through. It's one thing to plan a trilogy and another thing to write it.
C. Tell me about Jack Harper and her relationship with Cyrus Harper.
Cyrus is the "primal father." What I mean by that is that he is the unstoppable adoptive father who heads the cult, has unearthly tools at his disposal, and is able to discover those who blaspheme before they can stop him. To Jack, he is a charismatic and maniacal mentor/father (think Charles Manson meets Lucifer from Supernatural). Cyrus provides the ultimate protection to Jack, while also knowing exactly how to manipulate/move her into becoming the greatest assassin for him. They are bonded together by love and trauma.
Jack is not only the survivor of a traumatic situation, but she is cunning. Every psychopathic trait she has is a learned attribute, a second nature, rather than a choice. Each time she is given a choice, she chooses to step beyond this and become something else. Thus, she begins to see through Cyrus and choose her own way of being.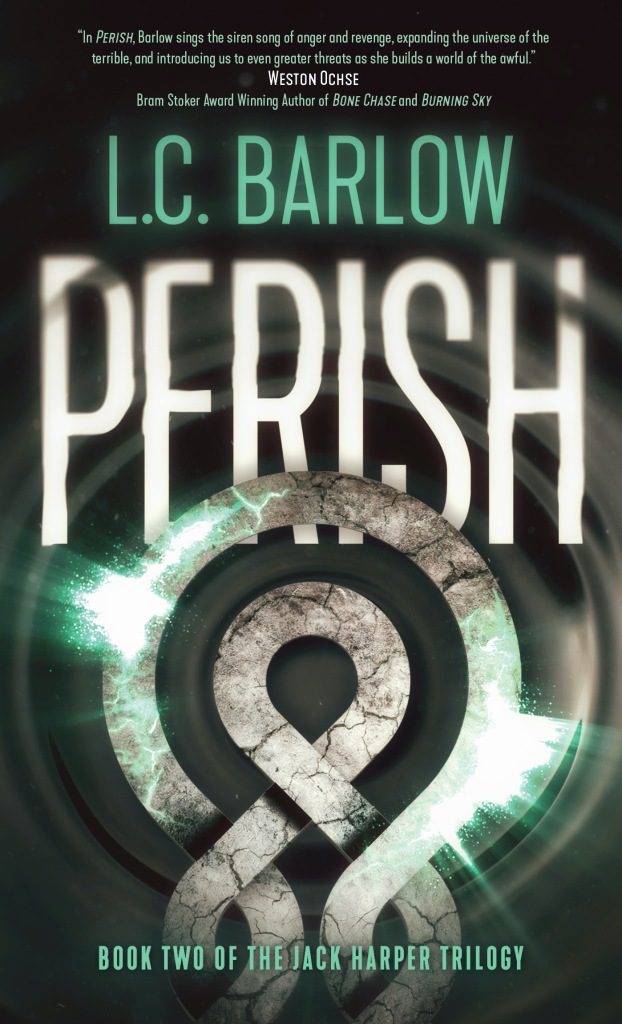 8. What do you intend to write next, or are you working on something now?
I just finished my fourth book – a dark fantasy novel about a seer (clairvoyant) society in the throes of a revolution. It is intended to be the first of a duology.
9. Are there any recent reads that you would recommend?
I recently read Midnight in the Garden of Good and Evil by John Berendt and Can't Hurt Me by David Goggins, which was a roller coaster ride of an audiobook. I thoroughly recommend both of these. Currently listening to Patrick Rothfuss's The Name of the Wind and then intend to read either Josh Malerman's Malorie, Toni Morrison's Beloved, or Silvia Moreno-Garcia's Mexican Gothic next.
About the Author
L.C. Barlow is a writer and professor working primarily in the field of speculative fiction. She has an MA in English from the University of Texas at Arlington and an MFA in Creative Writing from the University of Southern Maine's Stonecoast program. She has studied with popular writers, including Nancy Holder, Elizabeth Hand, Ted Deppe, James Patrick Kelly, Elizabeth Searle, David Anthony Durham, and Theodora Goss. Her work has been published in Oak Bend Review, Flash Fiction World, Linguistic Erosion, Flashes in the Dark, Separate Worlds, Every Day Fiction, and Popular Culture Review. Her fiction has reached over sixty-five thousand readers and garnered praise, including a finalist for the Next Generation Indie Awards, a winner of the Indie Reader Discovery Awards, a winner of the eLit Awards, and IndieReader's Best Books of 2014. On Quora, her posts have received over 1.4 million content views. Barlow's horror trilogy – Pivot, Perish, and Peak – was picked up in 2018 by California Coldblood Books, an imprint of Rare Bird Books. The first of the trilogy, Pivot, was released in October of 2019. Perish will be released in October of 2020. Peak will be released in October of 2021. Barlow lives in Dallas, TX with her two cats, Smaug and Dusty.
Author Links
Website: https://lcbarlow.org/

Facebook: https://www.facebook.com/lcbarlowauthor/

Twitter: https://twitter.com/LCBarlowAuthor

Goodreads: https://www.goodreads.com/author/show/7088292.L_C_Barlow?from_search=true&from_srp=true
Book Links

Amazon: https://amzn.to/2P444Py

Audible: https://www.audible.com/author/LC-Barlow/B00CRQLPCM?ref=a_search_c3_lAuthor_1_1_1&pf_rd_p=e81b7c27-6880-467a-b5a7-13cef5d729fe&pf_rd_r=C7ZBFWMC0Q747PA0RNW9

Barnes & Noble: https://www.barnesandnoble.com/w/pivot-lc-barlow/1117443925;jsessionid=659D58952809A06D2FA4EEA2E2CE7E3E.prodny_store01-atgap15?ean=9781644280539

Book Depository: https://www.bookdepository.com/Pivot-L-C-Barlow/9781644280539?ref=grid-view&qid=1595874798422&sr=1-1

Goodreads: https://www.goodreads.com/book/show/17969405-pivot