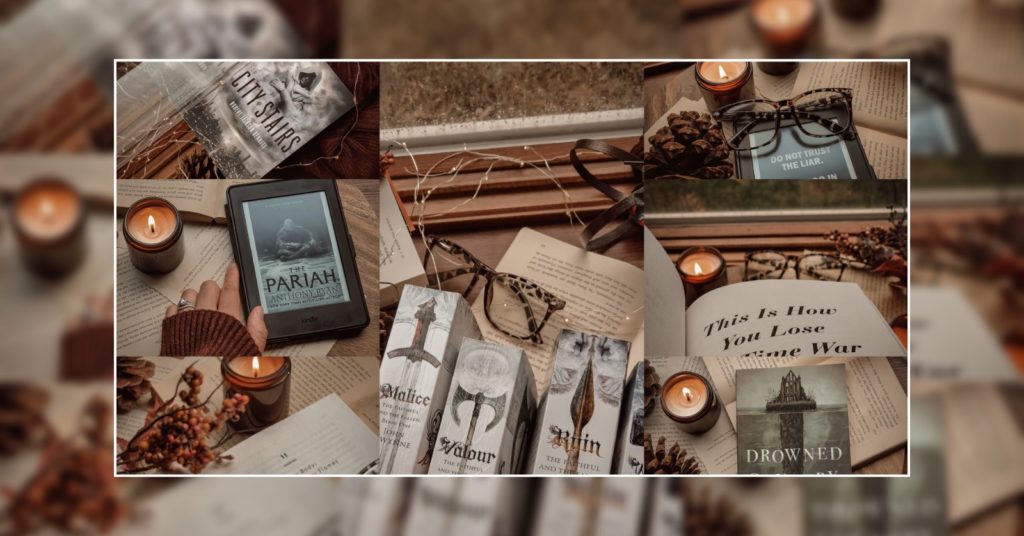 Reflecting on my favorite books of the year is one of my favorite December activities. At the time of this post, I have completed 80 books in 2021. This was a little bit of a down year for my reading. I struggled with my focus and attention, and then add on the addition of our second child — and I really had no chance! I seem to have reached for more shorter books/ novellas as a result. I'm very pleased because the books that I did complete were of the highest quality.
I am looking forward to my 2022 reading year because I started some fantastic series this year that I can't wait to continue. Discovering new indie and self published authors helped turn my year around. I didn't get the chance to finish a few books in particular before this post but I do want to mention them here because I have a strong feeling they would've appeared on this list had I completed them in time: We Men of Ash and Shadow by H.L. Tinsley, The Living Waters by Dan Fitzgerald, and Gideon the Ninth by Tamsyn Muir
For some of the books below, I did link to my FanFiAddict review if I've written one. If you want to discuss any of these books, leave a comment or come find me on Twitter. First, I wanted to share my honorable mentions: A History of What Comes Next by Sylvain Neuvel, Summer Sons by Lee Mandelo, The Restaurant at the End of the Universe by Douglas Adams
Here are my favorite 10 reads over the year!
Drowned Country (The Greenhollow Duology #2) by Emily Tesh (Tor)
"He had glimpsed eternity in the drowned forest, and it had opened something up inside him which could not bear to be any smaller than he already was. And by God, it would be a terrible smallness, a terrible selfishness, to force upon another man a fate he could not bear himself."
Drowned Country is the sequel novella to Silver in the Wood (which was one of my favorite reads in 2019). I loved the concept and setting of an ancient forest lost to the sea and the magic that may still be dormant, waiting to be awoken. I highly recommend these novellas if you have an interest in wild and mystical ancient forests and folklore featuring forgotten gods. Tesh quickly envelopes you inside a queer fairy tale with dark and gritty undertones. A paragraph was all I needed before I was hooked.
The Liar of Red Valley by Walter Goodwater (Rebellion/Solaris)
"There's always been a Liar in Red Valley. There will always be a Liar in Red Valley. There must be."
This was the perfect Autumn read! Bonus- It's a standalone, too! It was filled with supernatural creatures, strangeness, magical influences, and an assortment of horrors. I love that we are getting more books that are blending genres, and The Liar of Red Valley blends the lines of fantasy, horror, and American Gothic very well. The Liar is such a cool concept that it's well worth reading for that alone. The development of several original supernatural creatures is another. Every time I see this book on the internet or in the wild, I'm reminded of how much I loved and enjoyed it.
Master of Sorrows (The Silent Gods Series #1) by Justin Travis Call (Gollancz)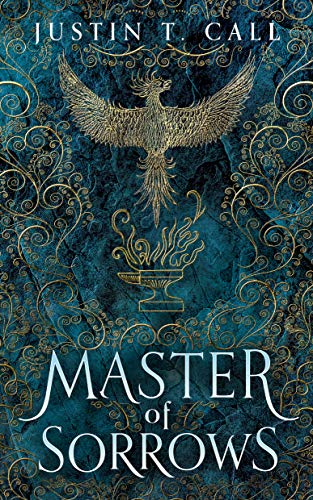 "There are two trails here, lad. One you know and one you don't. If you want to learn somethin' worth knowin', which do you think you should follow?"
Master of Sorrows was awesome and this series is going to be too… I can feel it. The character growth worked really well in this first book. I listened to the audiobook and the narrator (Peter Kenny) was fantastic! The ending … wow… the ending took me by surprise! I was out for one of my long runs while listening and I definitely did not begin hollering and fist pumping mid stride (narrator: she totally did). I have the sequel lined up for 2022 and I'm very excited to see where the story goes.
The Three-Body Problem (The Three-Body Problem Series #1) by Cixin Liu (Tor)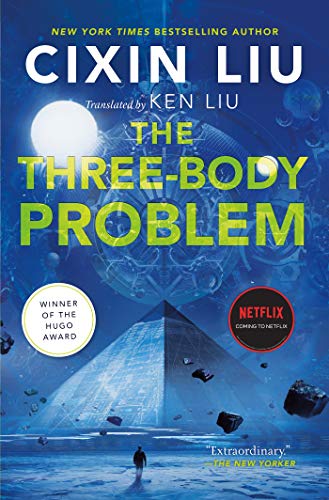 "Do not answer! Do not answer!! Do not answer!!!"
Liu's biggest strength is in his world building and it's what readers will find consistent across his work. I recently finished his short story collection The Wandering Earth and I'm always impressed by his creativity. In The Three Body Problem, Liu presents a really unique approach to first contact. I've often thought about extraterrestrial life and how humanity would react to knowledge of their existence or lack thereof. This book made me think… and think.. and think. I loved it!
The Fall (The Bound and The Broken #0.5) by Ryan Cahill (Self Published)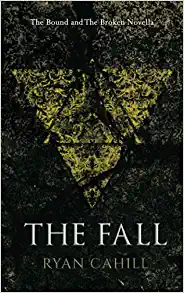 "The gods have not abandoned us, just as we will not abandon the people we swore to protect. If we die tonight, we die with out swords in our hands, staring into the eyes of the one who send us into the void."
The Fall goes at breakneck speed and is impressively complete in under 100 pages. It has a classic high fantasy feeling to it with giants, elves, dragons, magic, and so much more! I ended up reading this prequel novella after finishing Of Blood and Fire (book 1). I think the way Cahill decided to tell this story worked. Cahill is firmly cementing his name in the sff community. Keep his name on your radar!!
The World Maker Parable (Adjacent Monsters #1) by Luke Tarzian (Self Published)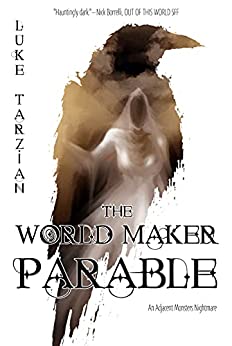 "Be still, said the tree. Be as the souls you seek."
This right here is exactly the kind of dark fantasy story I've always wanted to read. It's cerebral and complex. Tarzian is a very talented writer and it shows by the distinct way he frames his narrative. He packed so much feeling and emotion and symbolism in so few pages. Not a single word was wasted. The World Maker Parable is a work of art. My mind is still reeling with needing to know more about this world he created. Tarzian is another author who deserves all the recognition. I will have a full review posted on the blog… as soon as I finish writing it!
City of Stairs (The Divine Cities #1) by Robert Jackson Bennett (Broadway Books)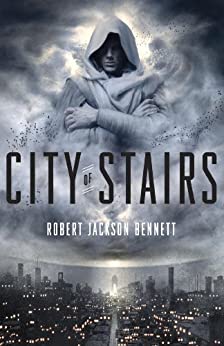 "The city knows. It remembers. Its past is written in its bones, though the past now speaks in silences."
Here is a series that I started solely because of the cover. I will read anything that has a cloaked figure on the cover and the promise of gods and buried history. The plot is multilayered and explores deep ideas and original concepts that were a novelty to me as a reader. There is a satisfying conclusion in one novel that felt completely whole – which also is an impressive feat in and of itself. But seriously…. how incredible is this cover?
This Is How You Lose the Time War by Amal El-Mohtar & Max Gladstone (Saga Press)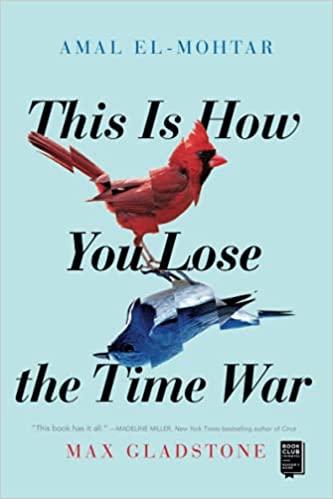 "I have built a you within me, or you have. I wonder what of me there is in you."
This is a science fiction rooted in time travel and filled with a budding sapphic romance. It's poetic prose is reminiscent of literary fiction. The concept of the time war was incredibly creative and I loved how it played out. This novella is a Hugo, Nebula, and Locus award winner – and it's well deserved.
The Pariah (The Covenant of Steel #1) by Anthony Ryan (Orbit)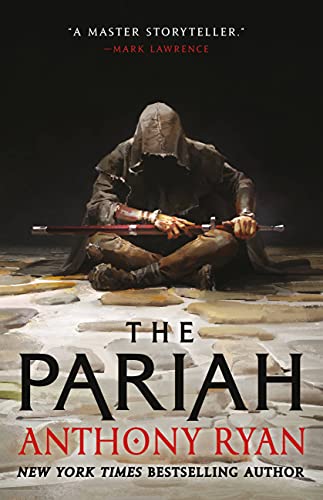 "Before killing a man, I always found it calming to regard the trees."
When I saw the cover for The Pariah, I immediately knew that I needed to read it. I don't recall even reading the synopsis beforehand. This was a fantastic start to a series. It's been a few months since I finished yet I often think about this book, wondering how much longer I need to wait until The Martyr. It had everything I love in a story… character driven, buried history, religion, myths, lost treasure, gritty narrative, etc. Alwyn was one of the best written characters I had the pleasure of reading all year.
The Faithful and the Fallen (Series) by John Gwynne (Tor)
"I shall stay and tell my tale, hope that it may serve some purpose, that eyes shall see it and learn, that the future will not repeat the mistakes of the past. That is my prayer, but what use is prayer to a god that has abandoned all things . . ."
The Faithful and the Fallen series has become very special to me. If you're looking for your next adult epic warrior fantasy, I suggest giving this series a go. When I began Malice in February, it had been a very long time since I found a book or series that made me feel something…. anything at all. This series delivered a level of excitement and energy that I hadn't experienced since reading the Red Rising Saga. Gwynne honors all that we love from classic fantasy along with a genuine representation of human nature.