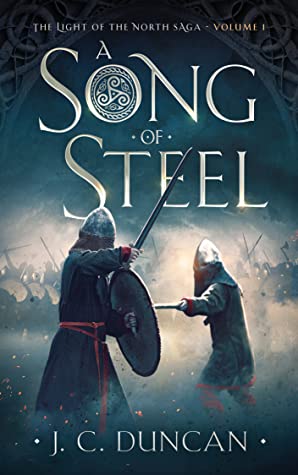 Rating: 9/10
A roaring Norse saga of war, honour, love and loss. Vikings face Crusaders in an epic battle for the soul of the North.
'A gripping, well-executed story, with a fun, original premise.' – Angus Donald
'A Song Of Steel is a rising light of Norse Mythology.' – Daniel Kelly
'I thoroughly enjoyed the authenticity, the historical underpinnings and the author's knowledge of smithing, which gives the book a fine steel spine. Excellent!' – Christian Cameron
Alternate history – 1116 AD. Three hundred years of cruel Viking raids have finally united Christian Europe against the pagan Northlands. A great crusade has been called to pacify the wild Norse kingdoms. The banner of the cross has been raised against the north, and all the power and fury of the west rides under it.
Ordulf, a talented young German swordsmith, is ripped from his comfortable life and cast into the bloody chaos of the crusade. As fate deals him a cruel blow in the lands of his enemies, he will have to forge a new path through the chaos, or be consumed by it.
In the Northlands, three rival kingdoms must unite to survive the onslaught. But can any man, king or commoner, unite the bickering brotherhood of the Norse? Or is the time of the Vikings finally drawing to a violent end. Heroes will fail, kings will fall, and ordinary people will fight for the right to a future.
An epic saga of war, love and politics sure to delight fans of Bernard Cornwell, Giles Krystian, Matthew Harffy, Christian Cameron and all lovers of historical fiction.
Review
This review contains minor spoilers, and you read at your discretion.
A Song of Steel is an alternate realm of history where Christianity did not spread into the lands of the Vikings through missionaries but through the old-fashioned way of Crusades. It is rip-roaring, epic and ambitious in scale. This great crusade Christian Europe embarks upon has repercussions set along the shores of the Scandinavian peninsula. This book has some of the most illustrative battle scenes you will witness in this novel. Meticulous attention on craftsmanship, armour and writing realistic descriptions of assaults and sieges proves that J.C Duncan has done his research right. This novel is a good example of how well researched material can make your world come alive.
We start with the character of Ordulf, a big lad from Minden. He's a quirky, innovative character that can be an extremely talented blacksmith. Of course, his master isn't the best of teachers. The chemistry between Master Blacksmith and Ordulf is rocky. As, the call for the Crusade to destroy the fierce Vikings grows. Ordulf's life catapults into a campaign of war, far from the comforts that he enjoyed. He experiences what campaigning in an army is like. And it changes his view of life forever. Some criticisms I had of this novel, was that the battle scenes were far deeper and complex and sometimes that took over the expense of the story. Many characters that Ordulf interacts with are good interactions, but sometimes I feel I didn't get enough time to develop that chemistry needed with them.
There is a wide variety of characters, from dukes to jarls, to high positions of power. Ones which you might see Ordulf interact with. But Ordulf doesn't spend too much time with them, which he should since this novel keeps an element of historical fiction in it as well. The emphasis on the accuracy of swords, the combat, may have overpowered some powerful scenes in the book that could use for more story development and character development. Of course, this is a crusade. This is the early Middle Ages. You'd expect constant fighting, but the reason most men even went on these military adventures was to gain glory, loot, and honour. Or even worse.
I like the fact that this is set in Medieval Germany, as we rarely get much historical fiction or even alternate history set in this era. However, my criticism is minor, as this is a well-written story, with great prose. There are powerful moments in the story and there were one or two scenes that made me gasp. It was so unpredictable. I feel had the novel been longer, we could have seen more development of characters and such. That being said, it is a fantastic story that is the start of an epic journey. This novel felt like it was a set-up to a bigger epoch, a bigger destiny than Ordulf has been cast into. And I have to say, I love it. I want to read more about this. This is a splendid book, written by an author who, with this book, has made me a fan. I look forward to reading book 2! This is epic alternate history, and I would recommend this book wholeheartedly.
Book 2 is now released and you can get the series here: