Welcome to FanFiAddict's monthly klaxon horn sounding to draw your attention toward a few Science Fiction and Fantasy releases we think you should keep an eye on. They are listed alphabetically as well as by release date, so a book appearing higher or lower on this list than you expected it to has no relative bearing on our hype-levels nor our expectation of quality. Now, without further ado, strap yourselves in tight, we're looking to the future (and the future is bright.)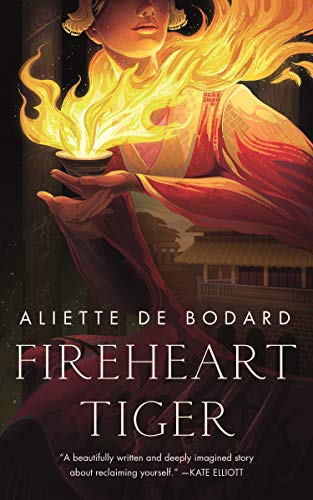 Fireheart Tiger by Aliette de Bodard (2/9/21)
Amazon | Barnes & Noble | Book Depository | Goodreads
Fire burns bright and has a long memory….
Quiet, thoughtful princess Thanh was sent away as a hostage to the powerful faraway country of Ephteria as a child. Now she's returned to her mother's imperial court, haunted not only by memories of her first romance, but by worrying magical echoes of a fire that devastated Ephteria's royal palace.
Thanh's new role as a diplomat places her once again in the path of her first love, the powerful and magnetic Eldris of Ephteria, who knows exactly what she wants: romance from Thanh and much more from Thanh's home. Eldris won't take no for an answer, on either front. But the fire that burned down one palace is tempting Thanh with the possibility of making her own dangerous decisions.
Can Thanh find the freedom to shape her country's fate—and her own?
Tordotcom has been killing it with the novellas they have been publishing lately, from The Murderbot Diaries (a personal favorite) to recent releases like Ring Shout and the wildly popular Locked Tomb series, Gideon the Ninth and Harrow the Ninth. So, when I see an upcoming release hailed as The Goblin Emperor meets Howl's Moving Castle, I am all in.
---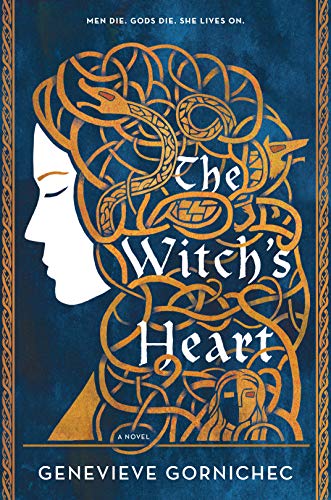 The Witch's Heart by Genevieve Gornichec (2/9/21)
Amazon | Audible | Barnes & Noble | Book Depository | Goodreads
Angrboda's story begins where most witches' tales end: with a burning. A punishment from Odin for refusing to provide him with knowledge of the future, the fire leaves Angrboda injured and powerless, and she flees into the farthest reaches of a remote forest. There she is found by a man who reveals himself to be Loki, and her initial distrust of him transforms into a deep and abiding love.

Their union produces three unusual children, each with a secret destiny, who Angrboda is keen to raise at the edge of the world, safely hidden from Odin's all-seeing eye. But as Angrboda slowly recovers her prophetic powers, she learns that her blissful life—and possibly all of existence—is in danger.

With help from the fierce huntress Skadi, with whom she shares a growing bond, Angrboda must choose whether she'll accept the fate that she's foreseen for her beloved family…or rise to remake their future. From the most ancient of tales this novel forges a story of love, loss, and hope for the modern age.
To be fair, you had me at Norse mythology. I love a good Norse or Viking tale and this one in particular looks to be right up my alley. The Witch's Heart is a feminist retelling of the classic myths, where Angrboda, the mate of Loki and mother to Fenrir, Hel, and Jormungand, takes the center stage. In the original myths, she is hardly mentioned and relegated to simply being the vessel for these other movers to be brought into the world, but here Gornichec finally explores her story in this debut.
---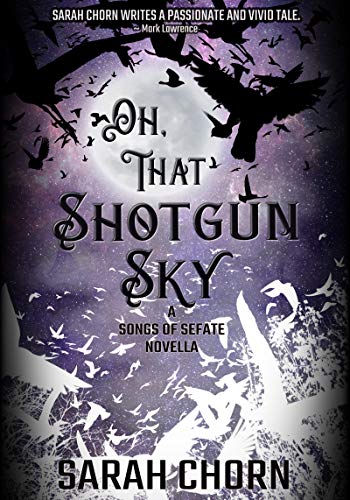 Oh, That Shotgun Sky (The Songs of Sefate #1.5) by Sarah Chorn (2/16/21)
Days after the Boundary falls, six strangers converge in a one-horse town, all of them on the run. Some from the past, some avoiding the future.
When men from Shine Company arrive to reclaim their own, these desperate travelers have to decide if they stand with the law, or against it.
Men pull the trigger and blood spills.
Fate pulls the strings and everybody dances.
Oh, That Shotgun Sky is the follow-up to 2020's Of Honey and Wildfires, also by Chorn. I'll admit to not reading any of Sarah's work thus far, but her last release seems to have recieved near universal praise. Besides, a shadowy Company hoarding access to the magic that the whole world has come to rely on? Yes, please.
---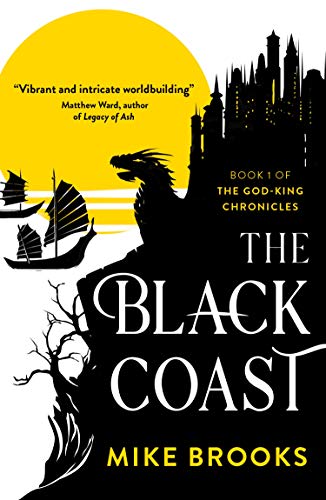 The Black Coast (The God-King Chronicles #1) by Mike Brooks (2/16/21)
Amazon | Audible | Barnes & Noble | Book Depository | Goodreads
War Dragons. Fearsome Raiders. A Daemonic Warlord on the Rise.

When the citizens of Black Keep see ships on the horizon, terror takes them because they know who is coming: for generations, the keep has been raided by the fearsome clanspeople of Tjakorsha. Saddling their war dragons, Black Keep's warriors rush to defend their home only to discover that the clanspeople have not come to pillage at all. Driven from their own land by a daemonic despot who prophesied the end of the world, the raiders come in search of a new home . . .

Meanwhile the wider continent of Narida is lurching toward war. Black Keep is about to be caught in the crossfire – if only its new mismatched society can survive.
Two words: War. Dragons. Seriously, that's all you need to know. That's not enough? Well, imagine if Rohan and Gondor were long-time enemies and, the Gondorians having fled the armies of Sauron, the two now have to bunk together and try to work out how they're going to face this mortal threat on the horizon. I have no idea if The Black Coast is anything like that, but those are the vibes I'm getting from the synopsis. This is a debut to lookout for.
---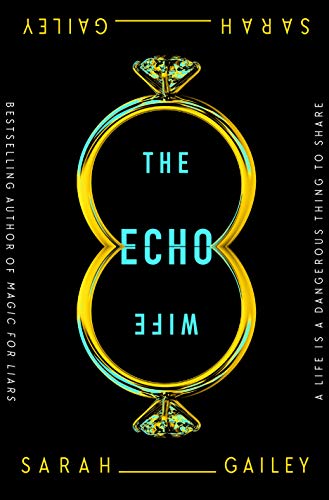 The Echo Wife by Sarah Gailey (2/16/21)
Amazon | Audible | Barnes & Noble | Book Depository | Goodreads
I'm embarrassed, still, by how long it took me to notice. Everything was right there in the open, right there in front of me, but it still took me so long to see the person I had married.

It took me so long to hate him.
Martine is a genetically cloned replica made from Evelyn Caldwell's award-winning research. She's patient and gentle and obedient. She's everything Evelyn swore she'd never be.
And she's having an affair with Evelyn's husband.
Now, the cheating bastard is dead, and both Caldwell wives have a mess to clean up.
Good thing Evelyn Caldwell is used to getting her hands dirty.
Our very own Traveling Cloak released his review of The Echo Wife this morning, so I will let him speak to why you should be anticipating this one.
"The Echo Wife is a sharply-written, thought-provoking science fiction novel with a narrative that is striking and ominous at times. There are plenty of surprises in the book, as well, that keep the intrigue going all the way through."
You can read the rest of his lovely review here.
---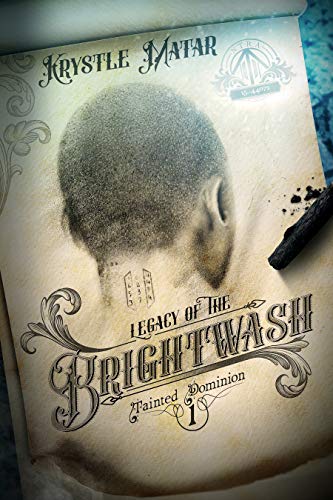 Legacy of the Brightwash (Tainted Dominion #1) by Krystle Matar (2/17/21)
Amazon | Barnes & Noble | Goodreads
Tashué's faith in the law is beginning to crack. Three years ago, he stood by when the Authority condemned Jason to the brutality of the Rift for non-compliance. When Tashué's son refused to register as tainted, the laws had to be upheld. He'd never doubted his job as a Regulation Officer before, but three years of watching your son wither away can break down even the strongest convictions.
Then a dead girl washed up on the bank of the Brightwash, tattooed and mutilated. Where had she come from? Who would tattoo a child? Was it the same person who killed her? Why was he the only one who cared?
Will Tashué be able to stand against everything he thought he believed in to get the answers he's looking for?
Early reviews for this self-published release are glowing! I was fortunate enough to receive an Advance Reader Copy myself and from what I have read, I have to agree with them. Legacy of the Brightwash is an urban fantasy murder mystery set against the backdrop of a Victorian-inspired gaslamp world. In it, people who are able to use magic of any kind, the Tainted, are required to register with the Authority or they are sent to the RIFT, a stone fortress where whispers of torture and brutal experiments abound. Sounds great so far, eh? Be sure to keep an eye here on FanFiAddict.com when we host a stop on the Book Tour on March 12th. You can also expect my official review to drop on that day, but I am sure to gush over it on Twitter in the meantime.
---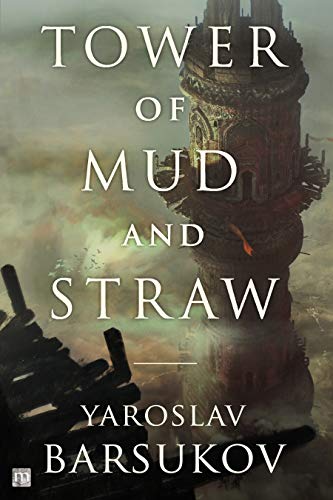 Tower of Mud and Straw by Yaroslav Barsukov (2/21/21)
Amazon | Barnes & Noble | Book Depository | Goodreads
THE QUEEN RUINED HIS LIFE. HE WOULD DO ANYTHING TO RECLAIM IT… OR SO HE THOUGHT.
Minister Shea Ashcroft refuses the queen's order to gas a crowd of protesters. After riots cripple the capital, he's banished to the border to oversee the construction of the biggest anti-airship tower in history. The use of otherworldly technology makes the tower volatile and dangerous; Shea has to fight the local hierarchy to ensure the construction succeeds—and to reclaim his own life.
He must survive an assassination attempt, find love, confront the place in his memory he'd rather erase, encounter an ancient legend, travel to the origin of a species—and through it all, stay true to his own principles.
Climbing back to the top is a slippery slope, and somewhere along the way, one is bound to fall.
Tower of Mud and Straw is a serialized collection of stories published in issues of Metaphorosis Magazine and this will be an official bind-up that collects all of them into one novella. What makes this one stand out to me is that it is a Tower of Babel story where the tower is actually a weapon used to defend against enemy airships. I'm really looking forward to seeing how Barsukov differentiates it from some of the other Babel stories out there as well. Also, can I say how refreshing it can be to read novellas?
---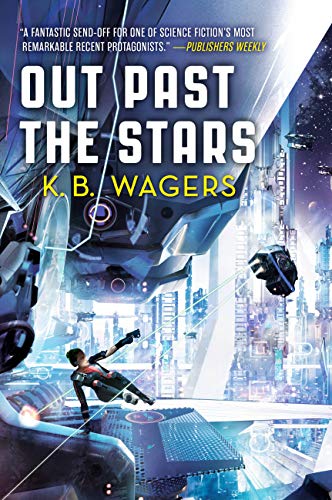 Out Past the Stars (The Farian War #3) by K. B. Wagers (2/23/21)
Amazon | Audible | Barnes & Noble | Book Depository | Goodreads
Gunrunner empress Hail Bristol must navigate alien politics and deadly plots to prevent an interspecies war, in the explosive finale to the Farian War space opera trilogy.
When Hail finally confronts the Farian gods, she makes a stunning discovery. There are no gods—only the Hiervet, an alien race with devastating powers who once spread war throughout the galaxy long before humanity's ancestors crawled out of the sludge of Earth's oceans.
But this knowledge carries with it dire news: the Hiervet have returned, eager to take revenge on those of their kind who escaped. And they don't care who gets caught in the middle of the battle—Shen, Farian, or Indranan.
Once again, the fate of the galaxy is on the line and Hail will have to make one final gamble to leverage chaos into peace.
Out Past the Stars is the capstone to K.B. Wagers' latest space opera trilogy. The Space Opera was a dying breed as a genre, but it has slowly been coming back to the forefront of Sci-Fi, with such big hits as The Expanse by James S.A. Corey and Machineries of Empire by Yoon Ha Lee. Wagers fills a similar spot as one of the progenitors of this recent wave of Space Opera and I am all here for it. With the final volume of their second trilogy set in this world coming out, there is no better time to jump in.