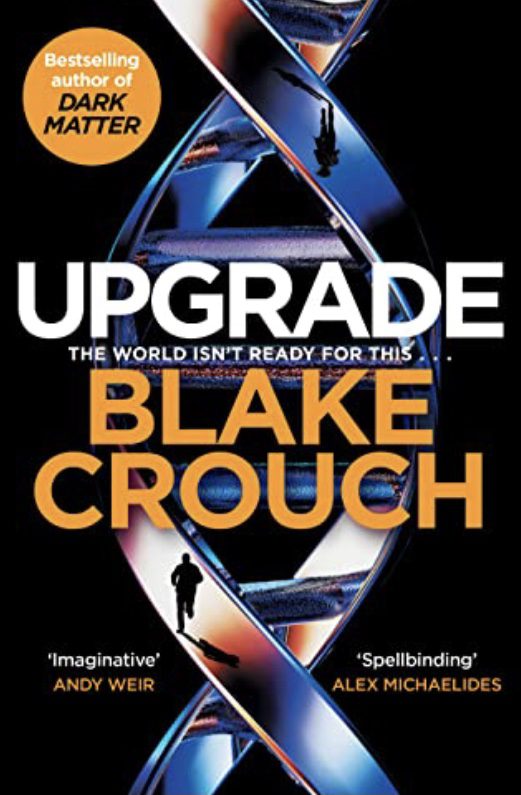 Rating: 10/10
Synopsis
"You are the next step in human evolution…"
What if you could be capable of more?
What if you could think sharper, read faster, memorise better, sleep deeper?
For Logan Ramsay, it's happening. He's been targeted for an upgrade. The problem is, it wasn't his choice. His genes have been hacked.
To discover why, Logan must confront a horrific family legacy that goes back to the darkest part of his past.
And with a terrifying plan in place to replicate his upgrade throughout the world's population, he may be the only person capable of stopping what has already been set in motion.
To win this war against humanity Logan will now have to become something other than himself…
Are you ready for the impossible?
Review
Upgrade is phenomenal. That's all you really need to know about this book. It's absolutely phenomenal.
The story is so compulsive that the pages practically turn themselves. It's a one-sitting book, because once you start, you aren't going to want to close it until you reach the final page.
Is it thrilling? Absolutely. Is it clever? Oh yeah. Are there twists? You betcha. Will the story take you on an absolute roller-coaster and leave you breathless and dizzy because you can't believe how brilliant the book is? 100%. But that's no surprise. If you've ever read a Blake Crouch book before, then you already know the answers to these questions. You know exactly what to expect.
Blake Crouch has earned his stripes when it comes to writing sci-fi thrillers. Dark Matter and Recursion set the benchmark for mixing pulse-pounding action and unexpected twists with flourishes of scientific wizardry. He's built a reputation for creating stories which simmer with inventive concepts to rival the titans of the genre. Put simply, when a new Blake Crouch is released, expectations run high. Very high. I guess the only question that matters is: does Upgrade meet them? 
Logan Ramsay is the beating heart of this story. And I mean that literally. The 'upgrade' that he experiences could easily make him feel distant or detached. But instead, however advanced he becomes, he always feels like the underdog. He's always the person we're rooting for. The fact that we care about him is an accomplishment in itself. That's how much heart he's got. Logan really elevates this story in a big way.
If you're thinking that the idea of someone's potential being unlocked sounds a bit like Limitless or Lucy, then you'd be right. But this is Limitless on steroids, dialled up to eleven. It takes the concept of advanced humans in directions that are new and fresh, and it doesn't feel like a retread of anything we've seen before. It feels bigger, bolder, clearer, and wilder than anything else out there like it.
The family dynamic which permeates the pages of this story is electric. There's something universal about the connections between the characters, and it pulls you into a tussle of 'head vs heart'.
The prose is clean. The pacing is exceptional — it never lets up, but also, somehow, creates enough breathing room for concepts and questions to be explored. What makes us human? And what about humanity is worth saving? The answer posited by the story could be seen as sentimental, but in the best sense, coming over as affirming rather than scolding. The message of the book feels timely, prescient, and necessary. It aims to make you care, and it succeeds in doing exactly that. It's powerful stuff, and if there's a direction in which humanity could do with an upgrade, then the final moments leave us pointing towards a good one.
So, with all that in mind, does Upgrade meet expectations?
You'd better believe it! Upgrade doesn't just reach for the same heights of Crouch's earlier work, it aims to surpass them. Blake Crouch is levelling up. He's raised the bar once again. And I cannot wait to see what lies in store for the future while ever his books are a part of it.
Basically, Upgrade is phenomenal. Totally, terrifically, truly phenomenal. And that's all you really need to know.