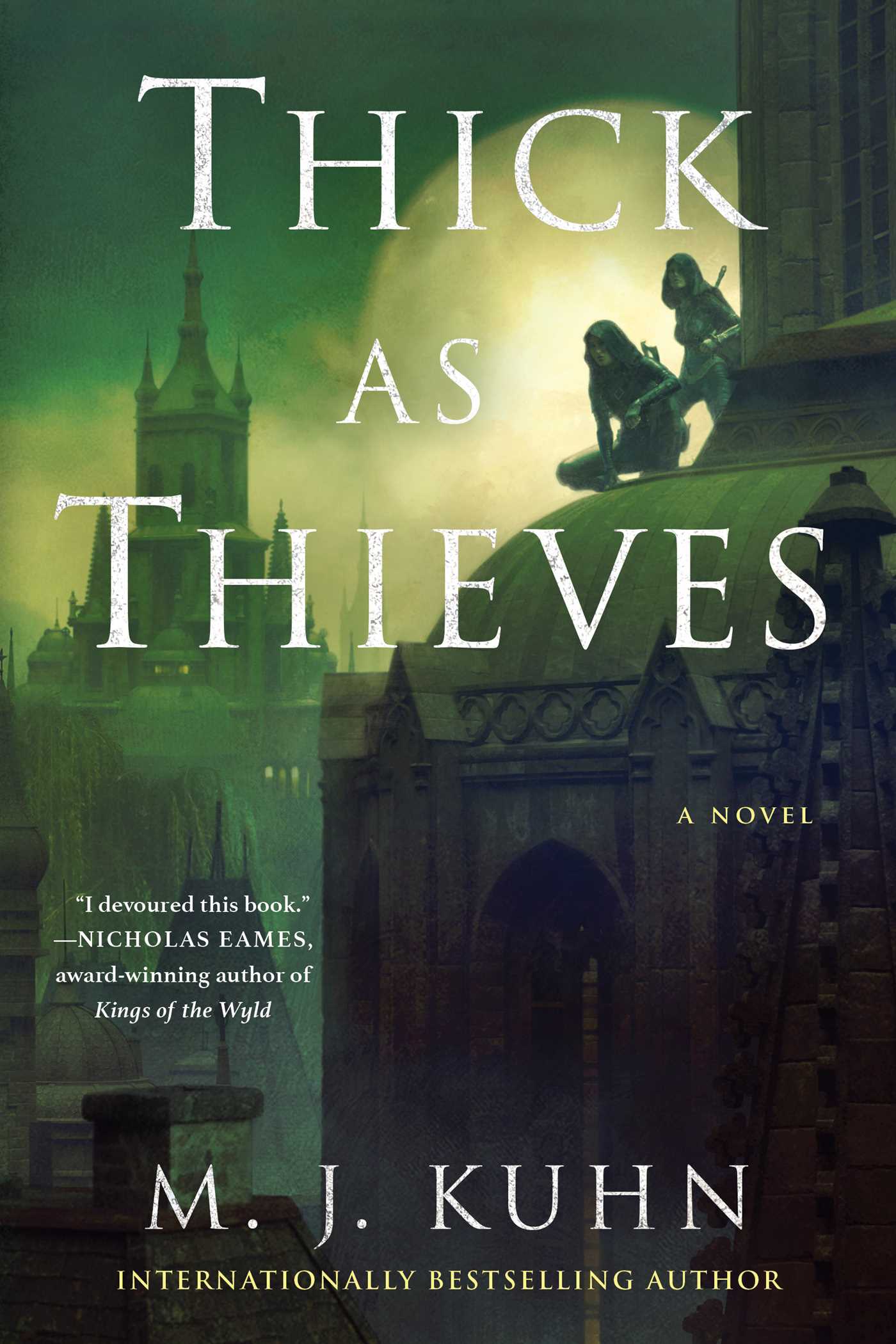 Rating: 9.5/10
Synopsis
Ryia Cautella, a.k.a. the Butcher of Carrowwick, and her motley crew have succeeded in the ultimate heist . . . with the most dire possible consequences. A terrifyingly powerful tool has fallen into the hands of Callum Clem, the criminal leader of the Saints, who was already one of the most dangerous men alive. With the newfound ability to force magic-wielding Adepts to his will, he is unstoppable.
With their group scattered throughout the five kingdoms of Thamorr—and not all on the same side of the fight—things seem hopeless. But can Ryia get the gang back together for one last job? Or will chess-worthy power plays and shifting loyalties change Thamorr as they know it?
Review
The follow up to Among Thieves crowns MJ Kuhn as the queen of the fantasy heist. An absolutely worthy sequel that expands the world and characters, while also building to a sensational end. I couldn't have wished for more.
If you missed Among Thieves, first of all — what are you playing at? And secondly, if you want to avoid spoilers for book one in this two-book series, go and buy a copy and read it before continuing with this review. Because I'm about to wreck that book in five, four, three…
Thick As Thieves picks up right where things left off. Callum Clem — AKA, a seriously intimidating villain who I loathed in the first book and detested even more in this one — got away with the quill that can make him master of the Adepts. Scary stuff, right? The book wastes no time in planting us straight in the middle of the action as Ryia and Evelyn attempt to rescue the duplicitous little teenage swine that is Tristan.
Meanwhile, Nash and Ivan are with Clem, and there's tension over whether they should even be helping him. Every character is stretched to their limit by the sum of their choices, and what I loved about this sequel was how the events in book one had a payoff here. Whether it's Ivan's actions to protect his brother, or Nash's unswerving devotion, or the wavering of Ryia's merciless streak — it all feels totally relevant to the arc each character goes through. And in terms of where they all end up, it makes the book all the more satisfying.
Some quick questions you may be wondering:
-Does it have the same level of witty banter that made the first book such a joy? You can bet your axe it does.
-Does it retread the same old ground as the first one? Not at all. More on that in a second.
-Will you want a replica of Ryia's hatchets for your wall by the time it's done? Absolutely.
Where the first book was more heist than fantasy, Thick As Thieves switches things up by going darker. There are jailbreaks, stand-offs, high-seas piratical misdeeds, double-crosses, and all the criminal ingenuity you could hope for. It's an exhilarating read. But there's also something more deliberate, more thoughtful, and more introspective about Thick As Thieves.
Ultimately, it's a book about relationships, loyalty, and choice. How we become what we choose to be. How we're bound to the people around us. But it manages to remain fast-paced, frenetic, and fun. There will be moments of heartbreak and moments of elation, moments of terror and moments of relief, moments of laughter and more moments of laughter. It hits you in the feels in a deeper way than Among Thieves, and it isn't afraid to do things a little different. And speaking of going deeper, like all the best sequels, it delves into the history of Thamorr and answers questions you didn't even know you needed answering. I love those kinds of stories — the kind that go beyond your expectations.
MJ Kuhn could so easily have given us Among Thieves 2.0, and rehashed that winning formula of snark and sorcery, hatchets and haberdashery. We'd have all been happy to read a dozen books where Ryia and Evelyn bicker, Nash and Ivan play the "will they won't they" game, and Tristan gets away with being an absolute muppet. But instead, she's given us something more. She's given us an ending which is so much richer than I anticipated, and new characters that are every bit as compelling as the ones you already know and love. By the time the final page is turned, you'll have experienced a genuine journey across this series. And that's mightily impressive.
In terms of comparisons, it's still got that Arcane: League Of Legends vibe, but I was getting flavours of The Count Of Monte Cristo, and even Pirates Of The Caribbean in places. It straddles so many different influences, but definitely recaptures that unique charm which made Among Thieves such a standout.
Thick As Thieves will steal your heart. It's endearing and powerful, charismatic and captivating. If you enjoyed book one, you'll relish this conclusion. It really is a perfect sequel. 
---
Release date: 25th July, 2023