Synopsis: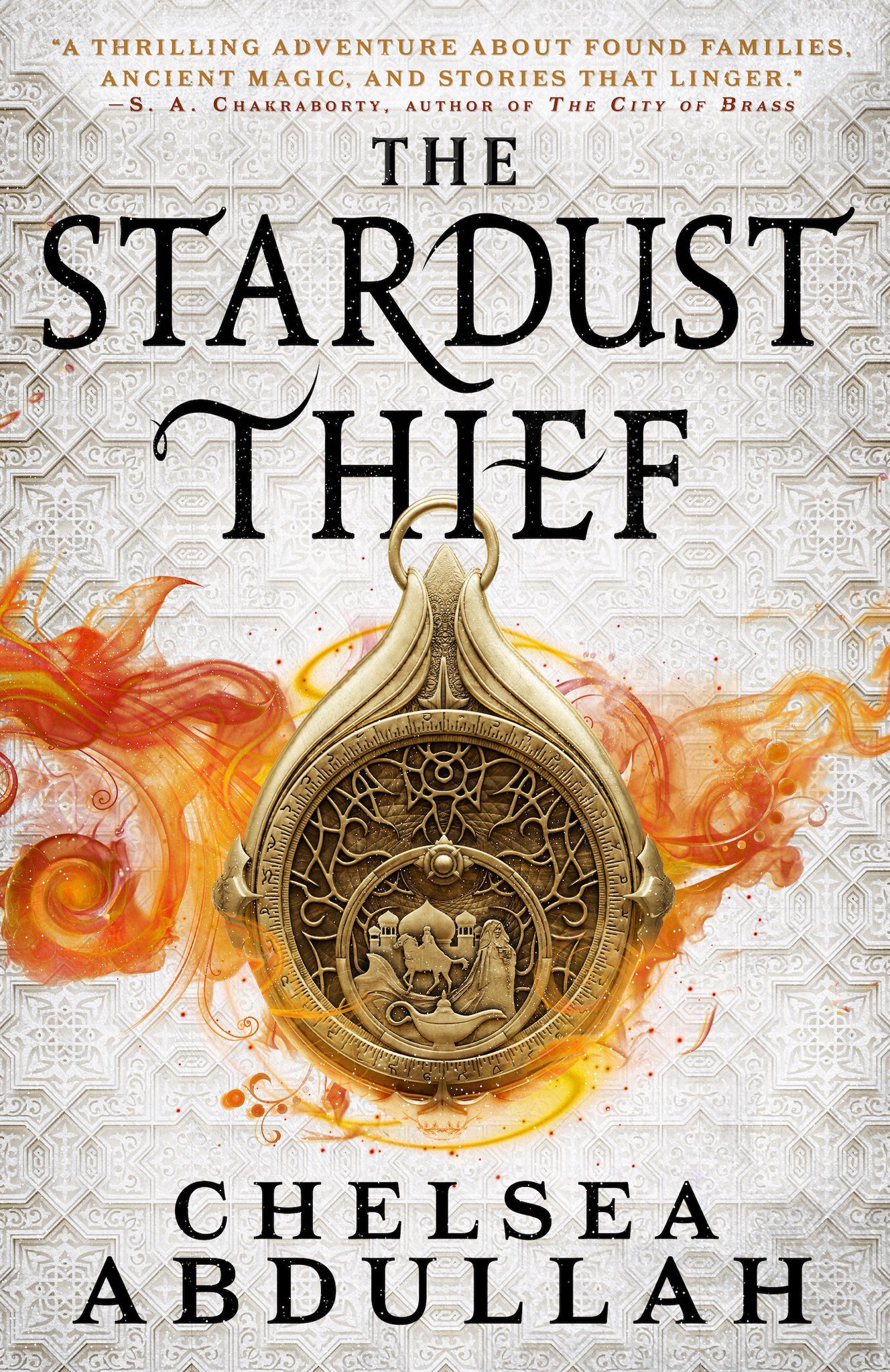 Rating: 10/10
'The Stardust Thief will transport you, enchant you, and revive your belief in the magic of storytelling' Shelley Parker-Chan, author of She Who Became the Sun

Inspired by stories from One Thousand and One Nights, The Stardust Thief weaves the gripping tale of a legendary smuggler, a cowardly prince and a dangerous quest across the desert to find a magical lamp.
Neither here nor there, but long ago…
Loulie al-Nazari is the Midnight Merchant: a criminal who, with the help of her jinn bodyguard, hunts and sells illegal magic. When she saves the life of a cowardly prince, she draws the attention of his powerful father, the sultan, who blackmails her into finding an ancient lamp.
With no choice but to obey or be executed, Loulie journeys with the sultan's oldest son to find the artefact. Aided by her bodyguard, who has secrets of his own, they must survive ghoul attacks, outwit a vengeful jinn queen and confront a malicious killer from Loulie's past. And, in a world where story is reality and illusion is truth, Loulie will discover that everything – her enemy, her magic, even her own past – is not what it seems, and she must decide who she will become in this new reality.
Praise for The Stardust Thief:
'Sizzling with action and secrets,The Stardust Thief is a grand adventure with unforgettable characters, enchanting magic, and plenty of heart' Melissa Caruso, author of The Tethered Mage
'A thrilling adventure about found families, ancient magic and stories that linger' S. A. Chakraborty, author of The City of Brass
'The Stardust Thief is a dream written upon a page – absorbing, lingering and poignantly told. Abdullah weaves a sweeping adventure of tales within tales, while laying bare the ways those we love can both uplift us and break our hearts' Andrea Stewart, author of The Bone Shard Daughter
'Abdullah transports readers into this rich world and literary heritage' Library Journal
'A marvellous plunge into a beautifully crafted adventure' Kirkus
'This powerful, intriguing adventure will leave readers eager for more' Publishers Weekly
'Abdullah is a gifted storyteller. . . [bringing] to life a rich world, rife with magic, where anything that can be dreamed up can happen' Booklist
Review:
Thank you to Nazia and Orbit Books for providing me an ARC. This is a great story!
The Stardust Thief is without a shadow of a doubt, one of the most epic tales I've ever read. It has felt like I've not scratched the surface, yet there is so much more in this world to discover. This is a gorgeous world full of unique references from Arabic culture and it's a vast library of rich literature. You will see influences of Ali Baba and the Forty Thieves and tales from the 1001 nights. I love this book because it explores a new culture, something that is different apart from Medieval Europe. As I type this now, I am seriously impressed with Abdullah's method of writing and how she has successfully managed to weave multiple stories into one.
Writing such a tale requires a lot of patience, and no doubt this must have gone through many revisions. This world was immersive, so immersive that I got lost in the wonderful descriptions of gorgeous red-sun like deserts and latticed buildings. This represents a new triumph in the world of fantasy. Medieval Arabia and the Golden Age of Islam provide many great tales that are perfect for a fantasy setting. The Jinn are central to this theme, and while we get the stereotypical 'genie', this is a hardcore version of what the Jinn are. I think Abdullah also must have studied the Ancient Arabian Kingdoms of Saba and Nabaetea because they too were essential civilisations that created the culture of what we know as Arabia.
At first, the start was a little slow. Some scenes felt a bit slow-paced in some areas. And I didn't agree with the cold hard attitudes of Aisha and the Midnight Merchant, to some degree. I do feel that what they've been through has made them that way. In a way, I could spoil this story. But I do not wish to. Simply because of how epic this tale is…makes me think the sequel is going to be even better, even more epic, even more, wow. I feel like this is the beginning of an epic journey that I've been through. I've been with characters such as Prince Mazen, who I love. His honesty and his foolishness do provide me with some hope in this world that people like do need to exist in a world where coldness and hostility existg. Qadir is the most mysterious character and I implore you to take on his subtle hints because he will drop many. I did like the Midnight Merchant, but I have not gotten too attached to her yet. As for Aisha, she was alright to a certain extent. I didn't like Omar however, he is a snake in the grass. That being said, these were my reactions. The truth is more complicated, and Mazen's ability to tell and narrate the stories of old are wonderfully written. I loved during the tales of stories, that there was a printed scroll. I definitely think that more fantasy books should take this approach!
This is a dazzling, epic action adventure novel with great characters in an Arabian setting, with a great story. I whole heartily recommend this!! 10/10 from me!