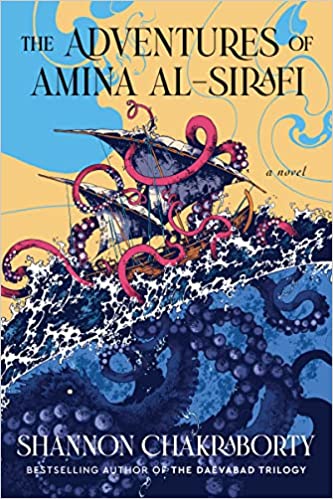 Rating: 8/10
Synopsis
Amina al-Sirafi should be content. After a storied and scandalous career as one of the Indian Ocean's most notorious pirates, she's survived backstabbing rogues, vengeful merchant princes, several husbands, and one actual demon to retire peacefully with her family to a life of piety, motherhood, and absolutely nothing that hints of the supernatural.
But when she's tracked down by the obscenely wealthy mother of a former crewman, she's offered a job no bandit could refuse: retrieve her comrade's kidnapped daughter for a kingly sum. The chance to have one last adventure with her crew, do right by an old friend, and win a fortune that will secure her family's future forever? It seems like such an obvious choice that it must be God's will.
Yet the deeper Amina dives, the more it becomes alarmingly clear there's more to this job, and the girl's disappearance, than she was led to believe. For there's always risk in wanting to become a legend, to seize one last chance at glory, to savor just a bit more power…and the price might be your very soul.
Review
"Exaggerations, but the truth scarcely matters when it comes to a good tale."
This book is a historical fantasy following retired pirate captain Amina. It is set in the Indian Ocean and with a historical backdrop of the Holy War. I have not read other works by this author, but know how beloved they are by many readers so was excited to give this a try.
When we meet our main character she has long since given up her life at sea, and is now a middle aged mother living a quiet life, putting her past behind her and doing her best just to get along day to day. From the start I loved this book because I really enjoyed reading about a mother this age. I feel like it's a character type that is lacking in fantasy books. Amina has a tonne of personality and strength still in her but her glory days have been and gone, which was refreshing and offered some different considerations in this story that I loved reading about. She has a pains from old injuries. Her beauty is perhaps diminishing with age. She's 'been there, done that'. All Amina wants is to look after her daughter, live in peace and quiet and just be left alone with her family. However, fate has other plans and the story takes her on quite a journey.
I loved how this book touches on aspects of culture and religion, and diversity within those as well. It would have been easy to tell this story without diving into these discussions but here it's done with care, it doesn't flood the book and it adds a lot of depth to Amina as a character.
The first half of the book is more dedicated to 'getting the old gang back together'. The second half is where the adventure really happens and is a bit more fast paced for that reason. The author brings in a real sense of adventure and fun to this book. The character dynamics leave room for lots of humour throughout. I particularly liked Amina's long lost, thought-to-be-dead husband who in some ways we are supposed to not like very much (you see why as you read) but I couldn't help but love him.
Having said that I do think some side characters were a bit forgettable unfortunately. As well as the villain who fell a bit flat for me. Other than a few of the main ones other characters I found myself having to check back to remember who exactly they were. Since finding out this was the first in a series I am hoping for this to be something that changes for me in upcoming books, as characters get more page time. For this one I do feel like some opportunities to make certain characters a bit more memorable in themselves were lost.
Having said that, this book was a lot of fun and I powered through it as a result. I look forward to following Amina on her next adventure, and continuing this story.