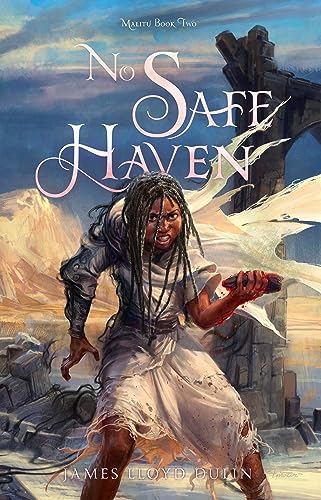 Rating: 10/10
Synopsis
Anger will not be quenched by blood alone.

The Missing, a rebel army that is little more than a rumor, may be Kaylo's only path to exact his vengeance against the empire that claimed his home and killed his family. If it means a chance to balance the blood he owes, he will steal spirits and become the Missing's tool, as long as they aim him in the right direction.

Eighteen years later, a war is raging between factions for control of Ennea. With Tayen, Kaylo, and Nix caught in the middle of a power struggle—Kaylo will have to find a way to fulfill the promise he made to Tayen, Nix must face the consequences of her betrayal, and Tayen will have to choose between vengeance and her spirit. When blood is owed, virtues will be challenged.
Review
It really is such a privilege to read superb artistic writing from James. I mentioned it before and will mention it again, not only he is a wonderful gifted storyteller, but he also showed how to write his characters' transformations like no other. The character arcs for both Kaylo and Tayen are something to be admired and I'm awestruck as any fantasy reader out there.
"The truths in our fantasies are often greater than those we are willing to offer in plain language."
The story picks up immediately from the first book, where Kaylo, Tayen, and Nix were captured by The Lost Army – commandeered by Wal – Kaylo's old friend. While Kaylo was tasked to train three dancers in the service of the King, Tayen and Nix were recruited to be trained warriors like hundreds of stolen children in Astile. We also learned more on why Kaylo became The Hero of Anilace and why he can't call on The Seed anymore.
"When you get older, you want to be known – understood. You want someone to see you, especially when you can't see yourself."
Dulin once again showed exceptional writing on the difficulties of war, colonialism, and especially grief and loss. No Safe Haven was written profoundly in such a delicate manner and yet still bring the essence of an exceptional lyrical prose. But the most pivotal moment for me was how he showed how anger and forgiveness can be both tools during the war.
"Anger can be a tool. Many great things have been done through anger. Many terrible things too."
"Forgiveness is not compliance. It is the acceptance of change and freedom from the constraints of the past."
The Malitu series is a breath of fresh air and I highly recommend to start reading this series immediately. If you're a fan of any kind of fantasy, I urge you to put this book immediately in your TBR.
"Opening the doors to the library felt like opening a book after a long day."
Disclaimer: ARC provided by the author in exchange for honest review. The quotes used on this review may have change but I have permission from the author to use such quotes.