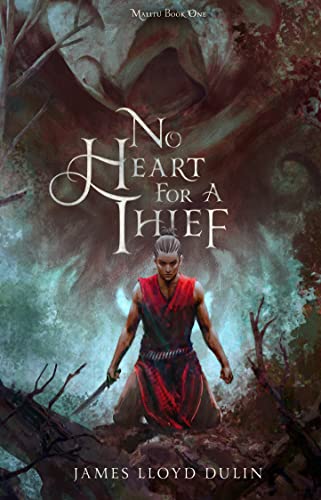 Rating: 10/10
Synopsis
We are the stories we tell ourselves…even the lies.
The Thief, a great spirit, and her descendants have abused their ability to steal magic for centuries. When Kaylo starts to hear the song of other people's magic, he must learn to hide from his people as well as the invaders. A gift or a curse, Kaylo may be able to save his people from the Gousht Empire that claimed their land with this stolen magic.

Eighteen years later, Kaylo still prays to the spirits, but not out of loyalty or love. He knows better than to rely on those selfish bastards for anything. While hiding in the forest from his foolish acts of rebellion, he encounters a girl, Tayen, being pursued by two soldiers of the empire. Against his better judgment, he risks facing the consequences of his past to intervene.

When Tayen attempts to run off seeking vengeance for her family, he offers to train her to wield her magic and a blade. If he can't convince her to relinquish her need for vengeance and stave off the demons of his past, he's going to get them both killed.
Review
I feel like I don't often reach out to authors after reading their books and tell them, "This is such an exceptional fantastic debut and thank you so much for writing this." And I hope I have given the book review justice.
Don't get me wrong, I am always such a sucker for frame narrative novels after reading Name of the Wind by Patrick Rothfuss. Like KingKiller Chronicles, No Heart for a Thief launches into a "story within a story", where Kaylo continued to narrate his story until the end of the book. It contained flashbacks and flashforward where the current events taken place. The flashbacks were my favorite part as it gave me the general view of what Kaylo experienced and his thoughts on the events.
"You see, little shade, a story is a peculiar thing. Change a word – the emphasis of a word – and it can become something it was never meant to be. A hero can become a tyrant. A tyrant can become a great uniter. And a boy who makes a lot of stupid decisions can become a myth."
"My mother taught me how to tell a story properly. The most important decision is where to begin."
Kaylo – a reclusive person for 18 years living in the forest and wanted nothing to do with the Gousht Empire – rescued Tayen from the guards who killed her family. With Tayen wanting revenge, Kaylo shared his life story and reluctantly became a guardian as well as a mentor. And Tayen having recognized Kaylo as the Hero of Anilace, cannot escape his past any longer.
Violence felt like it should announce itself with a bang, but the turns had taught him otherwise. Blood had ways of spilling in the quietest of moments.
"Time is not a path we walk; it is the wind that rushes about us on our journey."
Kaylo's POV were perfectly executed and his story telling was so heartfelt that I cannot put the book down. I was engaged the whole entire time and hanging every word he shared. The writing was one of the cleanest prose I have read in a very long time, and I believe James is a wonderfully gifted storyteller and I was beyond impressed to say the least.
"You're the greatest gift Ennea ever gave me," she said. "I love you."
For all my walls and anger, his embrace caught me off-guard, and I didn't have the will to push him away. Instead, I sunk into his soft robes and wept as he gripped me tighter.
I was blown away with everything about this book, from magic system to world building, the author really how to captivate his readers in his unique way. Ennea, where a Gousht take slaves and proselytize religions to The One True God, James exceptionally combined philosophical aspects of how humanity should survive under colonialism.
"Welcome to the Fallen Rock Clan," he said. "It's a sight, isn't it? I remember the first time I saw it. It looked like a cup of water to a man dying of thirst."
This was such a fantastic debut and and I cannot recommend this enough to any fantasy readers out there. James has my highest praise and thankful for writing this novel and able to share it with us.
"Some wisdom can be won in a lifetime; other wisdom is won in a day."
"No heart for a thief, no safe haven, only a grave will do."
If you are a fan Name of the Wind or ANY frame narrative writing, I highly suggest to push this sooner in your TBR.