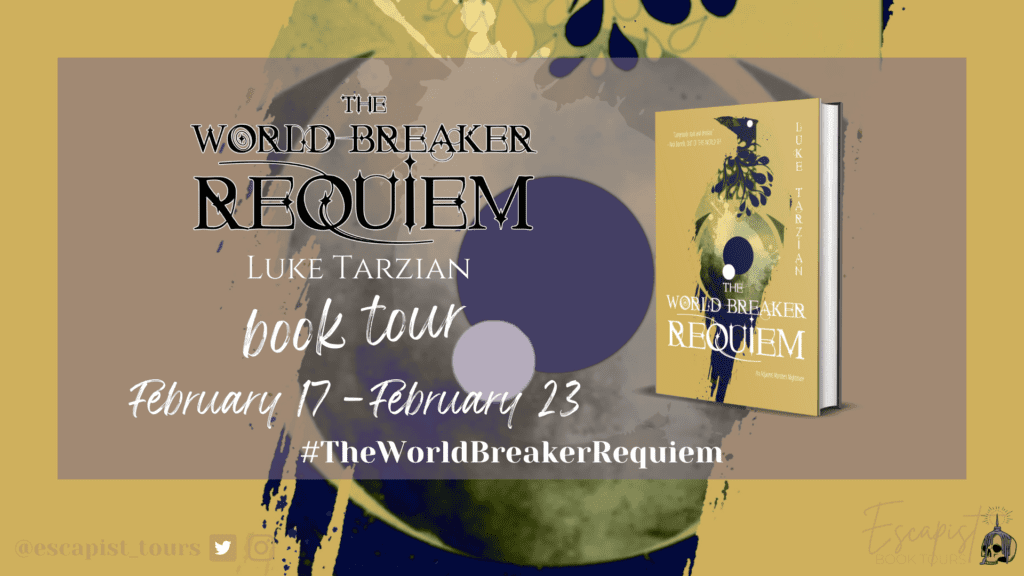 Hello and welcome to my stop on the Escapist Book Tours Hero's Journey (full tour) for The World Breaker Requiem by Luke Tarzian! I am super excited to join the tour by sharing my review of the book! You'll find that down below along with details about the book and author, links to grab yourself a copy, and even an opportunity to win an ebook copy for yourself!
Also, be sure to check out the rest of the tour by following the official schedule at the bottom of the post. We've got some great hosts lined up and ready to help us roll out the "read" carpet for this excellent Dark/Psychological Fantasy novel!
---
Book Information
The World Breaker Requiem by Luke Tarzian
Series: Adjacent Monsters
Genre: Dark Fantasy/Psychological Fantasy
Intended Age Group: Adult
Pages: 219
Published: December 21, 2021
Publisher: LukeTarzian.com (Self Published)
---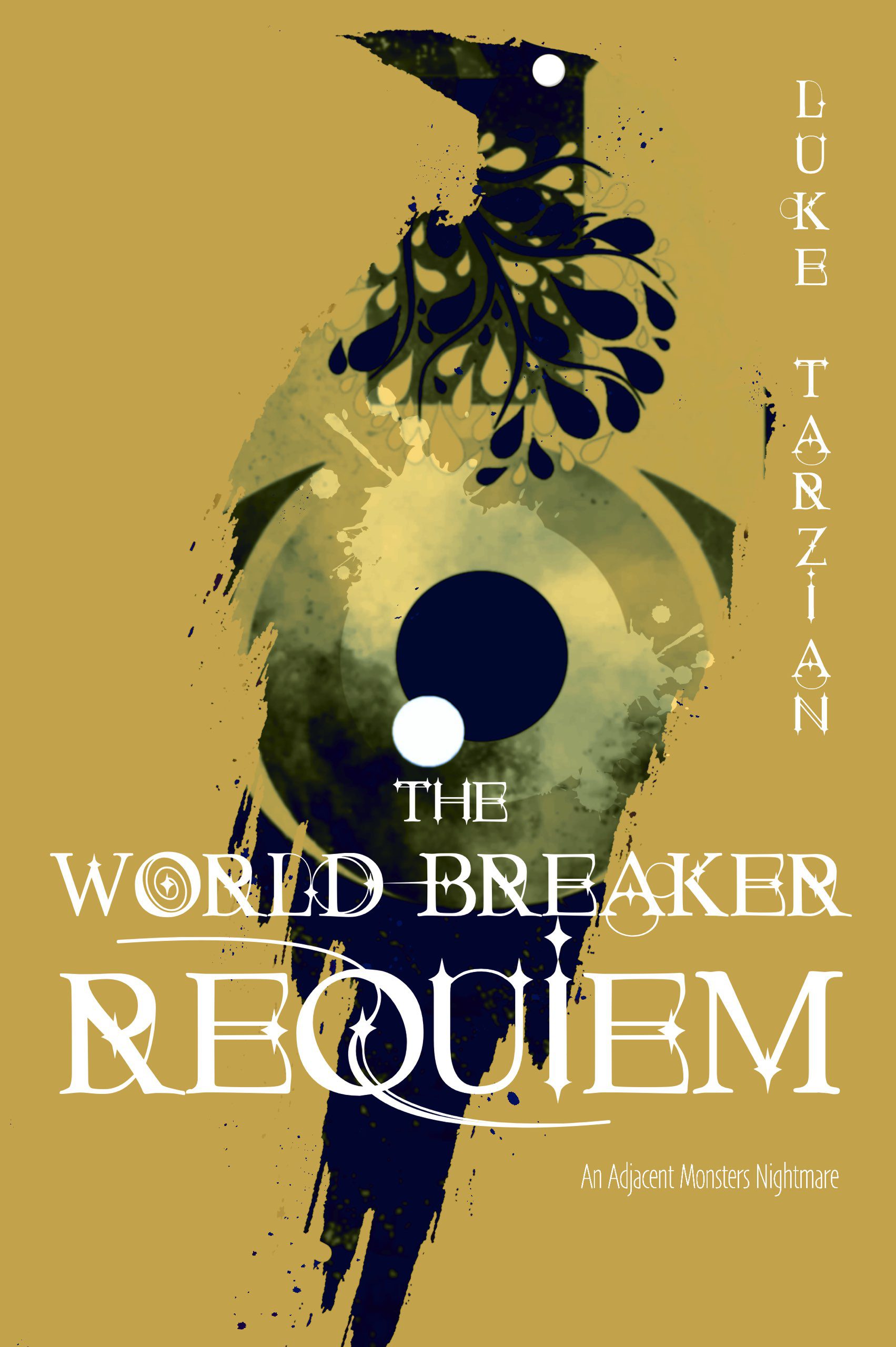 Rating: 8.0/10
Blurb
Prince of Woe…
Avaria Norrith is the adopted heir to the Ariathan throne. But that means little to a man who, for the better part of fifteen years, has sought and failed to earn his mother's love. Fueled by pride and envy, Avaria seeks the means to prove himself and cast away his mental chains. When he's tasked with the recreation of The Raven's Rage he sees his chance, for with the infamous blade he can rewrite history and start anew.
Daughter of the Mountain…
Erath has not felt sunlight for a century. Not since Ariath condemned her people to a life of darkness with their misuse of The Raven's Rage. But when an old friend comes seeking the remnants of the ancient sword, Erath cannot contain her curiosity and resolves to lend her aid. Is it true—can history be revised? Can her people be reclaimed?
Toll the Hounds…
They are hungry—and they are here.
See Also:
He's My Little Doggy Dude • Yes, Sometimes I Talk To Myself • Hey, Let's Get Drunk and Angry and Try to Summon Demons in the Forest
Review
The World Breaker Requiem is the second in a duology of standalone novellas, the first being The World Maker Parable. I have read all of Tarzian's books up to this point and I continue to be a huge fan of his. You can read my previous reviews of both Vultures and The World Maker Parable here and here, respectively.
I sit, now, in the courtyard of a spire-keep and do as I have done for years— I Listen. To a prelude long and dark. A herald to a symphony of broken dreams.
While it is set in (mostly) the same world, there's a cast of (mostly) new characters that have (mostly) new motivations and goals. I'm being facetious of course, but one of the things that tie the series together are the group of god-like beings called the Reshapers and their magic, which can both create and destroy, as well as allow them to travel through time. Because of this, certain characters play a huge role in both books and you will see certain motifs, such as regret, guilt, vengeance, and greed appear throughout the duology.
Requiem starts with a quest, but it's a far cry from traditional fantasy. In fact, the quest itself really has nothing to do with what makes this book so good. The main characters each start out with the intention of finding a sword that can be used to rewrite time. This central question, what would you do to fix past mistakes, is ever at the core of the narrative and the way that is woven into the narrative itself is what drives the story forward. Avaria and Erath are each trying to fix a broken world and bring back those that were lost to it, but are either of them actually in control? And, are their motivations for their own or just a product of someone else's machinations?
"The mind is a dangerous place. Quite disordered, as you can see." His expression darkened. "Especially when your dreams and memories braid together with those belonging to a monster."
I may have said this in a previous review, but I think Requiem's biggest success is also its biggest fault, and that's sheer complexity of the narrative. Now, I am normally a plot reader through and through, preferring a tightly plotted narrative to one driven by the characters. I love to sit and puzzle out the mysteries of a story, but The World Breaker Requiem may be too esoteric for its own good. Don't get me wrong, it has everything I enjoy in a story in spades, but I feel like Tarzian sometimes gets lost in the weeds, where the message he wants to deliver, the parable if you will, takes precedence over the plot. Though, I think that Tarzian goes into writing with a message in mind, with the story simply being the vehicle through which it is delivered and there's absolutely nothing wrong with that. Storytelling is at its best when it is used to explore ourselves and Tarzian's writing is an excellent example of such.
The World Breaker Requiem marks my third Tarzian book (I've collected the whole set!) and it's the best one yet. Rarely have I found an author that has improved with every subsequent release, but Tarzian has managed just that, all while developing a truly unique voice. Tarzian is a modern day Poe, weaving together strands of dark fantasy with an in-depth exploration of his characters psyches and I just can't get enough of it. Bring on House of Muir.
"I have tried many times before—and each time, I have failed. So many names. So many children. So much death. My legacy, my child, is destruction, failure."
About the Author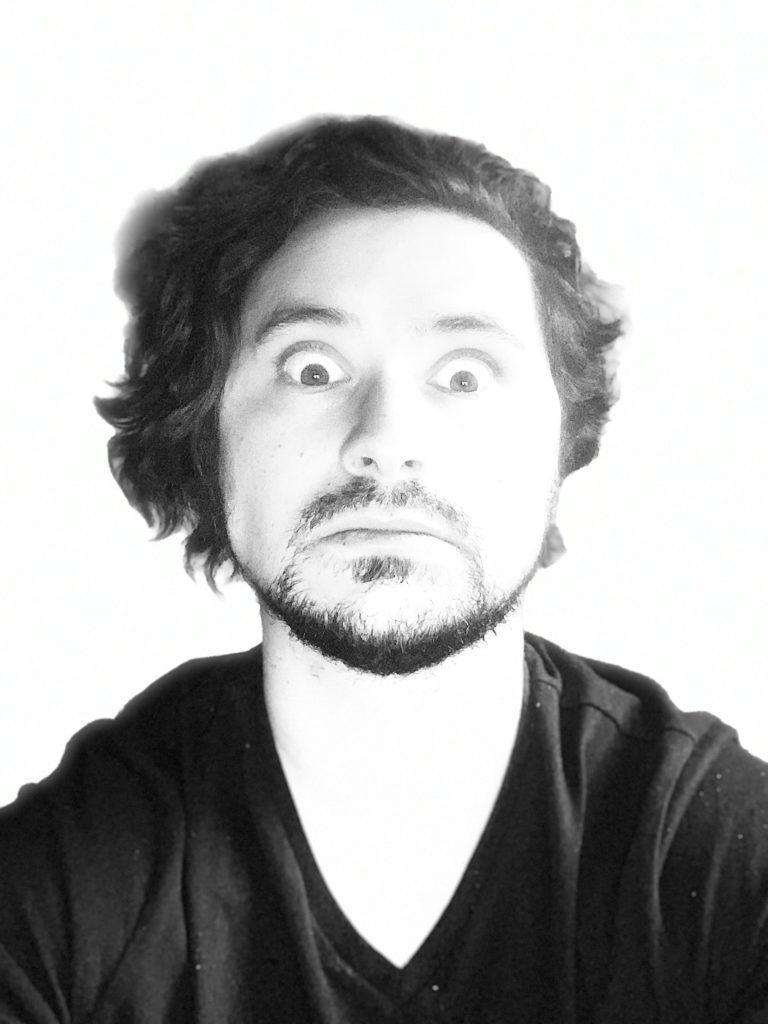 Luke Tarzian was born in Bucharest, Romania. His parents made the extremely poor choice of adopting him less than six months into his life. As such, he's resided primarily in the United States and currently lives in California with his wife and their twin daughters. Somehow, they tolerate him.
Unfortunately, he can also be found online and, to the dismay of his clients, also functions as a cover artist for independent authors.Twitter: @luke_tarzian
Instagram: @luketarzianwrites
Website: luketarzian.com / tarzianbookdesign.com
---
Giveaway
a Rafflecopter giveaway
---