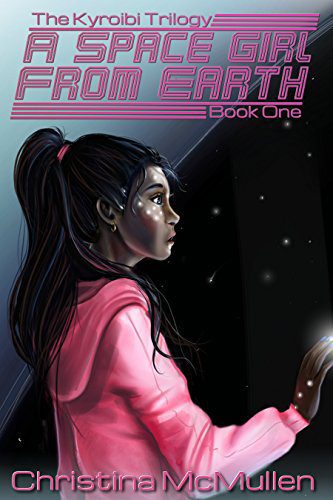 Rating: 4/10
Synopsis
Yesterday, her biggest worry was failing an exam.
Today, it's saving the galaxy.
From her six foot four inch height to the uniform white dots that peppered her skin in perfect geometric patterns, Ellie Whitmore was certainly unusual, but an alien from the other side of the galaxy? Of course not. That's just what the tabloids said to sell papers.
Or so she thought.
Turns out not only is Ellie an alien, but an ancient and powerful relic housing the forbidden knowledge of a lost civilization is hidden deep within her genetic code. Suddenly she's on the run from a malevolent Emperor who sees her as the key to ruling the galaxy. Even her own mother can't resist the draw of ultimate power and the one person Ellie might be able to trust is an unrepentant assassin who may be responsible for her life's upheaval. Now, she must travel to a distant planet and unlock the secrets to restoring peace and ending tyranny.
But how can anyone expect her to save the galaxy when she can't even pass organic chemistry?
Review
A Space Girl from Earth is a sci-fi adventure that attempts to set the stakes high but ultimately trips up on its' own feet by forcing in a trope that doesn't want (or need) to be there. While I really wanted to enjoy this novel I found myself struggling to finish as the mask of an epic space adventure began to peel off and a forced romance took shape. I believe both of these could have co-existed but because the novel is so short and the relationship is so forced that the character developments were not ready for that kind of commitment in the eyes of the reader.
I wanted to start this review off straight and to the point with my biggest criticism because I believe this to be significant for the entire book. However, I do believe there are redeeming factors to the book as well.
The world building is very fascinating. While the majority of the book takes place on earth, there is also a very present push and pull coming from the histories and pasts of those not from Earth. Earth is a remote and relatively unknown planet, but because of how large the scope of other civilizations are from elsewhere in the galaxy, I found that Earth began slowly growing smaller in its' size and importance to this 'world' that Christina has written. This to say, I really found myself interested in the world being revealed before me.
The plot of A Space Girl from Earth was fairly simple with a splattering of unique twists thrown in. One being, how the solution to fighting advanced technology was to steampunkify everything. This allowed for a contrast between different societies as well as two lines of science that led to differing yet similar results. Which I really enjoyed! Overall, I found the plot to be lacking because of a subplot that became "too big for its' britches" as my mom would say. Instead of investing in some of the key plot lines, everything revolved around a growing relationship. Making the story feel caged.
Some of the major themes of this novel are: one's uniqueness should be cherished and not hated; technology is only a tool and is only as good or as evil as the individual wielding it; the thirst for power can make anyone do unimaginable things to obtain it; love is not limited to any standard; and finally, the means to an end is not always justifiably, no matter how good the end or intentions are.
A Space Girl from Earth is not a bad idea. It has potential with lots of interesting plot lines and devices throughout. In my opinion it is just not quite developed enough for the scope of the plot being attempted. Therefore, the book as it is I would not recommend.