Rating: 9.0/10
Synopsis
In an epic political fantasy unlike any other, two women clash in a world full of rebellion, espionage, and military might on the far outreaches of a crumbling desert empire.
​
Touraine is a soldier. Stolen as a child and raised to kill and die for the empire, her only loyalty is to her fellow conscripts. But now, her company has been sent back to her homeland to stop a rebellion, and the ties of blood may be stronger than she thought.
Luca needs a turncoat. Someone desperate enough to tiptoe the bayonet's edge between treason and orders. Someone who can sway the rebels toward peace, while Luca focuses on what really matters: getting her uncle off her throne.
Through assassinations and massacres, in bedrooms and war rooms, Touraine and Luca will haggle over the price of a nation. But some things aren't for sale.
Review
Thanks to the publisher and author for an advance reading copy of The Unbroken (Magic of the Lost #1) for review consideration. This did not influence my thoughts or opinions.
The Unbroken is a utterly remarkable fantasy debut. A heart-rending, unflinching tale of love, loyalty, and making the right choices despite the repercussions. Clark had me completely engrossed in her prose, her world, and her characters from beginning to end. I loved this sky-falling book.
You know I am a cover snob, and I am always down a Tommy Arnold original. They are just captivating to look at and clearly belong on permanent display on a bookshelf. This one is no different. Just look at how gorgeous it is :').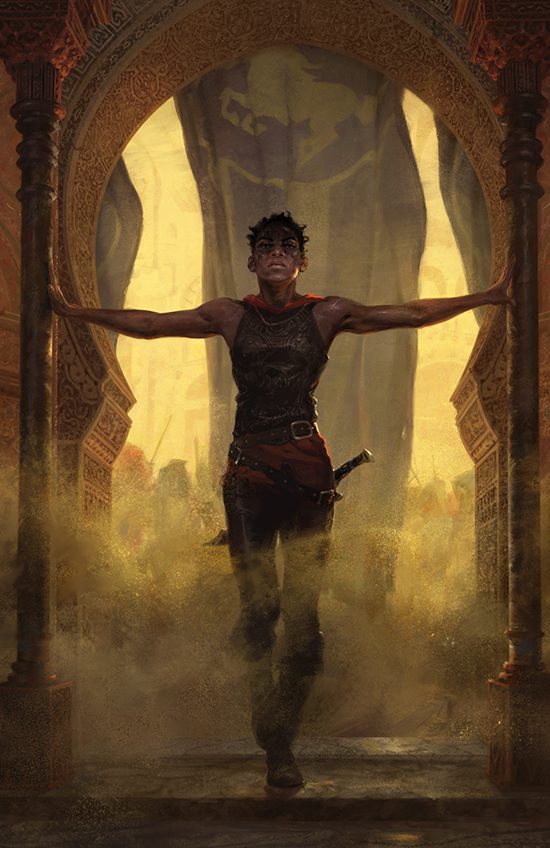 As for what is inside, it is always up in the air, especially with debuts. Knowing just how many Orbit debuts I have read and thoroughly enjoyed, I really wasn't too worried and figured I would at least enjoy the ride.
I didn't expect to just tear through it.
Whether I was supposed to or not, I had female Torgo Nudho (Grey Worm in A Song of Ice and Fire) in vibes with the main character, Touraine. I think that, along with Arnold's rendering, helped me to quickly ally myself with her and understand her motivations. While some of the decisions she makes throughout the story can be head scratchers, it is easy to see exactly where her true loyalties lie. True, love makes things complicated, but nine times out of ten, family always comes first.
I feel like Luca's character was a bit outshined, though she still played a very significant role considering her chapters were nearly half the book. Her love for Touraine feels natural, and the tensions that arise between the two as the book progresses feels exactly as you would expect.
What starts as a rather fast-paced introduction slows down a bit to engage the reader with the characters and the world, attempting to pull you into the dirt laden streets and beautifully tapestried rooms of the Empire. Thing is, before you know it, the intensity swells into a crescendo, leaving the reader out of breath by the time the epilogue hits. Don't get me wrong, I am all for books that never let off the accelerator, but the intricacy with which Clark keeps this story going and introduces a little more weight to the pedal as the chapters progress kept me all-in.
This isn't a story for those looking for massive battles, tons of bloodshed, or dragons swooping in to lay fire to an empire. It is about political machinations, love and loss, rebellion, and finding what is worth saving, with a teensy bit of magic thrown in.