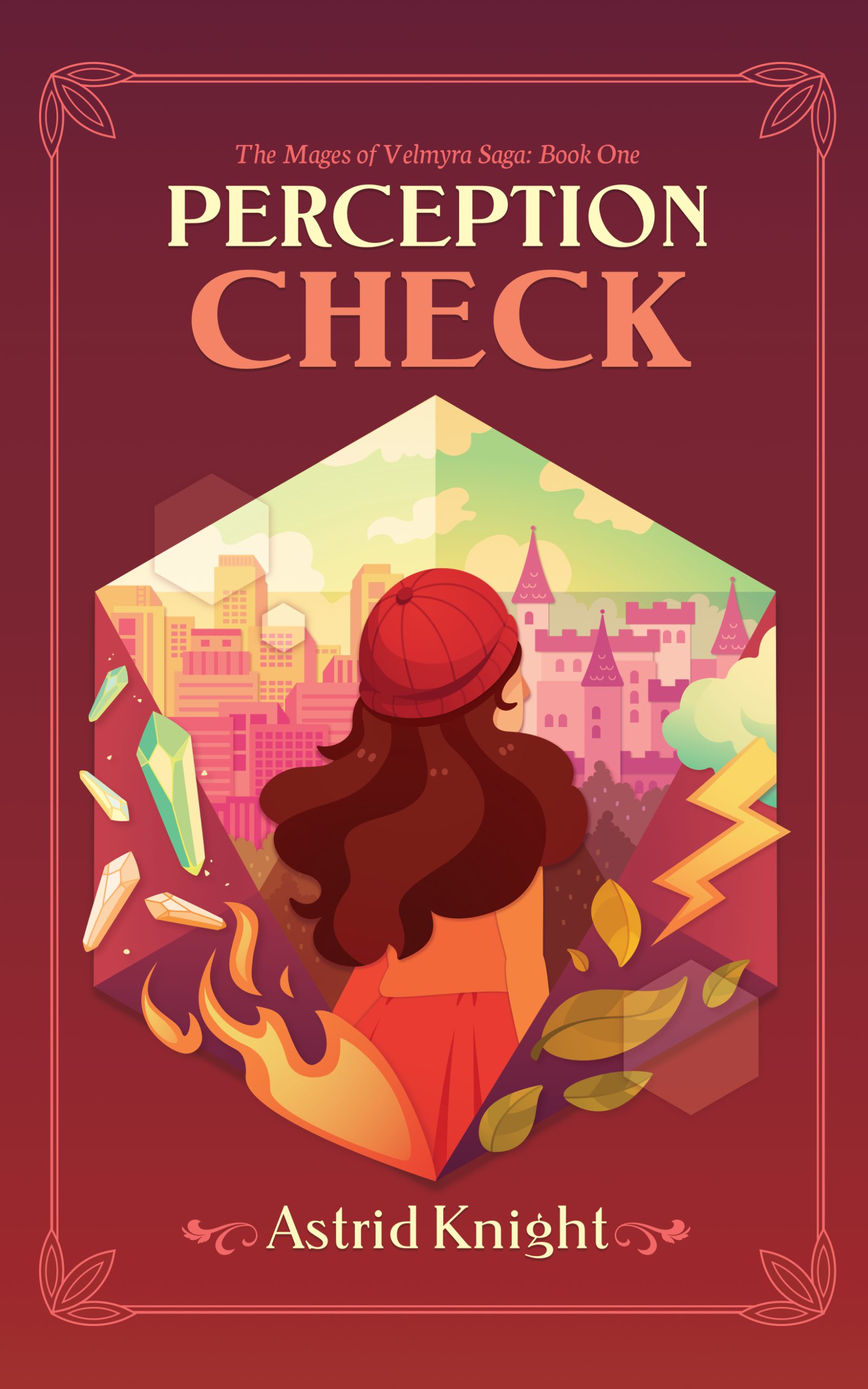 Rating: 9/10
Synopsis
Violet Spence's life hasn't been the same since she watched her best friend taken into another realm by demons. Ten years have passed and with a lot of therapy, video games and an obsession with the TTRPG Mages of Velmyra, she's just about coping with the trauma.
Now she's seeing demons again and stumbling into another realm. It turns out that Mages is actually very real, and her best friend is trapped there.
Review
Wear your reading glasses of true sight (+1 INT), grab your bookmark of literary mana (+1 WIS), and roll for initiative because we're going to Velmyra! But is Astrid Knight's portal fantasy adventure a natural 20 or a crit fail?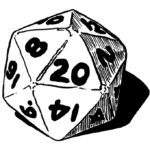 Found Familiar
Firstly, a huge thank you to Escapist Book Tours and to Astrid Knight for the opportunity to read Perception Check in return for an honest review. You can also see that we've rolled with advantage here at FanFiAddict as Sean put together a great review of the book too. Check it out: Book Review/Tour: Perception Check (Mages of Velmyra #1) by Astrid Knight | FanFiAddict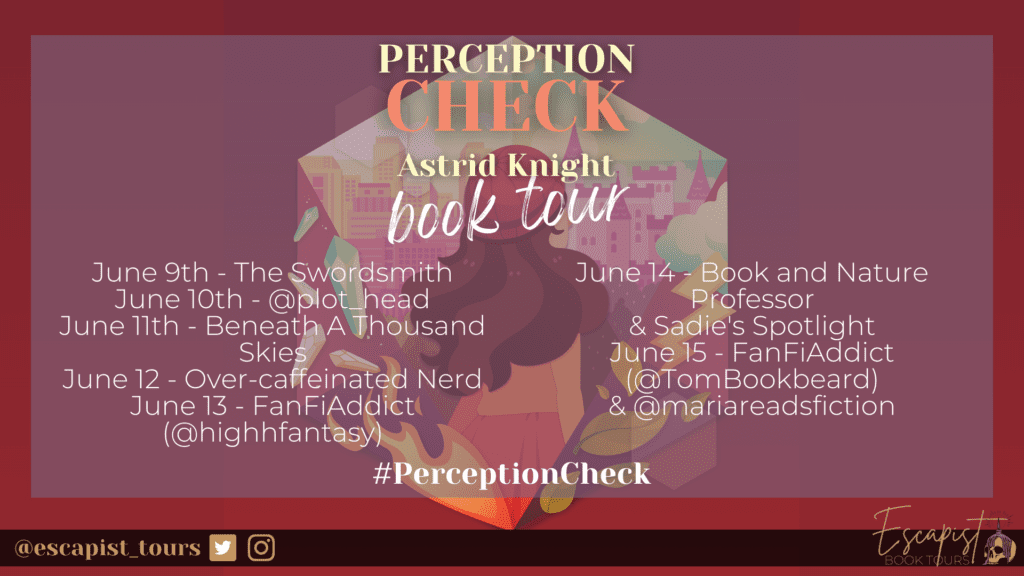 I should state that I am a huge TTRPG nerd, so when I had the opportunity to read a D&D-inspired fantasy novel I wasn't going to pass it up. That said, it's important to state the obvious that this isn't a D&D novel. What it is instead, is a capture of that round the table spirit you get from the very best RPG nights. That feeling of familiarity stayed throughout the book and Knight uses it well to keep the pace and tone of the story in line.
One of PC's greatest strengths is its hook. What if your D&D game turned out to be real? Knight works that premise well and it's a smart choice to pitch several non-spectacular characters into a world of swords and sorcery. The result is that this novel felt very much like a modern day The Lion, The Witch, and the Wardrobe but without being so terribly lovely and saccharinely twee as the TLTWW siblings found their excursion.
Further recognition has to go to the portrayal of a completely platonic friendship between Violet and Eddie. I loved to see two people who are soul mates but not having to have an obligatory scene where they jump into bed together. They unquestionably have each other's backs. On top of this, the book's handling of LGBTQ+ characters is also appropriately-handled. No tokenism here, just sound characters.
Magic Initiate
The magic system is solid too. Central character Violet finds that she's rather adept at using Residuum, crystals of magic formed by the magics of the Velmyran mages – demi-gods who use their god-given powers to wreck havok across the lands. Sounds an awful lot like a warlock, no? Neat.
Violet's absolute turnaround from a place of guilt and PTSD to accomplished magic user is delicately done and shows off the lore of Velmyra well. I have certain theories about the mages and how they relate to Vi but I won't be spoiling anything in this review. That said, the book's twist was very satisfying in that I had predicted it but was still suitably delivered. I always think it's the sign of a strong writer when the reader can have some fun coming up with theories, especially seeing them pan out.
Taking 20
What moved me when reading Perception Check is the characters' flaws having actual meaning. Nothing is simply swept under the carpet. Their various traumas matter to each other and to the story. Every major character strives to overcome their demons whether that's through tackling their fears head on (Vi), accepting their limitations for the greater good of their friends (Eddie), accepting their purpose (Jackson) or striving for redemption (Adrian).
Each and every character grows in power and self-belief and it shows in the bouncing dynamic of their relationships. People's decisions really matter and actions carry consequences whether that's in terms of physical danger or fraying relationships. There's real danger. Power received often comes with a heavy price that characters suffer for.
Multiclassing
Perception Check is, at the end of it all, a warm-hearted adventure that certainly feels like the homage to tabletop gaming it is trying to be. The characters all resonate, the world grows and grows with the help of a strong magic system and lore. It's an accomplished debut from Knight and a saga I hope will be a critical success.
I won't spoil anything but somebody is definitely rolling with advantage into the second book of the series …
*D20 image supplied by icon-library.com
Reader Interactions