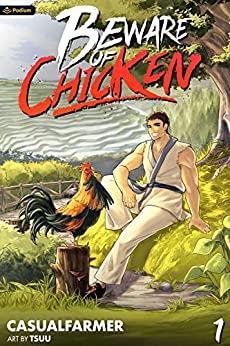 Rating: 8.5/10
Synopsis
A laugh-out-loud, slice-of-life martial-arts fantasy about . . . farming????
Jin Rou wanted to be a cultivator. A man powerful enough to defy the heavens. A master of martial arts. A lord of spiritual power. Unfortunately for him, he died, and now I'm stuck in his body.
Arrogant Masters? Heavenly Tribulations? All that violence and bloodshed? Yeah, no thanks. I'm getting out of here.
Farm life sounds pretty great. Tilling a field by hand is fun when you've got the strength of ten men—though maybe I shouldn't have fed those Spirit Herbs to my pet rooster. I'm not used to seeing a chicken move with such grace . . . but Qi makes everything kind of wonky, so it's probably fine.
Instead of a lifetime of battle, my biggest concerns are building a house, the size of my harvest, and the way the girl from the nearby village glares at me when I tease her.
A slow, simple, fulfilling life in a place where nothing exciting or out of the ordinary ever happens . . . right?
The first volume of the blockbuster progression-fantasy series—with more than 16 million views on Royal Road—now available on Kindle, Kindle Unlimited, and Audible!
Key Notes
Note: This is a ongoing web serial posted on weekly basis on Royal Road. Vol 1 has been published as subject Book. If you love this and can't wait for more, you can read further chapters in above link for free.
Note 2: For those who have read this already in Royal Road, the book is replicated from the web serial with some changes. Some explanations are added, some descriptions have been enhanced and the flow is much smoother. Buy and give this a read still. it's worth it imo.
Review
Slice of life fantasy is a pretty weird genre. I mean, why would we ever want to read the about a character doing the same insignificant stuff we do in real life? Imagine my outrage when I realized what I had been missing with my awful assumptions!

Cozy, charming, heartfelt…it's really hard to describe how I feel about this book. All I can come up with is…content. You don't really need to cross the world on a quest, or win a kingdom of marry a princess to live happily ever after.
The book is set in a Wuxia/Xianxia based Cultivation world. Think something like Crouching Tiger Hidden Dragon, with hidden masters and outrageous kung fu moves. But then it taken a swerve from the norm in this genre poking fun at usual tropes and emphasizing on the mundane with the magic as the background.

The MC, Rou Jin is a earthling who has been transported into the body of a newly dead wannabe martial artist is a premium sect (read school). He realizes that he just wants a simple life away from the usual trials and tribulations to become a martial arts master, and thein unwittingly starts on his own path to greatness. He moves to a area which has almost nothing to do with martial arts and starts to farm. But then he realizes his use of Qi (read life energy that runs the world) connects him to a deeper lever with nature and animals in ways he doesn't mean to do it with heartfelt and often hilarious outcomes. As the title says, he assembles an entourage of animals in his farm including, rats, pigs, bull, dragon led by the namesake Chicken which all gain sentience to become spirit creatures and adding to the chaos.

The focus of the book is not on a world ending/saving quest of some kind of redemption, but on the characters, their lives and their relationships. It's a book of built friendships, blossoming romance and embracing community. Everyday aspects like growing rice, making food, trading for supplies etc get focus albeit with added magic and resulting side effects. Every page oozes comfort and coziness and the smile never left my face from get go till the end. How can a life of simple contentment sans action/adventure be this compelling? It certainly is and what started off as a novelty read became a binge read and a addiction that makes me check the website twice a week regularly like clockwork for new chapters.

Whoever said, money can't buy happiness has never bought this book. This has been a source of support, solace, succor and relief from daily grind that I'm immensely grateful to have come across!

Highly recommended.