Hello, Book Friends! I have compiled a list of five books I am looking forward to reading in 2020. If you like fantasy, I recommend adding these to your list of books to pre-order.

Please note all book covers, titles, descriptions, and release dates in this post come directly from Goodreads, except for The Fires of Vengeance. I pulled information for that book from Amazon. It is early and everything is subject to change. Please leave a comment and let me know if any of these are on your 2020 list, as well.

Also, these descriptions tend to be a little spoil-ey of the previous books in the series, so be aware.
Synopsis
Now that the city of Atrine has been destroyed and Relos Var's plan to free the dark god Vol Karoth has been revealed—the end of the world is closer than ever.

To buy time for humanity, Kihrin, Janel, and Thurvishar must convince the king of the Manol vané to perform an ancient ritual that will strip the vané of their immortality—a ritual that certain vané will do anything to prevent. Including assassinating the ones bringing the news.
Worse, Kihrin must come to terms with the horrifying possibility that his connection to Vol Karoth is steadily growing in strength. How can Kihrin hope to save anyone when he might turn out to be the greatest threat of them all?
This is the third installment in Jenn Lyons' A Chorus of Dragons series, with an expected release date of August 25th, 2020 by Tor Books. The first two were 5-Star books for me, and landed on my Top Reads of 2019 list. What can I say: I have a thing for dragons and demons.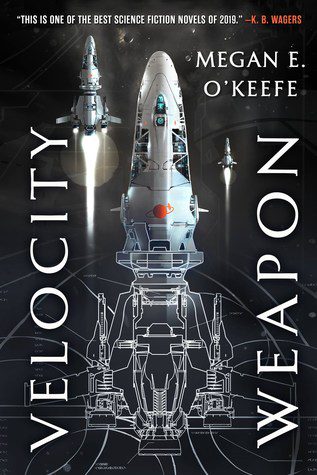 Synopsis
Dazzling space battles, intergalactic politics, and rogue AI collide in the second book in this epic space opera by award-winning author Megan O'Keefe.
Sanda and Tomas are fleeing for their lives after letting the most dangerous smartship in the universe run free. Now, unsure of who to trust, Sanda knows only one thing for certain – to be able to save herself from becoming a pawn of greater powers, she needs to discover the secret of the coordinates hidden in her skull.
But getting to those coordinates is a problem she can't solve alone. They exist beyond a dead gate – a Casimir gate that opened up into a dead-end system without resources worth colonizing, and was sealed off. To get through the dead gate, she needs the help of the enemy Nazca. But some Nazca are only interested in the chip in her head – and they'll crack her open to get to it.
Velocity Weapon was a fun book about space, family, politics, and sentient spaceships. Sanda was one of my favorite leads of the year, and I am happy to say a great, strong female main character. This series is full of intrigue, and I cannot wait to see how Megan E. O'Keefe expands the universe in The Protectorate #2, expected release date August 18, 2020 by Orbit books.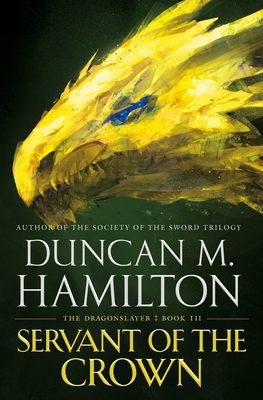 Synopsis
The Exciting Conclusion to the Dragonslayer Trilogy.
Long laid plans finally bear fruit, but will it prove as sweet as hoped for? With the king on his deathbed, the power Amaury has sought for so long is finally in his grasp.
As opposition gathers from unexpected places, dragonkind fights for survival and a long-awaited reckoning grows close.
Soléne masters her magic, but questions the demands the world will make of her. Unable to say no when the call of duty comes, Gill realizes that the life he had given up on has not given up on him.
Once a servant of the crown, ever a servant of the crown…
Duncan Hamilton's Dragonslayer trilogy will come to an end with this book, and I am excited to see how it concludes. The story ended with a bit of a stimulating cliffhanger in Book #2 of the series. Thankfully, the wait will not be long as Servant of the Crown is expected to be released by Tor Books on March 10, 2020.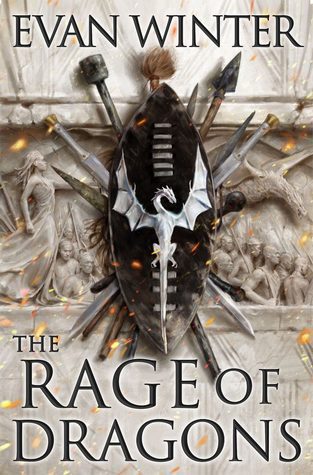 In order to reclaim her throne and save her people, an ousted queen must join forces with a young warrior in the second book of this must-read epic fantasy series by breakout author Evan Winter.
Tau and his Queen, desperate to delay the impending attack on the capital by the indigenous people of Xidda, craft a dangerous plan. If Tau succeeds, the Queen will have the time she needs to assemble her forces and launch an all out assault on her own capital city, where her sister is being propped up as the 'true' Queen of the Omehi.
If the city can be taken, if Tsiora can reclaim her throne, and if she can reunite her people then the Omehi have a chance to survive the onslaught.
Okay… I will admit I cheated on this one a little. I have not actually not yet read The Rage of Dragons. It has been in my TBR since it released, and I have not caught up, yet. I am really excited to read it, though, and when I do I have no doubt I am going to love it. So, it is okay for me to look forward to the release of Book #2 in the series. It has an estimated release date of July 14, 2020.
Harrow the Ninth, the sequel to the sensational Gideon the Ninth, turns a galaxy inside out as one necromancer struggles to survive the wreckage of herself aboard the Emperor's haunted space station.
She answered the Emperor's call.
She arrived with her arts, her wits, and her only friend.
In victory, her world has turned to ash.
After rocking the cosmos with her deathly debut, Tamsyn Muir continues the story of the penumbral Ninth House in Harrow the Ninth, a mind-twisting puzzle box of mystery, murder, magic, and mayhem. Nothing is as it seems in the halls of the Emperor, and the fate of the galaxy rests on one woman's shoulders.
Harrowhark Nonagesimus, last necromancer of the Ninth House, has been drafted by her Emperor to fight an unwinnable war. Side-by-side with a detested rival, Harrow must perfect her skills and become an angel of undeath — but her health is failing, her sword makes her nauseous, and even her mind is threatening to betray her.
Sealed in the gothic gloom of the Emperor's Mithraeum with three unfriendly teachers, hunted by the mad ghost of a murdered planet, Harrow must confront two unwelcome questions: is somebody trying to kill her? And if they succeeded, would the universe be better off?
Your favorite Necromancer and her accidental Cavalier are back! Harrow the Ninth promises to be EXTRA, with more skeletons, snark, and sass. Gideon the Ninth was a joy to read, and also made the cut for my favorite reads of 2019. It will not be an easy task, but here's hoping Harrow can top it when it is released on June 2, 2020 by Tor Books.