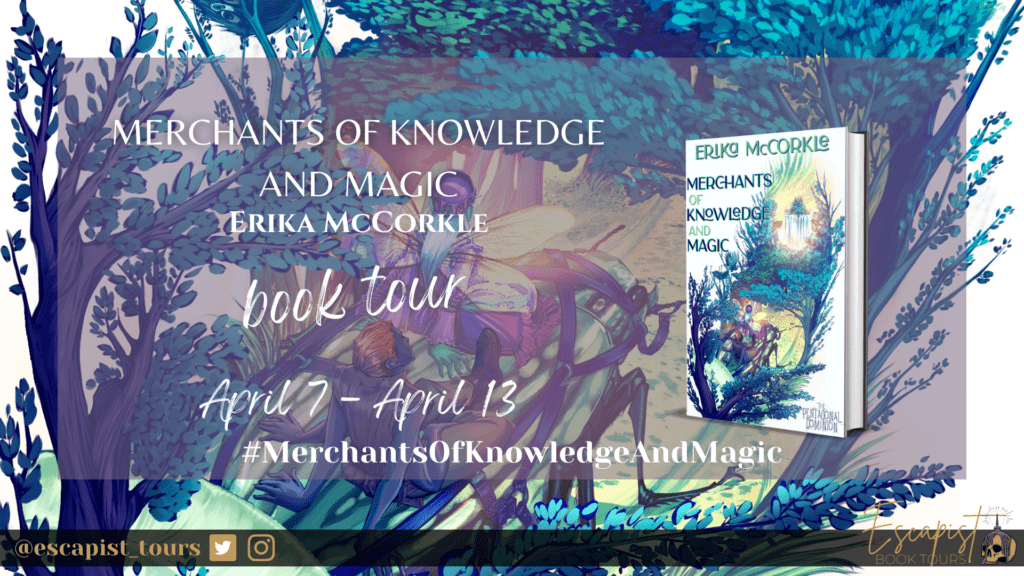 Hello everyone and welcome to my (second) stop on the Escapist Book Tours book tour for Erika McCorkle's epic fantasy novel Merchants of Knowledge and Magic! I already posted a spotlight over on my Instagram account, but I wanted to follow that up by also posting an excerpt from the book just to give everyone a little taste of what they can find between the covers!
You'll find that below, along with information about the book and author, links to get yourself a copy, and even an opportunity to win a copy for yourself! Also, be sure to take a look at the full tour schedule at the end of the post so you can keep up with all of the great content coming from our other hosts over the next week!
---
Merchants of Knowledge and Magic by Erika McCorkle
Series: The Pentagonal Dominion
Genre: Epic Fantasy
Intended Age Group: Adult
Pages: 530
Published: April 8th, 2022
Publisher: Shadow Spark Publishing
---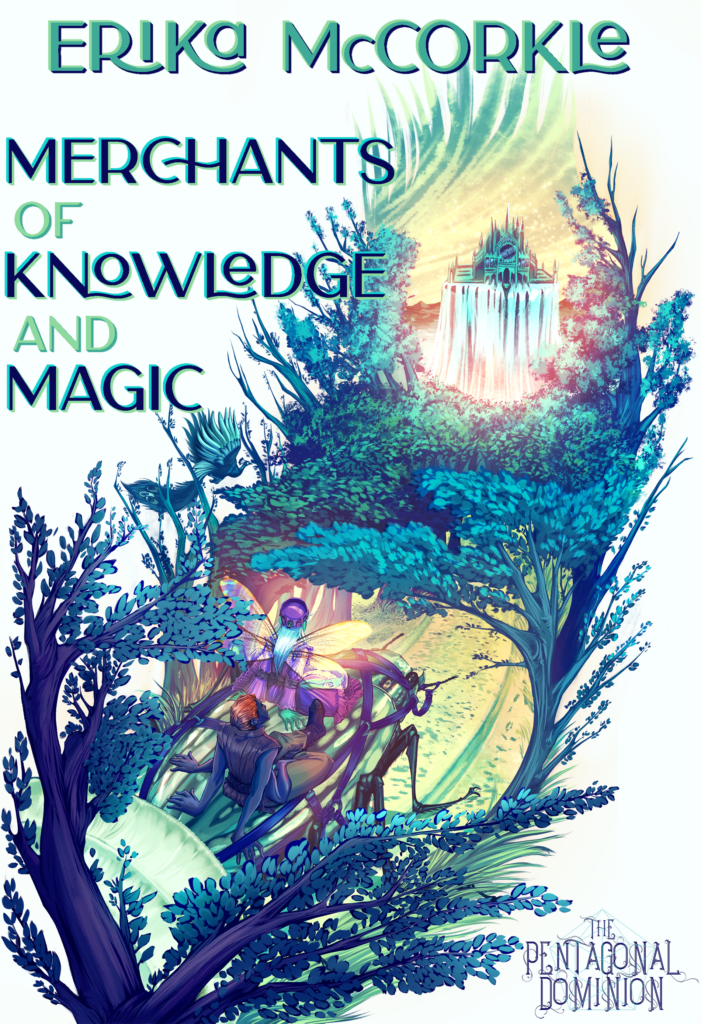 Blurb:
"My secret would plunge the world into chaos." "How much is it worth?"
Calinthe is an asexual dragonfly-person who was sent on a mission to find two missing men. She learns one of the men is from a species thought to be extinct, who had the misfortune of being captured in a matriarchal society where all non-women are enslaved. Though she maintains a disguise with help from her companion's illusions, Calinthe is actually intersex. If her secret were to be discovered by the matriarchy, she would be enslaved as well.
Merchants of Knowledge and Magic is a standalone epic rainbow fantasy novel featuring aroace friendships, a religion that forbids money, clever use of magic, and a fantastical world inhabited by nonhumans. It is the first book in the Merchants of the Pentagonal Dominion trilogy, three standalones which take place concurrently in the same world, but which can be read in any order.
See Also:
"Adult" Pokemon x Sunless Sea x HunterxHunter x "Genderbent" Gor
Book Links:
Amazon:https://www.amazon.com/Merchants-Knowledge-Magic-Pentagonal-Dominion-ebook/dp/B09V1TBNPV/
Goodreads: https://www.goodreads.com/book/show/60603323-merchants-of-knowledge-and-magic
Excerpt:
In the eyes of the tavern's patrons, I was a lone, unarmed woman. Their eyes lied; I was neither alone, nor unarmed, nor a woman. I walked across the common room, passing sailors and dockworkers of various species as they drank, gambled, laughed, and paid only the faintest attention to me. They saw a Mind volkhv, purple cloak drawn close to fight the northern chill, but not my four-armed, dark-skinned companion Zakuro. The young woman could not be seen, heard, or in any other way detected by any entity in a three-hundred-foot radius—except me.
Most people would say a Mind volkhv in a tavern made as much sense as a fish on land. Faithful worshippers of Lucognidus, God of the Mind, wouldn't dull their brains with alcohol. This was technically true, but as with all things, the truth was nuanced. Though my companion and I were no strangers to alcohol, it was not why we came. Taverns were a place to seek knowledge. Drunkards with wagging tongues spilled secrets as they spilled beer.
Our target sat on a bar stool, drinking the cheapest swill available. He had the grey fur and long, pointed ears of a Wolf, though given that he was bipedal, clad in trousers and a jerkin, he was undoubtedly a hybrid. I'd been told by my informant, the church keeper in this town, that this Wolf was actually a demon. If that was correct, Minirya was a good place to infiltrate; there were plenty of Wolf hybrids among the locals, and the town's Godlight was probably dead. He blended in perfectly—he may have been reborn from the corpse of a man who'd once lived here.
The stools to either side of him were empty, and although we approached from his left, I chose the right seat. I was a merchant of knowledge; my every action was calculated.
"Calinthe, are you going to show him your mark?" Zakuro asked.
I could not respond, playing the role of a lonesome volkhv in search of a drink after a long day of storytelling. Zakuro, my companion merchant of magic, my sweet Pomegranate, was a darling but her actions were not calculated.
I sat on the stool to the demon's right. Zakuro stood behind me, her two upper arms crossed, two lower hands on her hips. I had instructed her beforehand not to interact with any physical objects lest she give away her position.
The Kraken bartender eyed me. He leaned his hands on the bar table while the tentacles on his back wiggled. "Welcome, Volkhv. A warm drink for a blessing? I'll not turn you away and risk the Lord's wrath, but I'll take any blessings I can get."
"Please," I said. "May Lord Lucognidus watch over you with one of his Twenty Thousand Eyes. May he, in all His Infinite Wisdom, grant you tranquility. May you rest safely and happily in his conquered lands."
Without turning away, the Kraken grabbed a glass behind him with one tentacle and a bottle of whiskey from a high shelf with another. He knew the placement of his goods well; his tentacles did not so much as touch the vines of glowlight lotuses dangling near the items. "May the Lord be praised. May he be enthroned in glory for all eternity."
A pious bartender on the docks of Minirya? I was in luck. He poured my drink and left to tend to some loud patrons a few tables behind us. He didn't employ a wait staff or security. Either he was poor, or he counted on no one daring to fight a Kraken. Regardless, it allowed me time to talk to my target in private.
"Mys drooka, are you a volkhv?" the hybrid Wolf asked before I had even opened my mouth. I had not expected him to initiate the conversation. Maybe the great God Lucognidus was watching over me.
"That I am, Mister drook." I took a hearty drink. Warm whiskey was precisely what I needed. It was late spring, but non-Ice elementals were always cold this far north. "Only since last autumn's Star Carnival, though. If you need any complicated blessings, I can't help." Many believed volkhvs could perform blessings or miracles. We couldn't. Such acts were done at a God's discretion, but the common folk didn't know that. They didn't need to know.
He shook his head. Standard Wolfish, with a long snout and grey fur interspersed throughout with white markings. Some were scars where the hair had grown back lighter.
"Can you find missing people?" he asked.
My informant hadn't said anything about a missing person. This was an unexpected twist in my plan. Not the knowledge itself—I had heard about his missing friend elsewhere—but I hadn't expected him to open up so quickly. He was desperate.
"That might be difficult, but if you play the Game of Eight Questions with me, I can try."
Every soul in the Pentagonal Dominion knew the Game of Eight Questions. It was how one paid a merchant of knowledge. We couldn't accept coin, as money had long ago been deemed anathema to our God Lucognidus. Instead, we traded information. I could ask this man any eight questions of my choosing. Most people told the truth since they believed volkhvs could detect lies and punish liars with curses. A baseless superstition, but useful to me.
"Sure, ask. I got nothing better to do than sit here and hope my companion wanders in. Fuck, I've been searching for a Ruomi hour. He's gone. I know it."
"Before we begin, I need you to tell me about this missing person." My eight questions were purely for my benefit. I wasn't about to waste them asking about his problem, and I didn't want to fool him into thinking I would burn my questions like that.
He sighed into his glass before finishing it. "He's a man. Biped-bibrach. Hybrid of so many species I couldn't tell you what his majority is. About as tall as the barkeep here. Hey, drook, another drink please!" He placed a few coins on the counter when the bartender returned. I avoided looking at those foul, sinful metal disks. "His hair is, uh… colorful. He dyes it, and not in one single color. Some strands will be red, the next blue or green or whatever." His hand quivered like he was afraid of being caught in a lie.
A peculiar reaction. Dyeing one's hair wasn't unheard of, and hair dye was plentiful in Aloutia, although women and intersex people did it more often than men. I had a phase as a teenager where I'd dye my hair various colors, most often red. My surname, Erytrichos, meant 'red-haired' in the language of the Ulese, but my natural hair color was blue—a rare color for an Ulese. When I became a merchant of knowledge, I started keeping my hair its natural color to promote conversation.
The Kraken set another beer before my target, only to leave when some postmen started brawling.
"His skin is multicolored, too," the Wolf-demon added. "A mixture of many species, I suppose. Even some green like yours. Don't see that often. Lovely shade, Mys."
"Thank you. I think that'll be enough to go on. May I start the game?"
He took a deep drink first. "Ready any time."
"First: Where were you born?"
"Here in Minirya."
"Second: Do you have family living here?"
A moment's hesitation, a twitch of his nose. "Nah. Parents died a while back. I never found a mate or had children."
It was a convenient, yet true, excuse for demons. He could have been born here centuries ago, his family long since passed away. Demons, even those reborn from corpses, were immortal in the sense they did not die of old age.
On the other hand, it wasn't out of the question for a mortal man to be without family. Perhaps his missing companion was his lover. There were no laws in Aloutia—political or religious—against the practice of various sexualities, polyamory, or interspecies mixing, but Wolf culture defined 'mates' as a bonded pair who could produce offspring together.
I had to get him outside to ascertain if he was a demon or a mortal. He would not reveal his identity around so many people. Demons were forbidden in Aloutia and could be killed without any legal ramifications. I also had to take care not to make him think I was a demon hunter, lest he panic or attack me.
Good thing I had Zakuro behind me. She could respond either way.
There was also the issue of Godlights. Every settlement in Aloutia, from the largest city to the smallest homestead, had a source of light blessed to drive away weak demons. Minirya's Godlight, a lighthouse atop a cliff, was not far from the tavern. If this man were a demon, one of two things had to be true: either the Godlight was unblessed, or he was no 'weak' demon.
The barkeeper returned. I held my glass out to indicate I wanted another drink. "Rum, please." It was a deliberate movement; I ensured the palm of my right hand was visible to my target. I could not look at him without arousing suspicion, but I was not the one watching him. I brushed my foot against Zakuro's leg.
"I think he saw it," she said. "His eyes widened. He's staring."
My right palm bore the emblem of the Circle of Friends, an intricate cross of entwined ribbons with four circles on the ends. It was not a physical mark; only demons and fellow Friends could see it. When I looked upon my palm, the symbol floated an inch above my skin. It showed as white to me, in sharp contrast against my dark green skin, though its color appeared differently to different viewers. Likewise, other members' marks came in a variety of colors to my eyes. Physical objects had no effect on its display—as I held the glass, the symbol passed through it.
"Third: For what purpose did you return to Minirya?"
When one plays the Game of Eight Questions, assumptions have to be made. If I wasted questions confirming the basics, I'd never make it to the juicy details. I assumed he did not live here so I could skip straight to asking why he was here.
"I've always lived here," he growled, not unlike the non-sapient lowercase wolves that prowled the arctics.
I shot him a glance; my long eyebrows furrowed. Few people would mistake the anger on an Ulese face. I would not waste my next question prying the truth from him. The Kraken bartender raised his own smooth brow, handed back my glass full of rum, and left us alone.
"Right…word has gotten around that I'm 'new' in town. Fine. If you want the truth, I'm here because this is where I last saw my companion."
"Fourth: Where did you live last year?"
"Up north, in Wolvesely."
He was defensive now. His tone was that of a liar uncomfortable with lying. However, the truth can sound like a lie in the mouth of one who is scared.
"I'm afraid I don't know your name, but I would hate to waste a question on just that." I grabbed the drink with my left hand, then turned my stool to him. The glass was an inch away from Zakuro in case she needed to use it. "Fifth: would you be offended if I Compelled you?"
His furry throat bobbed as he swallowed. Only a demon would experience such trepidation at that question. I needed no other confirmation. The Compulsion was an order: state your name and rank. When a demon inducted into the Hierarchy heard those five words, they had to answer to the best of their ability.
The Wolf got off his stool. "Excuse me, I must be going."
I didn't want to Compel him in front of a crowd of drunks, but I couldn't allow him to leave until I had my information. I stood and took two steps. Without warning, he pulled a throwing knife from his jerkin, spun, and launched it toward me.
I had expected such a reaction and prepared accordingly. I was no nimble acrobat like the shadow-dancers of Ophidia. My mind could respond to a challenge with acuity, but my body was slow and cumbersome. If the knife had been tossed accurately, I could not have dodged it.
Thankfully, the two steps I took were to the side, not forward, and Zakuro's illusion tricked him into seeing me in a spot I was not standing.
The knife flew past me and over the counter, where it struck our Kraken bartender in the chest.
(Note from the FFA: Merchants of Knowledge and Magic contains footnotes that explain and further enrich the complex worldbuilding that the author has created, which ultimately had to be left out of the excerpt because there isn't a good way to transfer those over to the blog.)
About the Author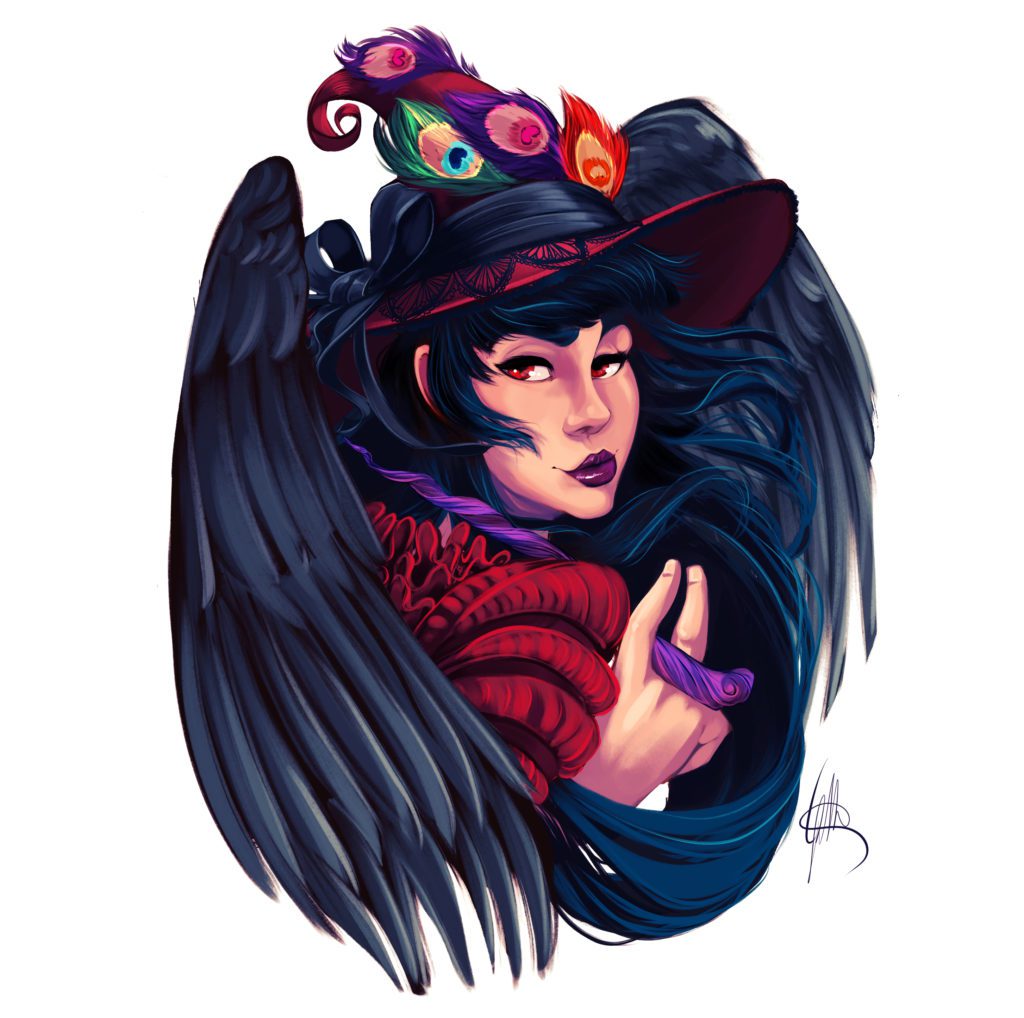 Erika McCorkle is an author, avid world-builder, and consumer of all things fantasy, whether that be books, video games, or anime. Her debut novel, Merchants of Knowledge and Magic, will be available on April 8th, 2022, from Shadow Spark Publishing. You can find her on Twitter @KiraoftheWind1, instagram @kira_of_the_wind, and TikTok as kiraofthewind. Her website is at www.authormccorkle.com.
---
a Rafflecopter giveaway
---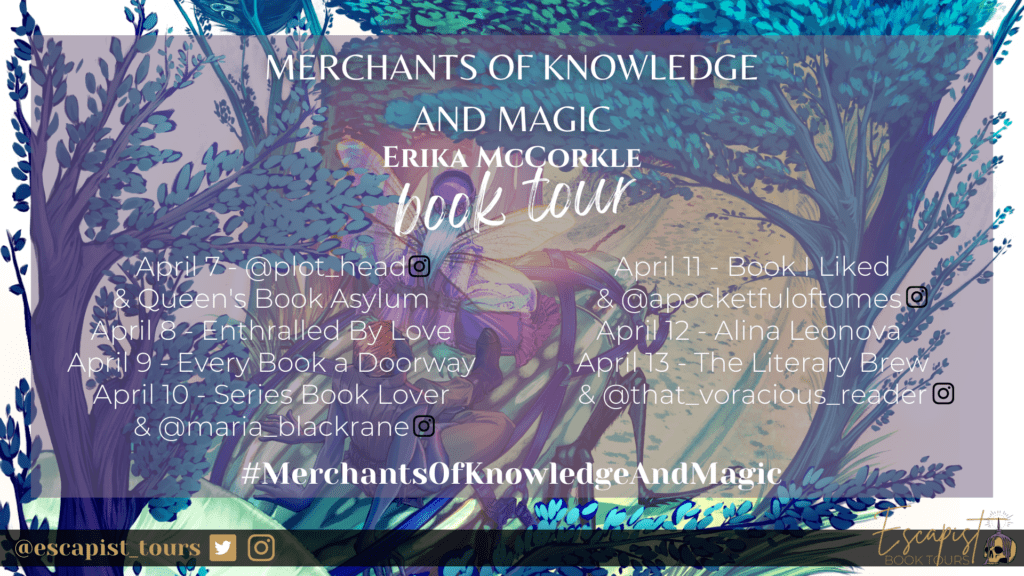 ---