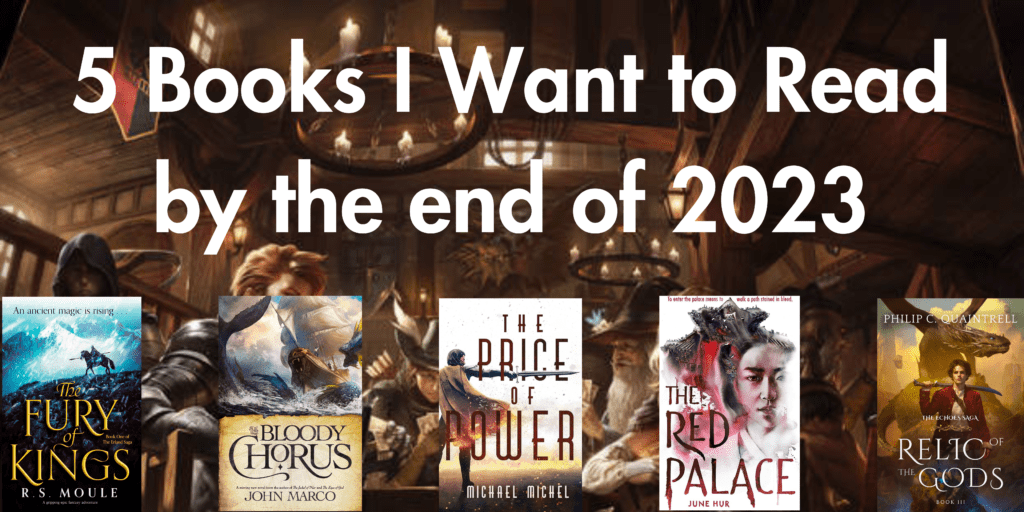 I want to get ahead in this post by saying that this is NOT a TBR list. I don't do TBR's because quite frankly, I never stick to them. My reading is almost completely consumed by what I feel like reading at the time. Mood reader problems.
Anyway, what this post is actually about is a list of books that I am really excited about and I hope my mood reader brain allows me to read sooner rather than later. I hope you enjoy and feel free to comment if you feel the same way about any of these books or if you've read them already! Feel free to click on each cover to add the books to your Goodreads list!
So without further ado and in no particular order, here are 5 books I'd like to read by the end of 2023.
1) The Price of Power by Michael Michel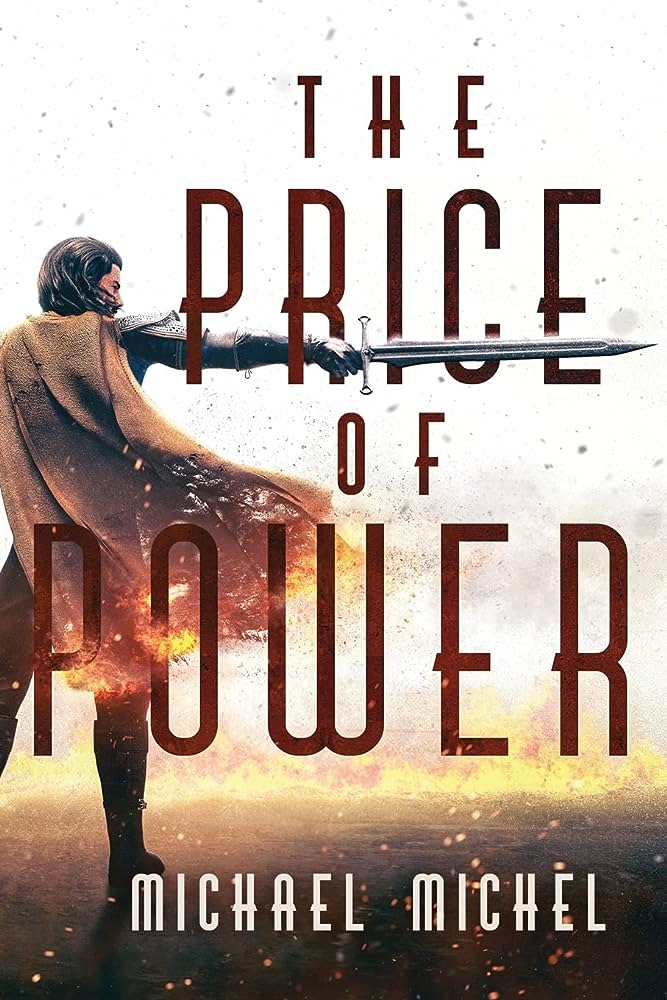 This book immediately caught my attention with the gorgeous cover and interesting premise. However, what really got me excited was the interview (check it out here!) I did with the author where we talked about his writing process when it came to The Price of Power and how that has shaped his world, characters, and story.
Synopsis
Prince Barodane could not hold back the darkness. Not even in himself. He laid an innocent city in its grave and then died a hero.
In his absence, war whispers across the land.
Power-hungry highborn dispatch spies and assassins to the shadows as they maneuver for the throne, while an even greater threat rises in the South. Monsters and cultists flock to the banners of a mad prophet determined to control reality…and then shatter it.
Destiny stalks three to the brink of oblivion.
A dead prince that isn't actually dead. Barodane buried his shameful past in a stupor of drugs, drink, and crime, and now, he'd rather watch the world fall apart than wear a crown again.
An orphan with hero's blood who is forced to make a harrowing choice: betray her country or sacrifice her first love.
And a powerful seer who has no choice at all–her grandson must die.
If any of them fails to pay the price…
The cost will be the world's complete annihilation.
2) The Fury of Kings (The Erland Saga #1) by R. S. Moule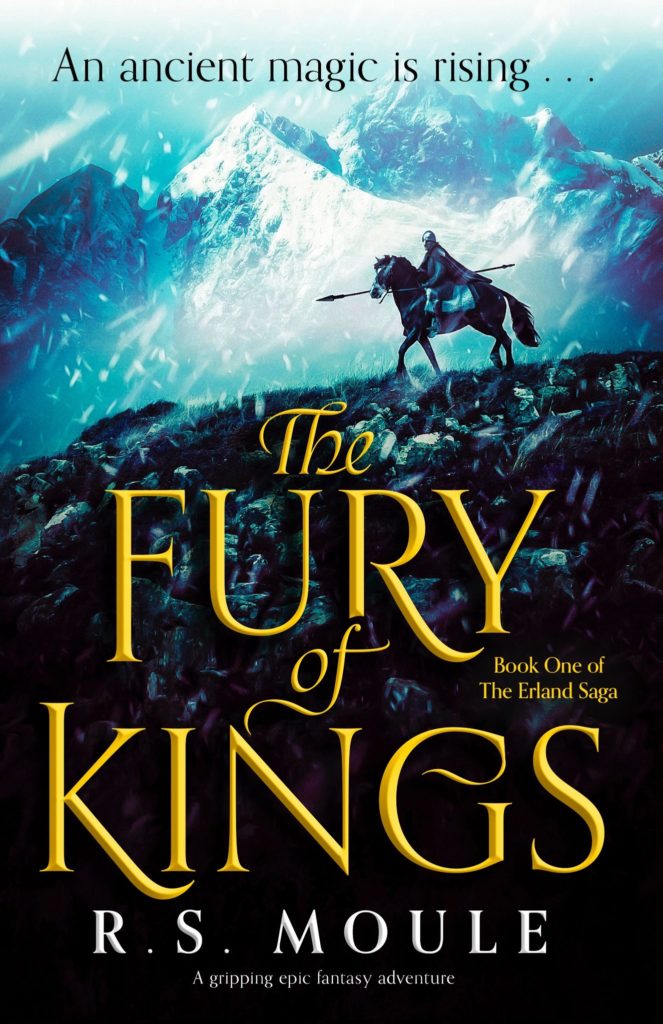 I've actually already started this book and am really enjoying it. However, I got distracted by unexpectedly getting a few highly anticipated arcs in a row and haven't gotten back to it yet. But those arcs are now read, and mostly reviewed, so I hope to get back to this one very soon!
Synopsis
In the shadow of Eryispek—a mountain said to have no summit—a dark power is stirring. Storms rage in the frozen heights. Unexplained disappearances shake the kingdom below. And old enemies are sharpening their swords…
Andrick the Barrelbreaker first led an army at sixteen.
His victories secured the throne of Erland for his brother and shattered the rebellious noble houses in the West. Decades later, a fragile peace still holds.
But when the king's only son is murdered, Erland is plunged into crisis. The new heir will stop at nothing to secure his claim. The king, maddened by grief, stalks the halls and hidden passages of his keep, growing more unpredictable by the day.
As war and magical disaster loom, Andrick must decide between protecting his family and marching out to serve a brother he barely recognizes.
His children must also choose their destinies.
Training in the practice yard every day, Orsian dreams of fighting beside his father. Now, for the first time, he faces the brutal reality of battle.
And Pherri is haunted by very different dreams—of figures struggling up the mountain, of a voice more chilling than the wind, of blood on the snow. Only she can resist the darkness that waits on the slopes above…
Race through the pages of an epic new series and enter a world of intrigue, battles and destiny that will leave you breathless. The Erland Saga is a classic fantasy adventure, perfect for fans of George R.R. Martin, John Gwynne and Raymond E. Feist.
3) The Bloody Chorus (Impossible Gods #1) by John Marco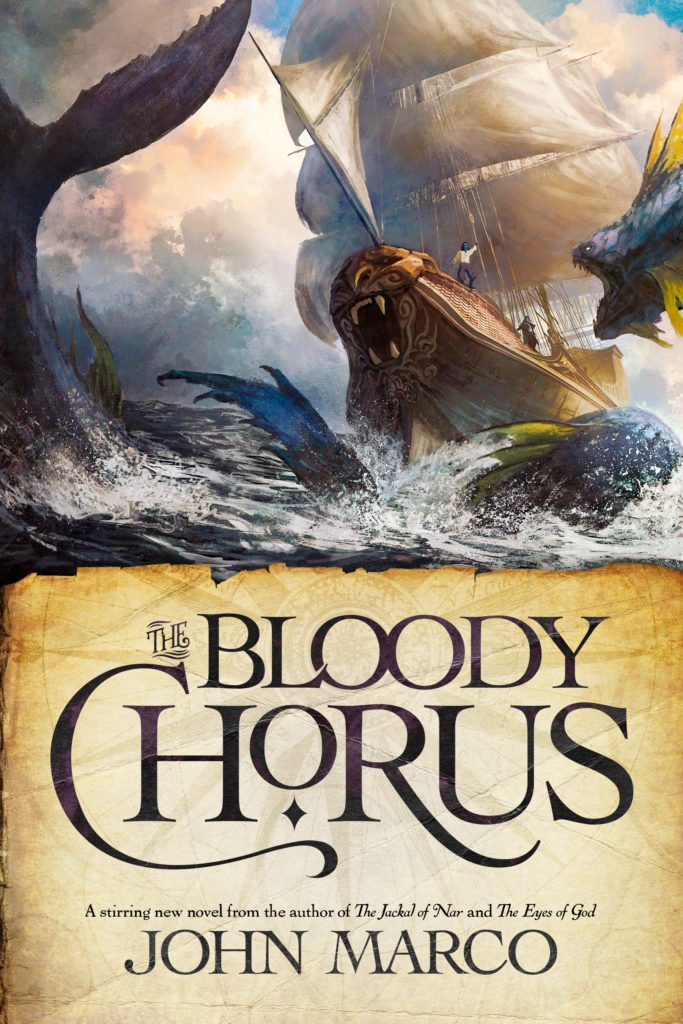 Simply put, the synopsis for this sounds so dang intriguing! Especially the part about a magical band of avenging misfits. Also, I heard something about whale dragons. I don't exactly know what that means, but I need to find out!
Synopsis
Two empires…one in decline, the other ascendant and hungry for conquest…
Upon his father's mysterious assassination, young Haru reluctantly becomes ruler—Tain—of his once-fearsome island nation. Threatened by a world they once dominated, Haru's people, the Cryori, struggle with the peace the old Tain championed, nostalgic for the violent glories of their past. But across the ocean, an alliance of old enemies has formed, led by a madman bent on righting old wrongs. Enigmatic and fanatical, Reius decries the Cryori and their living gods, determined to erase their influence and beliefs.
Now Haru must get justice for his murdered father and defend his people from the coming scourge over the sea. Promising his ancient, grieving goddess to kill Reius, he reunites his father's failed circle of protectors—a magical band of avenging misfits known as the Bloody Chorus.
4) Relic of the Gods (The Echoes Saga #3) by Philip C Quaintrell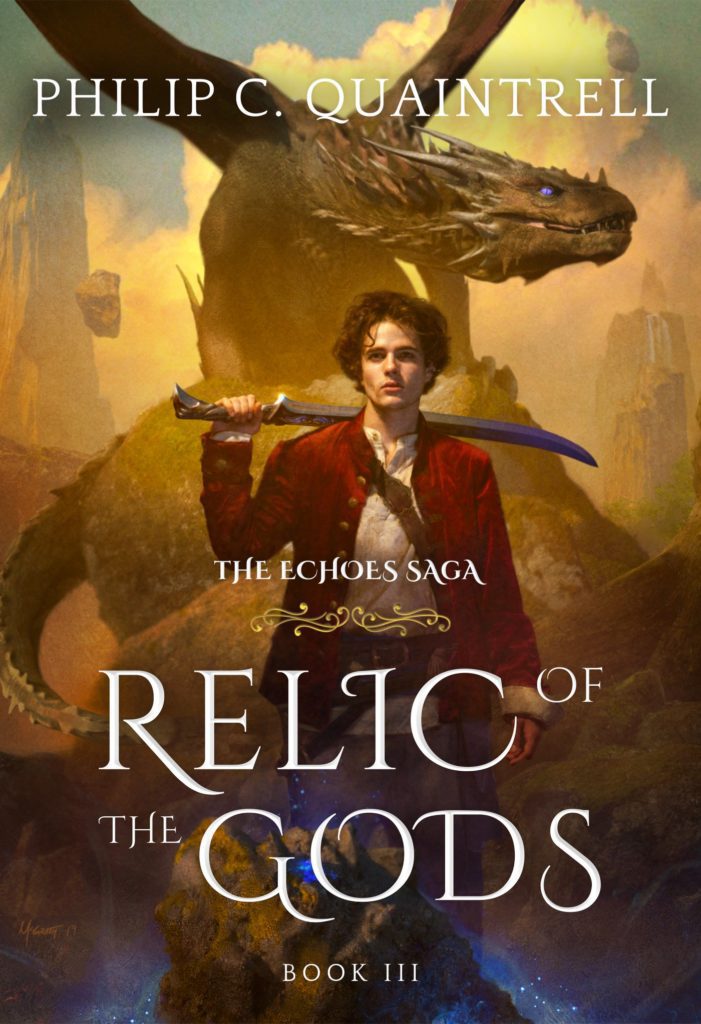 This is the third book in the first trilogy of the Echoes Saga (9 books total) and I simply need/want to finish this story arc. I've enjoyed my time in this series so far and I want to finish this trilogy to see if I want to continue on with the series as a whole.
Synopsis
The echoes of fate have been heard. After a thousand years, the prophecy has almost come to pass…
The final days of hope have come and gone. The kingdoms of Illian stand on the edge of ruin, threatened by the armies of Valanis. As evil spreads across the land, too few are left to hold the line.
A world away, the children of fire and flame may be the only hope for the realm, but the dragons have been defeated before. Now Verda's future hangs in the balance.
Reeling from their losses, Asher and his companions journey north, trying to outrun the savage Darkakin. A confrontation awaits the ranger but, even with Paldora's gem, he dare not challenge Valanis yet.
The days of the Dragorn have come again, and with them, a relic of the gods has been brought into the light. The knowledge of Verda's true history weighs on Gideon Thorn, and he would see the world rid of the evil that has cursed it from the shadows for so long.
A great change is coming, and a new Age dawns on the horizon. Whether it be the light or the dark that finds victory, one soul will suffer the burden of destiny for all…
5) The Red Palace by June Her
From what I know of this one it is a mix of historical fiction murder mystery and deadly political intrigue (maybe part thriller?) and that sounds like a blast to me!
Synopsis
Joseon (Korea), 1758
There are few options available to illegitimate daughters in the capital city, but through hard work and study, eighteen-year-old Hyeon has earned a position as a palace nurse. All she wants is to keep her head down, do a good job, and perhaps finally win her estranged father's approval.
But Hyeon is suddenly thrust into the dark and dangerous world of court politics when someone murders four women in a single night, and the prime suspect is Hyeon's closest friend and mentor. Determined to prove her beloved teacher's innocence, Hyeon launches her own secret investigation.
In her hunt for the truth, she encounters Eojin, a young police inspector also searching for the killer. When evidence begins to point to the Crown Prince himself as the murderer, Hyeon and Eojin must work together to search the darkest corners of the palace to uncover the deadly secrets behind the bloodshed.