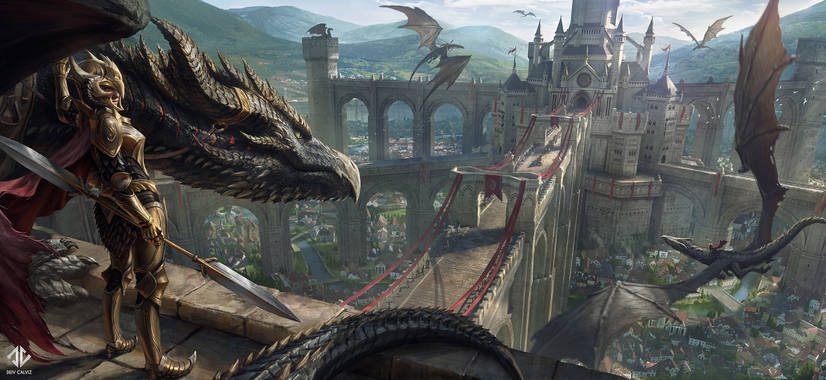 What fantasy reader hasn't imagined themselves soaring above the clouds on the back of a beautiful and majestic dragon. Having a bond with a creature that inspires awe and terror has been the dream of many. Not to mention the added bonus of the ability to rain down fire and death on your enemies.
I've compiled a list of 30 books/series that feature Dragonriders in some capacity. Each book/series' cover is hyperlinked to their individual Goodreads page to easily add these books to your list.
There are 17 Adult Fantasy selections along with 13 that are Young Adult/Middle Grade. That's the beauty of this list, there's something here for all ages. I hope you, your friends, your family, and whoever else you love to recommend books to will enjoy this list and the books contained within it. Happy reading!
Adult Fantasy
Songs of Chaos by Michael R Miller
Holt Cook was never meant to be a dragon rider. He has always served the Order Hall of the Crag dutifully, keeping their kitchen pots clean.
Until he discovers a dark secret: dragons do not tolerate weakness among their kin, killing the young they deem flawed. Moved by pity, Holt defies the Order, rescues a doomed egg and vows to protect the blind dragon within.
But the Scourge is rising. Undead hordes roam the land, spreading the blight and leaving destruction in their wake. The dragon riders are being slaughtered and betrayal lurks in the shadows.
Holt has one chance to survive. He must cultivate the mysterious power of his dragon's magical core. A unique energy which may tip the balance in the battles to come, and prove to the world that a servant is worthy after all.
The Bound and the Broken by Ryan Cahill
Born in fire. Tempered in blood.
Epheria is a land divided by war and mistrust. The High Lords of the south squabble and fight, only kept in check by the Dragonguard, traitors of a time long past, who serve the empire of the North.
In the remote villages of southern Epheria, still reeling from the tragic loss of his brother, Calen Bryer prepares for The Proving—a test of courage and skill that not all survive. But when three strangers arrive in the village of Milltown, with a secret they are willing to die for, Calen's world is ripped from under him and he is thrust headfirst into a war that has been raging for centuries.
There is no prophecy. His coming was not foretold. He bleeds like any man, and bleed he will.
Dragonriders of Pern by Anne McCaffrey
How can one girl save an entire world?
To the nobles who live in Benden Weyr, Lessa is nothing but a ragged kitchen girl. For most of her life she has survived by serving those who betrayed her father and took over his lands. Now the time has come for Lessa to shed her disguise—and take back her stolen birthright.
But everything changes when she meets a queen dragon. The bond they share will be deep and last forever. It will protect them when, for the first time in centuries, Lessa's world is threatened by Thread, an evil substance that falls like rain and destroys everything it touches. Dragons and their Riders once protected the planet from Thread, but there are very few of them left these days. Now brave Lessa must risk her life, and the life of her beloved dragon, to save her beautiful world.
The Echoes Saga by Philip C Quaintrell
The echoes of fate, a prophecy uttered unto the world a thousand years ago, cannot be denied.
Mankind has lorded over the land of Illian for a thousand years, building on the ruins left by the elves, as if it were their birthright. A thousand years is a long time for an immortal race to see the truth of things, a truth that has remained unsaid for a millennium – elves are superior. They are faster, stronger and connected to the magical realm in a way that man could never grasp. Illian should belong to them.
Unaware of the shadow that looms in the east, the six kingdoms of man are fractured, unallied, and clawing at each other's gates for more power. This isn't just war set to ravage the land, but a slaughter – the world of man cannot hope to survive.
Thrown into the heart of this war is a man known by many names; an Outlander of the wilds, an assassin, a ranger. Asher was born a thousand years ago, to a life he doesn't remember. Forty years of brutal training and killing for money has beaten the earliest years of his life away, leaving his ties to the oldest of evils a mystery to all.
Dragon of Ash & Stars by H. Leighton Dickson
Stormfall is a dragon born with a coat the colour of a starry night. When a violent storm strikes his island aerie, he is carried on hurricane winds into the complicated and sometimes cruel world of men. There, his journey takes him from fisher dragon to farmer, pit-fighting dragon to warrior, each step leading him closer to a remarkable destiny. But war is coming to the land of Remus and with it, a crossroads for the Night Dragon and the young soul-boy he allows on his back. How far is Stormfall willing to go in a war that is not his own?
Temeraire by Naomi Novik
Aerial combat brings a thrilling new dimension to the Napoleonic Wars as valiant warriors ride mighty fighting dragons, bred for size or speed. When HMS Reliant captures a French frigate and seizes the precious cargo, an unhatched dragon egg, fate sweeps Captain Will Laurence from his seafaring life into an uncertain future – and an unexpected kinship with a most extraordinary creature.
Thrust into the rarified world of the Aerial Corps as master of the dragon Temeraire, he will face a crash course in the daring tactics of airborne battle. For as France's own dragon-borne forces rally to breach British soil in Bonaparte's boldest gambit, Laurence and Temeraire must soar into their own baptism of fire.
The Empyrean by Rebecca Yarros
Twenty-year-old Violet Sorrengail was supposed to enter the Scribe Quadrant, living a quiet life among books and history. Now, the commanding general—also known as her tough-as-talons mother—has ordered Violet to join the hundreds of candidates striving to become the elite of Navarre: dragon riders.
But when you're smaller than everyone else and your body is brittle, death is only a heartbeat away…because dragons don't bond to "fragile" humans. They incinerate them.
With fewer dragons willing to bond than cadets, most would kill Violet to better their own chances of success. The rest would kill her just for being her mother's daughter—like Xaden Riorson, the most powerful and ruthless wingleader in the Riders Quadrant.
She'll need every edge her wits can give her just to see the next sunrise. Yet, with every day that passes, the war outside grows more deadly, the kingdom's protective wards are failing, and the death toll continues to rise. Even worse, Violet begins to suspect leadership is hiding a terrible secret.
Friends, enemies, lovers. Everyone at Basgiath War College has an agenda—because once you enter, there are only two ways out: graduate or die.
The Roots of Chaos by Samantha Shannon
The House of Berethnet has ruled Inys for a thousand years. Still unwed, Queen Sabran the Ninth must conceive a daughter to protect her realm from destruction – but assassins are getting closer to her door.
Ead Duryan is an outsider at court. Though she has risen to the position of lady-in-waiting, she is loyal to a hidden society of mages. Ead keeps a watchful eye on Sabran, secretly protecting her with forbidden magic.
Across the dark sea, Tané has trained to be a dragonrider since she was a child, but is forced to make a choice that could see her life unravel.
Meanwhile, the divided East and West refuse to parley, and forces of chaos are rising from their sleep.
The Rainwild Chronicles by Robin Hobb
The serpents, guided by the dragon Tintaglia, came from the sea to fight the Rain Wild River where they can reclaim their ancestral hatching grounds.
But the fledglings that are hatched from the cocoons are the dragons of old. Flightless and dangerous, they are a danger to all and must be moved.
Thymara, a Rain Wilder, answers the call to become a dragon keeper and accompany them upriver.
Their destination is the legendary Elderling city of Kelsingra, but no one knows if it's real.
Rivenworld by M L Spencer
Aram Raythe has the power to challenge the gods. He just doesn't know it yet.
Aram thinks he's nothing but a misfit from a small fishing village in a dark corner of the world. As far as Aram knows, he has nothing, with hardly a possession to his name other than a desire to make friends and be accepted by those around him, which is something he's never known. But Aram is more. Much, much more.
Unknown to him, Aram bears within him a gift so old and rare that many people would kill him for it, and there are others who would twist him to use for their own sinister purposes. These magics are so potent that Aram earns a place at an academy for warrior mages training to earn for themselves the greatest place of honor among the armies of men: dragon riders.
Aram will have to fight for respect by becoming not just a dragon rider, but a Champion, the caliber of mage that hasn't existed in the world for hundreds of years. And the land needs a Champion. Because when a dark god out of ancient myth arises to threaten the world of magic, it is Aram the world will turn to in its hour of need.
The Dragonwalker by D. K. Holmberg
A war fought a thousand years ago removed the destructive threat of dragons, allowing fire mages to use the magic stored within their bones to protect the empire for millennia. The empire has known a fragile peace, held together by that ancient magic.
Fes has always longed for stability. Raised within the slums of the empire, taught to steal and hurt others to make his way, when he's discovered by the emperor's chief fire mage, he's given a chance to use his particular gift for gathering lost dragon relics to become something more.
An encounter with a priest in possession of a dragon bone reveals the existence of a new power that threatens to return the long dead dragons to the world. Chased by the dangerous enemies, Fes travels into the bleak lands of the Dragon Plains before others can reach it. If he survives, what he discovers means the continued safety of the empire and a promise of wealth and freedom. If he fails, the deadly power of the dragons might return.
Yet, with a growing and unexplainable magic within him, it's the promise of understanding who he truly is that might be the most valuable, only it's the same power that leaves him with questions some within the empire don't want answered.
The Book of the Holt by Bradley P Beaulieu
Lorelei Aurelius is the smartest inquisitor in the mountain city of Ancris. When a mysterious tip leads her to a clandestine meeting between the Church and the hated Red Knives, she uncovers a plot that threatens not only her home but the empire itself.
The trail leads her to Rylan Holbrooke, a notorious thief posing as a dragon singer. Rylan came to Ancris to solve the very same mystery she stumbled onto. Knowing his incarceration could lead to the Red Knives' achieving their goals, Lorelei makes a fateful she frees him.
Now branded as traitors, the two flee the city on dragonback. In the massive forest known as the Holt, they discover something terrible. The Red Knives are planning to awaken a powerful demigod in the holiest shrine in Ancris, and for some reason the Church is willing to allow it. It forces their return to Ancris, where the unlikely allies must rally the very people who've vowed to capture them before it's too late.
Explore the mountain city of Ancris, where fast-paced adventure and intrigue abound. in this new offering from the author of the acclaimed Song of the Shattered Sands series
The Chain Breaker by D. K. Holmberg
Trained to kill from a young age, Gavin Lorren finally escaped that life. No more killing innocents. No more working alone. The jobs are still dangerous, but at least he can choose. Now an old friend has invited him to the city of Yoran where the work is plentiful. The Roasted Dragon tavern is rough but cozy. The regulars are seedy but welcoming. The owner Jessica is fond of him. It's almost too good to be true.
His good fortune is fleeting. Gavin finds himself facing a new enemy, fast and deadly El'aras warriors—an ancient race with innate magical talent. By the time he learns sorcery is involved, he's in too deep. To succeed, he'll have to uncover parts of his past that he'd hoped to forget.
It will take an assassin without equal to survive. It will take the Chain Breaker.
The Remembered War by Robert Vane
Dragons are slaves.
Using stolen magic, the human Kingdom of Rolm has risen to power on the backs of the world's most formidable predator, but that is about to change. Bayloo is the first of the free dragons. Born into slavery, his shackled mind has awoken to find a human giving him orders and his race enthralled to an evil king. The world shall now face the rage of dragons.
Experience a fearsome struggle of magic and cunning between humans and dragons, where victory will determine the fate of the world.
A Song of Ice and Fire by George R. R. Martin

Long ago, in a time forgotten, a preternatural event threw the seasons out of balance. In a land where summers can last decades and winters a lifetime, trouble is brewing. The cold is returning, and in the frozen wastes to the north of Winterfell, sinister forces are massing beyond the kingdom's protective Wall. To the south, the king's powers are failing—his most trusted adviser dead under mysterious circumstances and his enemies emerging from the shadows of the throne.
At the center of the conflict lie the Starks of Winterfell, a family as harsh and unyielding as the frozen land they were born to. Now Lord Eddard Stark is reluctantly summoned to serve as the king's new Hand, an appointment that threatens to sunder not only his family but the kingdom itself.
Sweeping from a harsh land of cold to a summertime kingdom of epicurean plenty, A Game of Thrones tells a tale of lords and ladies, soldiers and sorcerers, assassins and bastards, who come together in a time of grim omens. Here an enigmatic band of warriors bear swords of no human metal; a tribe of fierce wildlings carry men off into madness; a cruel young dragon prince barters his sister to win back his throne; a child is lost in the twilight between life and death; and a determined woman undertakes a treacherous journey to protect all she holds dear.
Amid plots and counter-plots, tragedy and betrayal, victory and terror, allies and enemies, the fate of the Starks hangs perilously in the balance, as each side endeavors to win that deadliest of conflicts: the game of thrones.
The Legend of Huma by Richard A Knaak
"To the West Huma rode, to the High Clerist's Tower,
On the back of the Silver Dragon
And the path of their flight crossed over a desolate country
where the dead walked only, mouthing the names of dragons."
For the first time in the best-selling Dragonlance Saga, here is The Legend of Huma, fabled Hero of the Lance: his mysterious origins and his Oath to the Measure; treachery among the Knights of Solamnia; his love for the Silver Dragon; the fated showdown between the Queen of Darkness and the forces of Paladine.
Only fragments of Huma's story survived the Cataclysm of Krynn…until now.
A Targaryen History by George R. R. Martin
With all the fire and fury fans have come to expect from internationally bestselling author George R. R. Martin, this is the first volume of the definitive two-part history of the Targaryens in Westeros.
Centuries before the events of A Game of Thrones, House Targaryen—the only family of dragonlords to survive the Doom of Valyria—took up residence on Dragonstone. Fire and Blood begins their tale with the legendary Aegon the Conqueror, creator of the Iron Throne, and goes on to recount the generations of Targaryens who fought to hold that iconic seat, all the way up to the civil war that nearly tore their dynasty apart.
What really happened during the Dance of the Dragons? Why did it become so deadly to visit Valyria after the Doom? What is the origin of Daenerys's three dragon eggs? These are but a few of the questions answered in this essential chronicle, as related by a learned maester of the Citadel and featuring more than eighty all-new black-and-white illustrations by artist Doug Wheatley. Readers have glimpsed small parts of this narrative in such volumes as The World of Ice & Fire, but now, for the first time, the full tapestry of Targaryen history is revealed.
With all the scope and grandeur of Gibbon's The History of the Decline and Fall of the Roman Empire, Fire and Blood is the ultimate game of thrones, giving readers a whole new appreciation for the dynamic, often bloody, and always fascinating history of Westeros.
Young Adult/Middle Grade Fantasy
The Inheritance Cycle by Christopher Paolini
When Eragon finds a polished blue stone in the forest, he thinks it is the lucky discovery of a poor farm boy; perhaps it will buy his family meat for the winter. But when the stone brings a dragon hatchling, Eragon soon realizes he has stumbled upon a legacy nearly as old as the Empire itself.
Overnight his simple life is shattered, and he is thrust into a perilous new world of destiny, magic, and power. With only an ancient sword and the advice of an old storyteller for guidance, Eragon and the fledgling dragon must navigate the dangerous terrain and dark enemies of an Empire ruled by a king whose evil knows no bounds.
Can Eragon take up the mantle of the legendary Dragon Riders? The fate of the Empire may rest in his hands.
Dragon School by Sarah K L Wilson
No one is too broken to soar.
Sixteen-Year-Old Amel is disabled and rejected by society. A burden to her family and ignored by her peers. Amel travels to Dragon School for one last chance. If she can find a place among the courageous Dragon Riders, she can hold her head high.
If she fails… she'll die.
But what Amel didn't expect was Raolcan. When this empathetic dragon chooses her to changes everything. Will it be enough when Amel takes her final test?
Dragon School is the epic Dragon Rider Series you don't want to miss. Combining dramatic dragon battles, Breath-taking adventures, Magical Creatures, and heart-pounding suspense, this tale will warm your heart and keep you flipping pages.
The Aurelian Cycle by Rosaria Munda
Annie and Lee were just children when a brutal revolution changed their world, giving everyone–even the lowborn–a chance to test into the governing class of dragonriders.
Now they are both rising stars in the new regime, despite backgrounds that couldn't be more different. Annie's lowborn family was executed by dragonfire, while Lee's aristocratic family was murdered by revolutionaries. Growing up in the same orphanage forged their friendship, and seven years of training have made them rivals for the top position in the dragonriding fleet.
But everything changes when survivors from the old regime surface, bent on reclaiming the city.
With war on the horizon and his relationship with Annie changing fast, Lee must choose to kill the only family he has left or to betray everything he's come to believe in. And Annie must decide whether to protect the boy she loves . . . or step up to be the champion her city needs.
Dragon Jousters by Mercedes Lackey
Vetch was an Altan serf working the land which had once been his family's farm. Young and slight, Vetch would have died of overwork, exposure, and starvation if not for the anger which was his only real sustenance–anger that he had lost his home and family in a war of conquest waged by the dragon-riding Jousters of Tia. Tia had usurped nearly halt of Alta's lands and enslaved or killed many of Vetch's countrymen. Sometimes it seemed that his entire cruel fate revolved around dragons and the Jousters who rode them. But his fate changed forever the day he first saw a dragon.
From its narrow, golden, large-eyed head, to its pointed emerald ears, to the magnificent blue wings, the dragon was a thing of multicolored, jeweled beauty, slim and supple and quite as large as the shed it perched on. Vetch, almost failed to notice the Jouster who stood beside him. "I need a boy," the rider had said, and suddenly Vetch found himself lifted above the earth and transported by dragon-back to a different world.
Vetch was to be trained as a dragon-boy, and he hardly believed his luck. The compound seemed like paradise: he could eat until he was full, and all he had to do was care for his Jouster's dragon, Kashet.
It didn't take long for Vetch to realize that Kashet was special–for unlike other dragons, Kashet was gentle by nature and did not need the tranquilizing tala plant to make her tracttable. Vetch became determined to learn the secret of how Kashet had been tamed. For if Kashet could be tamed, perhaps Vetch could tame a dragon of his own. And if he could, then he might be able to escape and bring the secret of dragon-taming back to his homeland of Alta. That secret might prove to be the key to Alta's liberation.
How to Train Your Dragon by Cressida Cowell
Hiccup Horrendous Haddock III, the quiet and thoughtful son of the Chief of the Hairy Hooligans, tries to pass the important initiation test of his Viking clan by catching and training a dragon. Can Hiccup do it without being torn limb from limb?
Join his adventures and misadventures as he finds a new way to train dragons–and becomes a hero. This action-packed, hilarious, and perfectly illustrated novel is a modern classic beloved by millions across the globe.
Heartstone by Elle Katharine White
A debut historical fantasy that recasts Jane Austen's beloved Pride & Prejudice in an imaginative world of wyverns, dragons, and the warriors who fight alongside them against the monsters that threaten the kingdom: gryphons, direwolves, lamias, banshees, and lindworms.
They say a Rider in possession of a good blade must be in want of a monster to slay—and Merybourne Manor has plenty of monsters.
Passionate, headstrong Aliza Bentaine knows this all too well; she's already lost one sister to the invading gryphons. So when Lord Merybourne hires a band of Riders to hunt down the horde, Aliza is relieved her home will soon be safe again.
Her relief is short-lived. With the arrival of the haughty and handsome dragonrider, Alastair Daired, Aliza expects a battle; what she doesn't expect is a romantic clash of wills, pitting words and wit against the pride of an ancient house. Nor does she anticipate the mystery that follows them from Merybourne Manor, its roots running deep as the foundations of the kingdom itself, where something old and dreadful slumbers . . . something far more sinister than gryphons.
It's a war Aliza is ill-prepared to wage, on a battlefield she's never known before: one spanning kingdoms, class lines, and the curious nature of her own heart.
Elle Katharine White infuses elements of Austen's beloved novel with her own brand of magic, crafting a modern epic fantasy that conjures a familiar yet wondrously unique new world.
Dragon Riders of Elantia by Jessica Drake
Kickass heroines. Fire-breathing dragons. Epic adventures. Your thrill ride awaits in this brand new dragon rider series, for fans of Eragon and Dragon Riders of Pern!
Zara Kenrook has never wanted to be ordinary. Abandoned at an orphanage, destined for a life in the slums, she's clawed her way to the top and made herself a name as one of the best treasure hunters in Elantia.
But Zara hasn't gotten to where she is without making enemies, and when one of them calls in a debt, her entire livelihood is thrown into peril. Suddenly, Zara is faced with two impossible choices—break into a dragon rider's home and steal a priceless artifact, or lose the career she's worked so hard to build.
Luckily, Zara has some experience pulling off heists, and she's never been one to back down from a challenge. But when the object she tries to steal turns out to be a dragon egg, her whole world changes. For this particular dragon is about to hatch, and once it lays its fiery eyes on Zara, her life will never be the same.
Ragond's Witch Hunter by Ava Richardson
At sixteen, Yanna Gray is part of her family's Virginia based witch hunting enterprise, helping rid Earth of anything—and anyone—magic. But her militant life goes south when an enchanted amulet goes missing. Before Yanna can reclaim the artifact, the thief opens an interdimensional portal flinging Yanna into a frightening magical world.
Ragond is straight out of the forbidden fairy tales Yanna once read. Mythical creatures, witches, and mages live in harmony with humans. Here, all she's grown up believing is turned on its head—especially when she discovers her own magical abilities.
Without access to a portal to Earth, Yanna is invited to shelter at Stonehaven—the training ground for witches, mages, and dragon riders—where she discovers true friendship, camaraderie, and a surprising bond with an ancient dragon. But all too quickly, Yanna's magic-hunting past catches up to her.
Now, to save her friends and the dragon who partnered with her, Yanna must decide what she believes and who to trust.
Or her past might become Ragond's downfall.
The Dragon Guard by Jada Fisher
In a world full of darkness, the light of the sun is the only thing that can keep the Dark at bay. And dragons are the only thing that can protect the light.
Tennegan Felter (Ten) is a humble servant in Epoch Sol, a beacon of light in a world full of darkness. Her deepest desire is to serve the city she loves and defend it from the creatures of the Dark that live all around. The only way to do that is to join the Dragon Guard. There's one big problem, though. She is a mere servant and faces near insurmountable odds just to get in. And then she has to pass all the tests. Can Ten prove her doubters wrong, overcome all the obstacles, and earn her way into the Dragon Guard?
Trial by Fire is the first book in the epic Dragon Guard fantasy adventure. If you enjoy magical worlds and unforgettable characters, you don't want to miss this epic adventure from bestselling author Jada Fisher.
Rise of the Dragon Riders by Ava Richardson
Cora knows her grandmother's stories of the noble dragon riders by heart, even though most people consider them just a myth. But for Cora, the legends are a pleasant distraction from her concern for her ailing father, and the enormous debt they owe to the king's garrison.
Desperate to help her father, Cora becomes a scale scavenger, risking life and limb by entering the territory of the deadly, feral dragons to gather the highly valuable scales. But her first attempt nearly ends in tragedy when she's trapped by an angry dragon. They are both stunned when she unlocks the secret of communicating with him.
As Cora and the dragon, Alaric, grow closer, they uncover more secrets from the kingdom's past. There was a dark conclusion to the dragon rider legacy, brought about by a malicious force that sought power at any cost. That force still holds the kingdom in thrall—and has no intention of allowing the dragon riders to rise again.
Can Cora and Alaric reignite a legend from the past, before it's too late?
Dragonrider Chronicles by Nicole Conway
When Jaevid Broadfeather is given the rare opportunity to become a dragonrider for the king's army, the 15-year-old boy has no idea that he is part of a conspiracy that will rock the very foundations of the kingdom.
Jaevid Broadfeather has grown up as a wartime refugee, hiding from the world because of his mixed racial heritage. He feels his future is hopeless, until a chance encounter with a wild dragon lands him in Blybrig Academy—a place usually forbidden to anyone but the rich and royal. But Jaevid's case is special; no dragon has voluntarily chosen a rider in decades, so the proud riders of Blybrig must begrudgingly let him join their brotherhood despite his bloodline. Lieutenant Sile Derrick, a sternly tempered man with a mysterious past, becomes his instructor and immediately takes a peculiar interest in Jaevid's future.
While struggling through the rigorous physical demands of training, things begin to go awry. Jaevid witnesses the king's private guards kidnapping Sile in the dead of night. When none of the elder riders are willing to help him, Jaevid begins a dangerous adventure to save his instructor.
Everything Jaevid learned at the academy will now be put to the ultimate test.
The Never Ending War by Martha Carr & Michael Anderle
Girl meets dragon. Girl works to befriend dragon. A large, red, dangerous dragon.
Raven Alby will have to train her new ride and save the dragon's life…or die trying.
Mix in starting at Fowler Academy as a first year, becoming a stronger mage and oh… people disappearing. It's all adding up to typical teenager stuff for a young mage.
First lesson Raven will learn? Don't ever let anything come between a girl and her dragon.
Dragon Rider by Cornelia Funke
A dragon. A boy. A journey.
Firedrake, a brave young dragon, his loyal brownie friend Sorrel and a lonely boy called Ben are united as if by destiny. Together, they embark on a magical journey to find the legendary place where silver dragons can live in peace for ever. With only a curious map and the whispered memories of an old dragon to guide them, they fly across moonlit lands and seas to reach the highest mountains in the world.
Along the way, they discover extraordinary new friends in unlikely places and a courage they never knew they had. Just as well, for the greatest enemy of all is never far behind them – a heartless monster from the past who's been waiting a very long time to destroy the last dragons on earth.