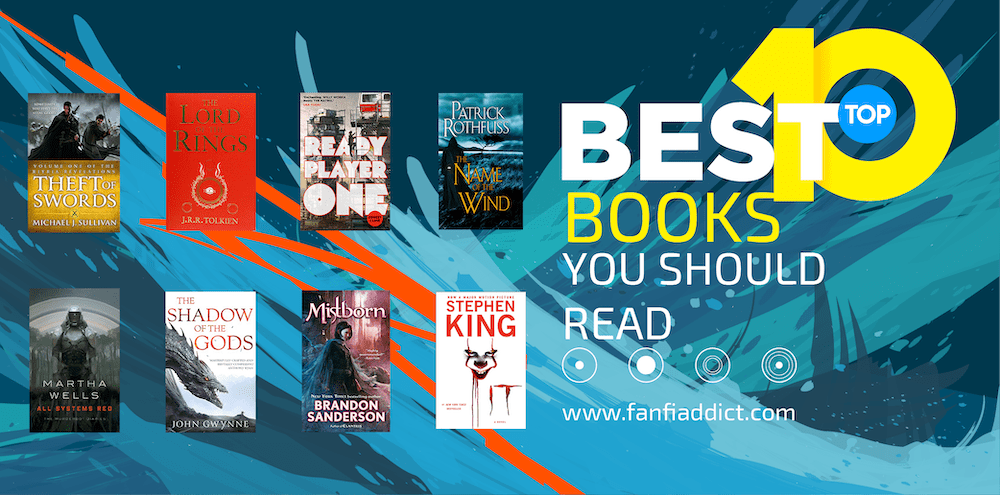 If you ever wonder what each members of the FanFiAddict team loved reading, here is a list of the top 10 books from each of us. These lists will be updated as we keep reading our favorite authors (and new ones too) so whenever you need new ideas for books, come back here!!!!
Adrian's Top 10…
The Expanse series by James S. A. Corey
The Southern Reach Trilogy by Jeff VanderMeer
The Lies of Locke Lamora by Scott Lynch
The Broken Earth Trilogy by N. K. Jemisin
Remembrance of Earth's Past trilogy by Liu Cixin
The Green Bone Saga by Fonda Lee
Dune by Frank Herbert
1Q84 by Haruki Murakami
The Books of Babel by Josiah Bancroft
The Dresden Files by Jim Butcher
Amelia's Top 10…
The Lord of the Rings by JRR Tolkein
The Broken Earth trilogy by N. K. Jemisin
The Nevernight series by Jay Kristoff
The Band series by Nicholas Eames
The Riyria Revelations by Michael J Sullivan
Strange the Dreamer series by Laini Taylor
The Lies of Locke Lamora by Scott Lynch
The Goblin Emperor by Katherine Addison
The Memoirs of Lady Trent by Marie Brzennan
The Wayfarers series by Becky Chambers
Bender's Top 10…
Malazan Book of the Fallen – Steven Erikson
Kingkiller Chronicles – Patrick Rothfuss
Tawny Man Trilogy – Robin Hobb
Divine Cities trilogy – Robert Jackson Bennett
Ten Realms – Michael Chatfield
Cradle – Will Wight
Wheel of Time – Robert Jordan/Brandon Sanderson
Murderbot Diaries – Martha Wells
Expanse – James SA Corey
Bartimaeus Sequence – Jonathan Stroud
Blaise's Top 10…
Faithful and the Fallen by John Gwynne
A Song of Ice and Fire by George R.R Martin
Stormlight Archive by Brandon Sanderson
Malazan by Steven Erikson
Shadows of the Apt by Adrian Tchaikovsky
Liveship Traders by Robin Hobb
Gentlemen Bastards by Scott Lynch
Kingkiller Chronicles by Patrick Rothfuss
Broken Empire by Mark Lawrence
Dragon Mage by M.L Spencer.
Cassidee's Top 10…
Robin Hobb – The Realm of the Elderling series
Patrick Rothfuss – The Kingkiller Chronicle
Brandon Sanderson – The Mistborn series
John Gwynne – The Faithful and the Fallen
George R.R. Martin – A Song of Ice and Fire
Joe Abercrombie – The First Law universe (The First Trilogy/The Great Leveller standalones/The Age of Madness)
Madeline Miller – Circe and The Song of Achilles
Genievieve Gornichec – The Witch's Heart
M.L. Wang – Sword of Kaigen
Pierce Brown – Red Rising series
Connor's Top 10…
Realm of the Elderlings – Robin Hobb
The Bitch Queen Series – K.S. Villoso
The World of Riverside – Ellen Kushner
Lord of the Rings – J.R.R. Tolkien
A Song of Ice and Fire – George R.R. Martin
The First Law – Joe Abercrombie
The Broken Earth Trilogy – N.K. Jemisin
The Locked Tomb Trilogy – Tamsyn Muir
Earthsea – Ursula K. Le Guin
Dan's Top 10…
Golden Son by Pierce Brown
The Wise Man's Fear by P Rothfuss
Snakewood by Adrian Selby
The Rage of Dragons by Evan Winter
The Shadow Saint by G Hanrahan
The Bone Shard Daughter by Andrea Stewart
Promise of Blood by Brian McLellan
The Kingdom of Liars by Nick Martell
The Name of All Things by Jenn Lyons
Mordew by Alex Pheby
Dale's Top 10…
The Faithful and the Fallen – John Gwynne
Red Rising – Pierce Brown
The Kingkiller Chronicle – Patrick Rothfuss
The Farseer Trilogy – Robin Hobb
The Stormlight Archive – Brandon Sanderson
The Inheritance Cycle – Christopher Paolini
Dragon Mage – M.L Spencer
Blood Song (Ravens Shadow) – Anthony Ryan
The Lightbringer Series – Brent Weeks
The Gentleman Bastards – Scott Lynch
David S.'s Top 10…
Mistborn Era 1 by Brandon Sanderson
Farseer Trilogy by Robin Hobb
Ender's Game by Orson Scott Card
Cradle series by Will Wight
Inheritance Cycle by Christopher Paolini
Riyria Revelations by Michael J Sullivan
KingKiller Chronicle by Patrick Rothfuss
Gentleman Bastards Sequence by Scott Lynch
Red Rising Saga by Pierce Brown
Faithful and the Fallen by John Gwynne
David W.'s Top 10…
Beyond Redemption by Michael R Fletcher
The Blacktongue Thief by Christopher Buehlman
The Shadow of the Gods by John Gwynne
Recursion by Blake Crouch
The Only Good Indians by Stephen Graham Jones
Malorie by Josh Malerman
The Court of Broken Knives by Anna Smith Spark
Senlin Ascends by Josiah Bancroft
Prince of Thorns by Mark Lawrence
Golden Son by Pierce Brown
Eleni's Top 10…
The Belgariad – David Eddings
Sabriel – Garth Nix
Riyria Revelations – Michael J Sullivan
The Greatcoats Tetralogy – Sebastien De Castell
The Licanius Trilogy – James Islington
Raven's Shadow Trilogy – Anthony Ryan
The Faithful and the Fallen – John Gwynne
The Chronicles of the Emerged World – Licia Troisi
The Shadow Campaigns – Django Wexler
Master of Sorrows – Justin Call
Jared's Top 10…
Realm of the Elderlings – Robin Hobb
Mistborn – Brandon Sanderson
Nevernight Chronicles – Jay Kristoff
Malazan Book of the Fallen – Steven Erikson
Children of Time – Adrian Tchaikovksy
The Wall of Storms – Ken Liu
Books of Babel – Josiah Bancroft
The Licanius Trilogy – James Islington
The Green Bone Saga – Fonda Lee
The Shadow of the Gods – John Gwynne
Honorable Mention: The Expanse – James S.A. Corey
Justin's Top 10…
Lightbringer – Brent Weeks
Red Rising – Pierce Brown
The Heritage of Shannara – Terry Brooks
Legacy of the Brightwash – Krystle Matar
The Eyes of God – John Marco
The Warded Man – Peter V. Brett
The Murderbot Diaries – Marth Wells
Gardens of the Moon – Steven Erikson
Powder Mage – Brian McClellan
Seven Kennings – Kevin Hearne
Harry's Top 10…
IT by Stephen King
The Stand by Stephen King
The Dark Tower by Stephen King (The Waste Lands)
The First Law by Joe Abercrombie (The Last Argument of Kings)
Stormlight Archive by Brandon Sanderson (Words of Radiance)
The Lord of The Rings by JRR Tolkien
The Outsider by Stephen King
Gone Girl by Gillian Flynn
Discworld by Terry Pratchett (The Light Fantastic)
A Song of Ice and Fire (A Game of Thrones)
Kevin's Top 10…
The Faithful and the Fallen by John Gwynne
Chronicle of the Unhewn Throne by Brian Staveley
The Farseer Trilogy by Robin Hobb – Lightbringer by Brent Weeks
The Licanius Trilogy by James Islington
The Books of Babel by Josiah Bancroft
The Dresden Files by Jim Butcher
Harry Potter by J.K. Rowling
The Kingkiller Chronicle by Patrick Rothfuss
The Band by Nicholas Eames
Manny's Top 10…
Harry Potter series by J.K. Rowling
IT by Stephen King (and most of his books except The Stand – this one didn't work for me)
Wayward Pines Series by Blake Crouch
All You Need Is Kill (Edge of Tomorrow) by Hiroshi Sakurazaka
Dresden Files by Jim Butcher
Mistborn book 1 by Brandon Sanderson (still haven't read the rest but am sure they will make the list)
Cradle series by Will Wight
Near The Bone by Christina Henry
Writing In The Dark by Tim Waggoner
Wraithblade by S.M. Boyce
Mayri's Top 10…
Tad Williams' Memory, Sorrow and Thorn
Ready Player One by Ernest Cline
The King's Peace and The King's Name by Jo Walton
Doomsday Book by Connie Willis
We Have Always Lived in the Castle by Shirley Jackson
Blue Remembered Earth by Alastair Reynolds (but not the rest of the trilogy)
Redshirts by John Scalzi
Sabriel, Lirael and Abhorsen by Garth Nix
Temeraire by Naomi Novik
Naty's Top 10…
Warbreaker Brandon Sanderson
Velocity weapon Megan E o'keefe
The gutter prayer Gareth hanrahan
Skyward Series Brandon Sanderson
Parasites Matthew Samuels
Pet sematary Stephen king
Priory of the orange tree Samantha Shannon
The bone ships R.J barker
House of salt and sorrows Erin A. Craig
Leviathan wakes james S.A corey
Traveling Cloak's Top 10…
THE BLACK PRISM – Brent Weeks
WORDS OF RADIANCE – Brandon Sanderson
READY PLAYER ONE – Ernest Cline
GIDEON THE NINTH – Tamsyn Muir
THE MAGICIANS – Lev Grossman
BANG THE DRUM SLOWLY – Mark Harris
THE BOOK OF KOLI – M.R. Carey
VOIDBREAKER – David Dalglish
DEATH NOTE – Tsuguki Ohba and Takeshi Obata
THE NIGHT ANGEL OMNIBUS – Brent Weeks
Victoria's Top 10…
The Hunger Games series by Suzanne Collins
The Young Elites series by Marie Lu
Children of Blood and Bone by Tomi Adeyemi
Jurassic Park by Michael Crichton
Jane Eyre by Charlotte Brontë
Frankenstein by Mary Shelley
The Mortal Instruments Series by Cassandra Clare
The Inheritance Cycle by Christopher Paolini
Sky in the Deep by Adrienne Young
Milk and Honey by Rupi Kaur