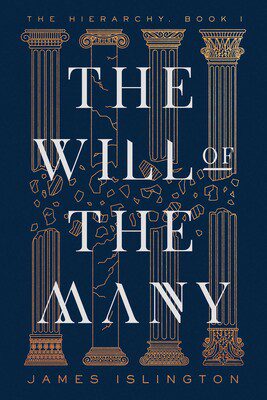 Rating: 10/10
Synopsis
AUDI. VIDE. TACE.
The Catenan Republic – the Hierarchy – may rule the world now, but they do not know everything.
I tell them my name is Vis Telimus. I tell them I was orphaned after a tragic accident three years ago, and that good fortune alone has led to my acceptance into their most prestigious school. I tell them that once I graduate, I will gladly join the rest of civilised society in allowing my strength, my drive and my focus – what they call Will – to be leeched away and added to the power of those above me, as millions already do. As all must eventually do.
I tell them that I belong, and they believe me.
But the truth is that I have been sent to the Academy to find answers. To solve a murder. To search for an ancient weapon. To uncover secrets that may tear the Republic apart.
And that I will never, ever cede my Will to the empire that executed my family.
To survive, though, I will still have to rise through the Academy's ranks. I will have to smile, and make friends, and pretend to be one of them and win. Because if I cannot, then those who want to control me, who know my real name, will no longer have any use for me.
And if the Hierarchy finds out who I truly am, they will kill me.
Review
Thank you to Saga Press for giving me an advanced copy in exchange for an honest review. Receiving this has no effect on this review.
The man who is never nervous, never does anything hard. The man who is never nervous, never grows."
I went into The Will of the Many with relatively high expectations. I had read and really enjoyed The Licanius Trilogy and so I was already really excited for whatever the author was going to do next. When I read the blurb for this book I was pretty certain I was going to love it. I was not disappointed.
The Will of the Many is hands down my favorite book of the year so far. A masterful combination of mystery, action, and suspense set in a uniquely immersive world that captivated me from the very first page.
About 2/3 of The Will of the Many is a school setting. However, even if you are not a fan of "magic school setting" as a trope I think you still have a chance of enjoying this book. Vis may be at the school, and there is of course some brief class and training scenes involved, but the main focus remains on other things. The two things that are really the focus during this part of the story are the overarching plot of the story and character growth. I can't really go into too many more details without spoilers, but I will say that this was my favorite part of the story.
There is a mystery lurking just out of reach both within and outside the grounds of the school. A secret that is so important that the school administrators would do anything to keep it hidden. Vis constantly puts himself in harm's way to discover this secret at the urging of his sponsor Ulciscor. He cannot refuse or there will be consequences. This intrigue, constant threat of danger, and mystery had me hooked since it was first talked about roughly 10-15% in to the story. I needed to learn what it is that the school was hiding. I'm so thankful that we at least have some understanding of what it is by the end of the first book, but I also appreciate Islington leaving some of the mystery there to keep me invested while also dropping a new bomb on us right at the very end.
"You hurt any of them," I say softly, voice shaking, "and on my oath, I will burn you and the Anguis to the ground. No matter the cost."
I really enjoyed how this story gave me Red Rising vibes, especially thematically and somewhat character wise, while still feeling wholly unique. The magic system and the world itself felt like a breath of fresh air. Both the setting and characters felt so vividly imagined its like I could step through the page and into the world of The Hierarchy. Not that I would want to ever visit this class-based society where if someone in a lower class steps out of line even in the slightest there are dire consequences.
This is a brutal world ruled by the Hierarchy, a pyramidal system of government that makes the people in each higher tier more physically and magically powerful than their subordinates. I found how this particular part of the story is set up fascinating so I won't spoil it for you going into more detail. Suffice it to say it made for a very compelling piece of worldbuilding that truly had an impact on the story in multiple ways.
There were also some uses of the magic system of this world that took this from straight up epic fantasy to what I would consider to be dark fantasy. It never ventured anywhere near the despair or abject horror of grimdark or fantasy horror, but it absolutely had touches of both intertwined throughout.
And now we get to the characters. Vis is the single POV of this story so we see his character growth the most. We learn more and more of his back story in bits and pieces as the story progresses. Because this story is told in first person we also get to be in Vis' head for a decent amount of time. When we first meet Vis he is a man fueled by a desire to just survive, to remain invisible to the powers of the Hierarchy. However, as the story progresses we begin to see a different side of Vis. I loved that there were both external forces and internal personal struggles that led to Vis' growth as a character, similar to how we are able to grow as humans in real life.
If everyone in Class Six is going to try and ignore me, then I'll just have to make them pay attention.
My favorite part about school settings in general are not the magic or training or anything like that. All are typically interesting to me, but my favorite part is the friends that are made along the way. Vis finds three good friends at the Academy and they are all compelling on their own while also being an integral part of Vis' growth as a character.
The influence of his friends at the Academy, almost all of whom are of relatively high standing within the Hierarchy, cannot be understated. We see Vis' priorities start to shift throughout book 1 in large part due to his friends because of how much he cares for them despite their being involved in the society he despises. I found this duality of thought incredibly compelling and its super impressive to me that Islington was able to pull it off in such a believable way.
I am very excited to see where this series will go and I cannot wait for the release of book 2, The Strength of the Few!