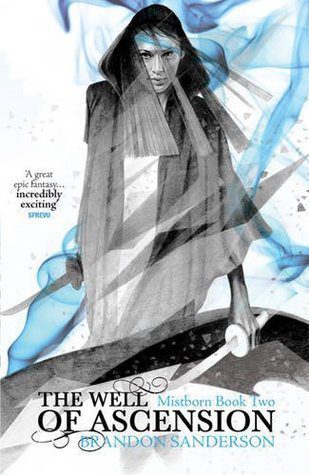 Rating: 9/10
Synopsis
The impossible has been accomplished. The Lord Ruler—the man who claimed to be god incarnate and brutally ruled the world for a thousand years—has been vanquished. But Kelsier, the hero who masterminded that triumph, is dead too, and now the awesome task of building a new world has been left to his young protégé, Vin, the former street urchin who is now the most powerful Mistborn in the land, and to the idealistic young nobleman she loves.
As Kelsier's protégé and slayer of the Lord Ruler she is now venerated by a budding new religion, a distinction that makes her intensely uncomfortable. Even more worrying, the mists have begun behaving strangely since the Lord Ruler died, and seem to harbor a strange vaporous entity that haunts her.
Stopping assassins may keep Vin's Mistborn skills sharp, but it's the least of her problems. Luthadel, the largest city of the former empire, doesn't run itself, and Vin and the other members of Kelsier's crew, who lead the revolution, must learn a whole new set of practical and political skills to help. It certainly won't get easier with three armies – one of them composed of ferocious giants – now vying to conquer the city, and no sign of the Lord Ruler's hidden cache of atium, the rarest and most powerful allomantic metal.
As the siege of Luthadel tightens, an ancient legend seems to offer a glimmer of hope. But even if it really exists, no one knows where to find the Well of Ascension or what manner of power it bestows.
Review
Reading a Brandon Sanderson novel for me is invariably a scary experience, as I expect to be impressed. The Well Of Ascension put those fears to rest. As the second book in a series that spans three volumes, and then extends to a new era with an extra 3 novels, it's a perfect mid-road story that connects the early narrative and leads into the last book.
If I had to summarize what Well of Ascension was about—and if you read the first one, The Final Empire, which was basically a heist story—the second book was a city under siege event. Our characters find themselves stuck in their citadel, where two armies wait at their door to raid and take over. On top, we continue to explore further our main character, Vin, and her power developments and love interests.
But Sanderson, as always, is a master at plotting an unexpected path towards the ultimate climax of the story, with twists and turns related to our character development and some mysteries adding a bit of spice to an already comprehensive narrative. Well of Ascension felt very much like an "Empire Strikes Back", where the drama meets the action in every sense of the word. Like any of his books, Sanderson doesn't miss the opportunity to push us into climax euphoria in the last 200 pages of this work where you applaud and cheer and cry and roar almost every 3-5 pages until you drop the book, and finally exhale. It always feels like we just went through an extreme workout when reading the last act, and I've come to a point where I mentally prepare myself but eagerly anticipate this part in any of his books.
My only deception—and the reason this is not a straight 10—is Sanderson left some questions raised in this one for the last novel. Whereas Final Empire felt truly like a single entity that didn't need more to answer lingering questions, Well of Ascension leaves a few feathers unturned, which is a big pet-peeve of mine in any literature.
So if you love action-packed-edge-of-your-seat fantasy with a buildup through several acts, or read the first book in this series, you must read Brandon Sanderson's The Well of Ascension.