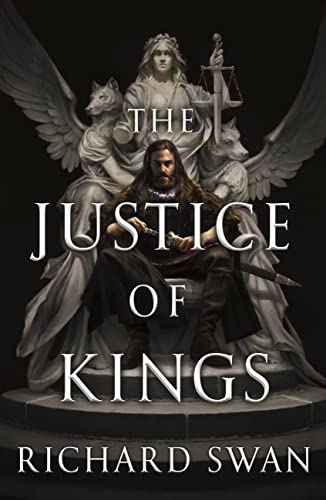 Rating: 9/10
Synopsis
The Justice of Kings, the first in a new epic fantasy trilogy, follows the tale of Sir Konrad Vonvalt, an Emperor's Justice – a detective, judge and executioner all in one. As he unravels a web of secrets and lies, Vonvalt discovers a plot that might destroy his order once and for all – and bring down the entire Empire.
As an Emperor's Justice, Sir Konrad Vonvalt always has the last word. His duty is to uphold the law of the empire using whatever tools he has at his disposal: whether it's his blade, the arcane secrets passed down from Justice to Justice, or his wealth of knowledge of the laws of the empire. But usually his reputation as one of the most revered—and hated—Justices is enough to get most any job done.
When Vonvalt investigates the murder of a noblewoman, he finds his authority being challenged like never before. As the simple case becomes more complex and convoluted, he begins to pull at the threads that unravel a conspiracy that could see an end to all Justices, and a beginning to lawless chaos across the empire.
Review
An intriguing and well thought out combination of epic fantasy and procedural murder mystery, slowly but surely pulling you in until you have no choice but to turn the next page.
Thank you so much to Orbit books for this early copy in exchange for an honest review. Any quotes contained in this review are subject to change.
The Justice of Kings is not your typical epic fantasy. In fact, in my reading experience so far it is wholly unique in it's approach to and execution of the story. This was both a strength and a weakness as it did cause me to take a little while to get into this one, but once I did I was hooked.
I've seen a few reviews of this book so far and I think each one mentioned that it took them by surprise, not being what they expected. I completely agree and believe it was a better book for it.
"I was a soldier in the Reichskrieg, Helena…I have seen what the world is like without the rules."
The Justice of Kings' three main characters are Justice Sir Konrad Vanvalt, his clerk Helena Sedanka, and his do it all taskman Dubine Bressinger. Although I would say this story revolves around Justice Vanvalt, we actually get the entire story through Helena's eyes as she follows and assists him. We follow their pursuit of justice for a murdered woman in the Northern town of Galen's Vale as well as their attempts at unravelling a wider conspiracy that threatens to tear their empire, and all that they stand for, apart.
I will admit that for me the plot started out a bit slow. I would say for about the first 20% I was intrigued but not necessarily fully invested in the story. However, right around that time there is a big turning point in the story and after that I never looked back until the very last page. This story that starts off in a simple murder mystery format turned into so much more. Every moment felt intentional and looking back at that first 20% I can see the building blocks that Swan used to set up this series to be on a more epic scale than it at first appeared.
"De jura nietra iznia. No one is above the law."
One part of the story that I enjoyed quite a bit is the emphasis on discussing what justice means and what it looks like to pursue justice. Where do the lines blur and what is black and white? Swan does a fantastic job of asking these questions while letting the reader make up their own minds about the answer. I can tell that this will be a theme that will continue to be emphasized throughout the series.
I found both Vanvalt and Helena to be fascinating and very well written characters. That is not to say that Bressinger and others aren't well written, but for me Vanvalt and Helena's portrayal deserves the spotlight as it is where Swan really shines in his character development. Not only are their individual personalities interesting, but their relationship to each other is so compelling and evolves throughout the story.
"How could I possibly go to sleep when the very foundations of my worldview were being hacked away?"
What I enjoyed even more than the theme of justice is how this series starts to explore identity and foundational beliefs. What do we do when the things we take for granted are taken away? What happens when those things that we based our world on are falling apart? How do we react? How will it change us? It was fascinating to see the start of this process in The Justice of Kings and made me so excited to see who our characters will be by the end of this series and what they will do because of those changes.
I had a great time with this book and I am really excited to read book 2 when it comes out. I definitely recommend it to both fantasy and mystery lovers. The Justice of Kings comes out February 22, 2022. Preorders can be found at the links above!