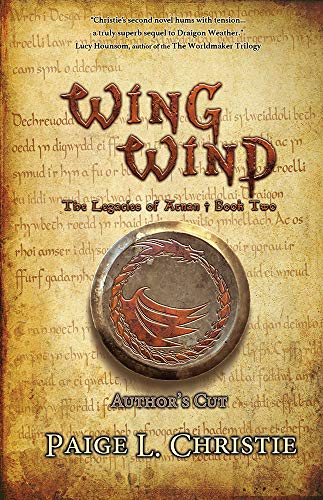 Rating: 9/10
Synopsis
Wing Wind
The land withers under the pall of Draigon Weather, ushering in a new Sacrifice in the trading town of Melbis.
Cleod, lead sword of Kilras Dorn's renowned caravan, finds himself haunted by his failures and the shadow of long-departed Leiel. Shaa, the Draigon that broke and nearly killed him, has returned, and the need for revenge ignites his soul. Now he must choose between two lives—that of solace and friendship or that of violence and death. Whether to be a trusted guardian or a Draigon slayer.
Far to the north, the Draigon share old teachings, laughter, and heartache. Hard lessons prepare the newest of them for the role she will claim. Then, time-honored treaties between Draigon and Draighil are violated, threatening everything the Draigon protect. Now they must decide which is of greater need—continuing the secrets held for centuries or exposing the truth of their existence.
For knowledge, the Draigon know and Cleod will come to understand, can raise a storm to shake the very future of Arnan.
Review
I received a copy of this book from the publisher in exchange for a honest review. The Legacies of Arnan continues to be anything but the simple black and white telling such as in a history book. It contains varying degrees grey and red to denote the blood and loss over the centuries. Wing Wind pushes the action and earth shattering revelations to the forefront with not a moment to catch your breath. This is indeed a wild ride! This will be a spoiler free review but I be touching on events from the previous novel.
Cleod, lead sword of Kilras Dorn's renowned caravan and Draighill, is haunted by his failures in protecting his long time friend Leiel from becoming a sacrifice to the Draigon Shaa. The ancient beast is now returning to the land and Cleod has his sights set on revenge. The shocking truth becomes apparent when Cleod discovers that Leiel is alive and he must choose between being a protector or a slayer of beasts. Leiel has been whisked away by Shaa to the northern mountains. Here she will encounter other Draigons to learn their histories, secrets, and also their deepest fears. The Draigons are the keeper of ancient histories and they know the truth about Arnan. Leiel will discover a shocking truth regarding the Draigons and it will change everything you have read before and moving forward. The treaty between the Draigons and the Draighill will break and hard choices need to be made. I hope you are ready to see them.
Much like in the previous novel, Draigon Weather, this novel alters between Cleod and Leiel's point of view but that is just the beginning. We are still witnessing the time jumps between several chapters and I continue to be in awe of how smooth and flawless the narrative comes across. If you are looking for more on an explanation on this, I will link my previous review for book 1 down below. Wing Wind also does a bit of a shift away from the Weird Western subgenre and more towards a traditional fantasy story without sacrificing the characters, pacing, or the plot. This is truly a story I've never seen before and it will sweep you off of your feet. You have the strong female POV who is very caring and clever but is often times broken by the difficult choices she has to make. We also have a somewhat hardheaded male POV with a good heart but a difficult path to follow and nothing in store for him but pain.
If you are looking for something different as all the stories seem to blend together or just an action packed adventure with horrifying twist, then this is the series for you. The Legacies of Arnan is an under appreciated gem of a series and one that should not be overlooked. The ending made me only want to continue the story right away if not for my ever-growing TBR (shakes fist)! Teachings are some of the greatest secrets we can hold dear, but what would you do if those teachings and histories are wrong?!?!?! You will have to read and find out!
Cheers!