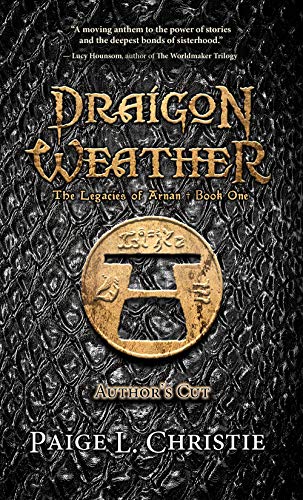 Rating: 8.5/10
Synopsis
Draigon Weather
The brutal, drought-bringing heat that arises from the colossal, near-mythical Draigon, is a fell portent, heralding the doom of a striving woman.
When Leiel's mother is Sacrificed to the Draigon to relieve the terrible drought, Leiel is marked by the shame brought to her family. She must leave school, relegated to a new life of servitude.
Cleod, the woodcutter's son, is Leiel's closest friend. To avenge Leiel's mother, he vows to rise above his station and join the Ehlewer Enclave, an elite society famed for training men to kill Draigon.
The friends' lives take different paths. Cleod struggles with divided loyalties as he learns he cannot be a Draigon hunter while remaining a friend to a tainted woman. Leiel seeks forbidden knowledge and old secrets, placing herself in danger of sharing her mother's fate.
When Draigon Weather returns to the land, Cleod has the chance to fulfill all his promises—both to Leiel and to his new masters, the Ehlewer.  But as the rivers choke on their own silt and heat cracks the ground, the choices the two friends have made begin to catch up with them—for what plagues Arnan is more than just a monster.
Review
Welcome to the land of Arnan, where the desert sun shines strong and the people are trying to live their lives as best they can. This would all go according to plan if not for one thing, Draigons. The terrible weather conditions that arise when these mythical creatures descend upon Arnan can lead to hardships and even death among the citizens. The only way to appease the Draigons is with a sacrifice and this event will shape our story and what secrets may be hidden behind this ancient ritual.
Draigon Weather is Paige L. Christie's take on a weird western if you throw in the Draigons and generations of lost history, stories, and maybe something more. Also worth mentioning that Draigon Weather is her debut novel as well. The novel is constantly asking you to challenge the stories you have learned and grown up on and maybe the full story may not be what you anticipated. Troupes will be flipped on their heads and nothing will be predictable in the slightest as that is a testament to the write that Paige Christie is. Oh, and did I mention that this book deals with multiple timelines!?!?! Yes, indeed as they are handled brilliantly from start to finish.
We follow two main POV characters in the novel Leiel and Cleod. Both of these characters start out as friends until one horrible day arises. Leiel is just a simple girl working with her family and going to school with Cleod. It should be mentioned that girls in this novel are rarely educated unless they practice medicine. The teachings say that educated women anger the Draigons and the fear among the citizens for the Draigon weather to return. The horrible day comes when Leiel's mother is chosen by the leaders of Arnan as a sacrifice and Leiel is shattered beyond belief at the loss of her mother. She will go back to the stories she learned in school and with help from a mysterious stranger uncover some secrets that can shack the foundation of Arnan forever.
Cleod upon seeing Leiel's mother being put forth as a sacrifice, devotes his life to become a Draigon hunter and to join Ehlewer Enclave. He will not rest until he has killed this ancient beast and we go through his training and the demons Cleod has to face both external but also internal as well. The Enclave also have a cool ability to have the soul leave the body and it makes for some great action scenes. No one will prepare Cleod for what is to come as he and Leiel's journeys will connect once again.
The writing style and pacing of the story is very reader friendly with quick chapters making for a fast read. You could finish this story in a few days as I have with ease. I just want to mention two quick things before wrapping up. The time lines were a little jarring at first as it seemed each chapter moved to different points in time for no reason. After a few chapters, I got use to it and the timelines will converge towards the end and it is definitely the highlight for this story. Also worth mentioning is the ending felt abrupt and it seems to just stop. After talking with the author, Paige mentioned that books one and two were supposed to be published in one volume and that was the best place to split the story. Just something to keep in mind.
Weird westerns are a fantastic when done correctly and the author nailed this one. Although not a perfect story, the world has so much more to offer and I can't wait to see what comes next!
Cheers!