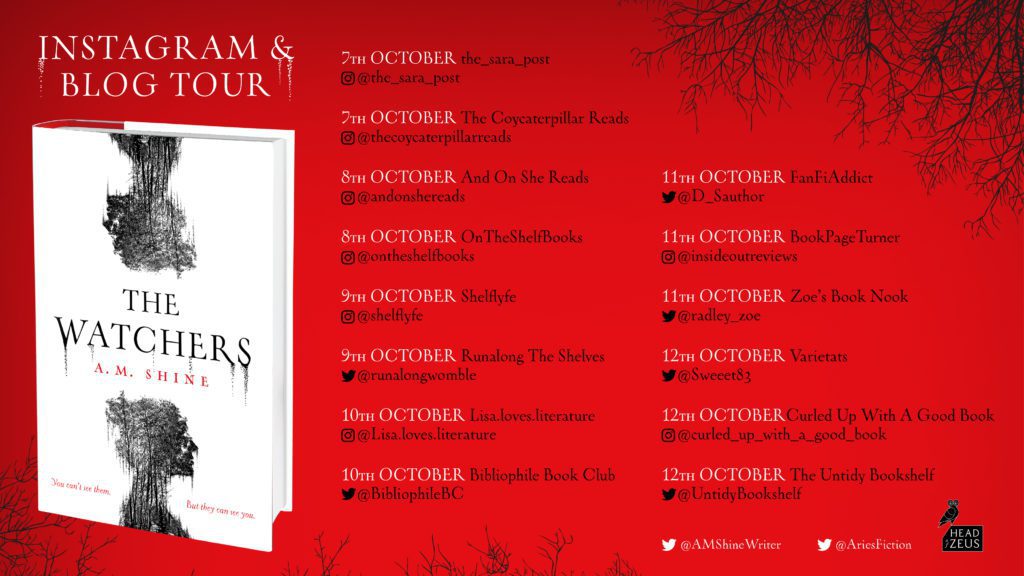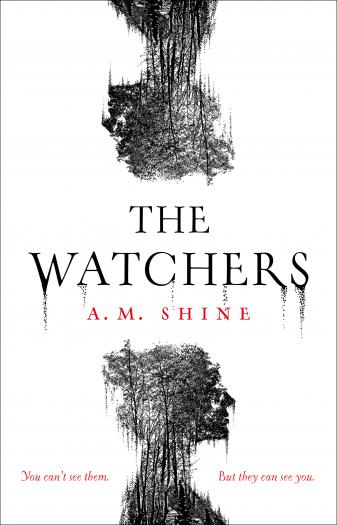 Rating: 9/10
Synopsis
You can't see them. But they can see you.This forest isn't charted on any map. Every car breaks down at its treeline. Mina's is no different. Left stranded, she is forced into the dark woodland only to find a woman shouting, urging Mina to run to a concrete bunker. As the door slams behind her, the building is besieged by screams.
Mina finds herself in a room with a wall of glass, and an electric light that activates at nightfall, when the Watchers come above ground. These creatures emerge to observe their captive humans and terrible things happen to anyone who doesn't reach the bunker in time.
Afraid and trapped among strangers, Mina is desperate for answers. Who are the Watchers and why are these creatures keeping them imprisoned, keen to watch their every move?
Review
First, I'd like to thank Lauren and HoZ books for planning the blog tour, for letting me be a part of it and for sending me a beautiful finished hard copy to review.
The Watchers is the fantastic, heart-thumping, page-turning debut from A. M. Shine that really left me no choice but to keep reading – to finish the tale at a pace, running from the shrieks in the night. This book gave me major Cabin in the Woods x Lost vibes: it feels like they're in limbo somewhere. The mystery is different, strange, because there's rules and they know what hunts them … they just can't see them at all. There's but one warning for you before you read on, reader:
'Stay in the light…'
The plot was addictive, it created a hunger in me to read, to turn the page; I love a good horror, but don't often read them anymore. And for me, the Watchers is up there with the best of them. From the very premise, I was hopelessly enthralled. We see a harrowing prologue that only raises questions, certainly doesn't answer them. Then we're with Mina, our protagonist, who – on a paid errand for a friend – gets stuck in the woods, her car having broken down; when she finally works up the courage to look for help, all that greets her is Madeleine, Daniel, and Ciara, all of which have got stuck in the same way, all of which who found this reinforced, concrete hideout in the woods. Then night falls, the shrieks start, the light comes on and the doors are bolted shut. Essentially, the whole book takes place in one room and is as much about how the characters survive in isolation as it is about the monstrosities that keep them there.
There's four startingly different POVs that make for a pot that's about to boil over; Madeleine's a woman in charge, Daniel's weak – or at least that's the way he holds himself because of an abusive past – Ciara is mourning and Mina, she isn't going to listen for long. All of the characters seem to share something: no one will come looking for them. Either because they turned up with all they hold dear, they hold nothing dear, or they're a failure. Or a mixture. It led itself to seem like something setup, really pulling on that Cabin in the Woods comparison early on … not to mention, eh, the cabin in the wood. But, alas, like all good writers, Shine really took me on a wild goose chase, and I could really not guess what happened until it did. And what a happening it turned out to be. What I really loved is how the characters grew out of their initial, individual, quagmires; it really explored how, out of adversity, people really change. Despite all the horror people are confronted with, some languish in it, others grow, change, and find new joy in what's around them. Or who's around them. All that aside, it's a character study. Of how wholesome, well-written characters can fall to bits in a blank room, then rebuild from those pieces.
Descriptions in bleak greys and whites and black, really sets the tone like I'm reading an old black and white horror – which only adds to the intrigue. There's a definite tone to the writing, a colour palette that Shine has gone for and really comes out in the descriptions used.
Simile and metaphor used to great effect and adds to characterization as in voice these differ and reflect the worldview. Always enjoy writing like this that's simple and effective. Effective writing proves that when you're focused on the characters and the characters are all interesting, then you can set the entire novel in just one blank room, and it be gripping and intriguing. It's clever writing that know itself that's about to pull this off. I was fascinated – more than I usually am – by the setting. Only that it is basically nowhere with nothing. Only invisible monsters that come when dark falls and scream unless you stay awake. And eat you unless they can see you.
And finally, a twist I literally never saw coming. Never. Like, wow, first time I've been duped so hard, and it was there to see. I've mentioned it previously, but this one really, REALLY, took me by surprised and it was so clever, so intelligent I loved it.
Overall, read it. It's worth your time, and then some.