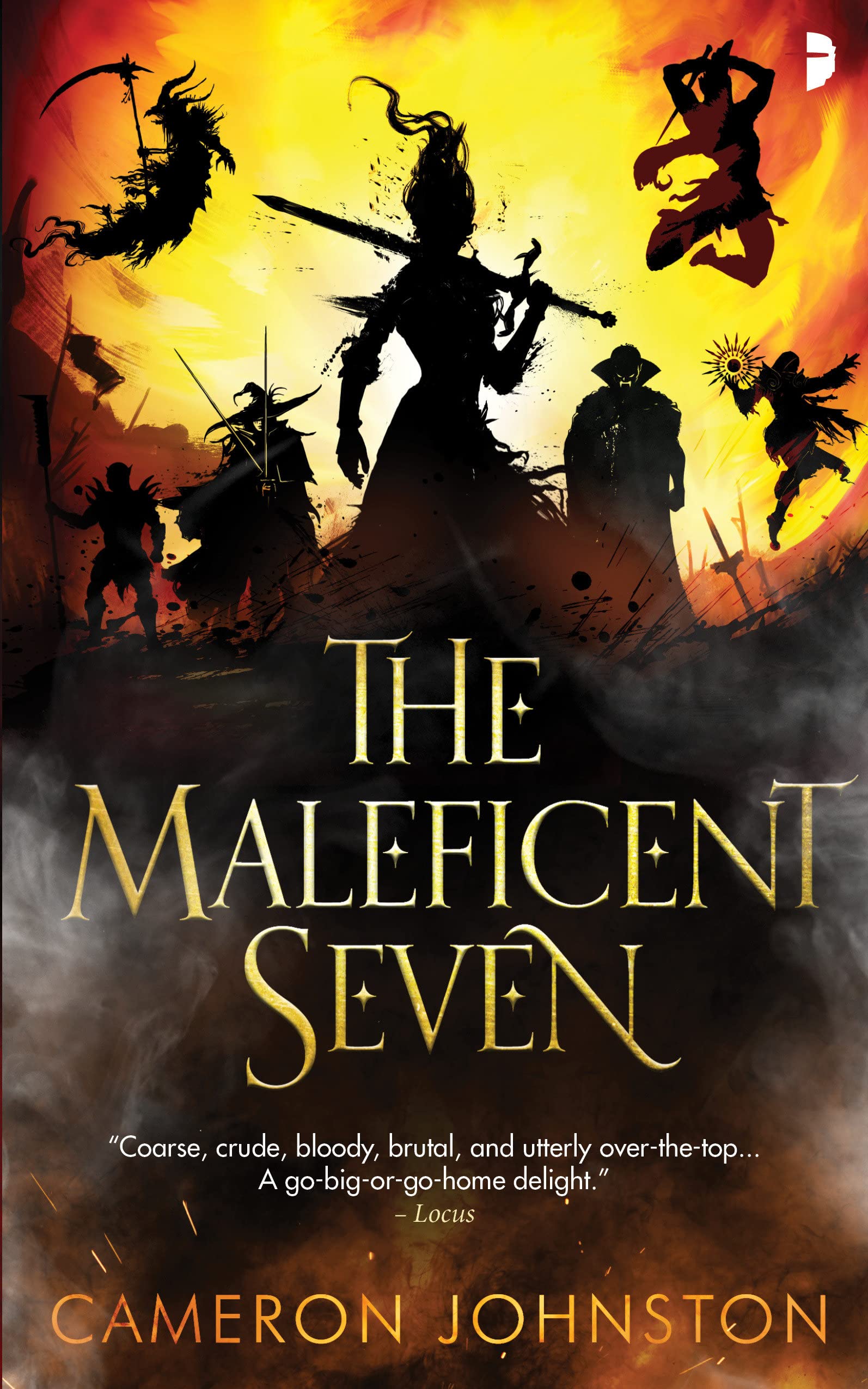 Rating: 9.25/10
Synopsis
When you are all out of heroes, all that's left are the villains.
Black Herran was a dread demonologist, and the most ruthless general in all Essoran. She assembled the six most fearsome warriors to captain her armies: a necromancer, a vampire lord, a demigod, an orcish warleader, a pirate queen, and a twisted alchemist. Together they brought the whole continent to its knees… Until the day she abandoned her army, on the eve of total victory.
40 years later, she must bring her former captains back together for one final stand, in the small town of Tarnbrooke – the last bastion against a fanatical new enemy tearing through the land, intent on finishing the job Black Herran started years before.
Seven bloodthirsty monsters. One town. Their last hope.
Review
"To change is to live. Only the dead ever remain the same. And if you think I would not burn the world to save those I love, then you are badly mistaken– do not rekindle my old fire if you cannot handle its heat."
The Maleficent Seven is a surprisingly fun ride through a merciless world. A humorous and brutal romp of a novel exploring what saving the world looks like when there are no more heroes.
Wow. I really did not expect to have so much fun reading this!
Rob J Hayes described this novel as "Suicide Squad meets The Band by Nicholas Eames." Though I can't say myself how much it coincides with The Band as I haven't read it, I can definitely feel the Suicide Squad angle. The Maleficent Seven are a band of terrible people trying to beat back a bigger bad, some for selfish reasons and some not as much.
I was really impressed with the character work that went into this book. Writing a standalone fantasy can make it hard to do right by the characters. However, Cameron Johnston did such an amazing job of not only bringing these characters to life, but also making me empathize and even root for these mostly terrible band of crazy, ambitious, and often monstrous beings. So much so that I really cared about one of the Seven in particular and truly hoped that he would make it out alive of the mess that the Lucent Empire had created. The only thing that I wished for as far as the seven main characters are concerned was more time with some of them. I felt like I could have become really attached to quite a few of them, but because of their lack of page time I couldn't quite get there with them all.
"Enough," Maeven said coldly. "I hate you all, and the feeling is mutual. I suggest we all accept it and work together one last time."
Johnston managed to balance out the grimdark nature of this narrative with humor that hit the spot for me. Quotes like the one above had me laughing through the horror and brutality of this world and the events that ensued. Even though there were humorous moments, the author didn't pull any punches when writing this story. In part because of that, and because of the worldbuilding that Johnston managed to do in such a short time, I felt so immersed in this world of necromancers, vampires, orcs, demons, pirates, gods, and men.
"…..dying was so much easier than living."
There are actually two epilogues at the end of the story. To be honest I wasn't sure how I felt about how the story was wrapped up until I got to those epilogues. They were a perfect way to finish this standalone and created in me a desire for more of this world and the characters in it. They were seriously epic!
I loved this standalone fantasy and I really hope that the author decides to continue writing in this world. A fantastic cast of characters with oh so many flaws and a fast paced plot that never lets up had me hooked from the start.