Thank you so much to Rachel Aaron for this arc in exchange for an honest review and to Fantasy Book Critic for hosting this book tour! You can find several other reviews for this book on the blogs listed in the schedule below!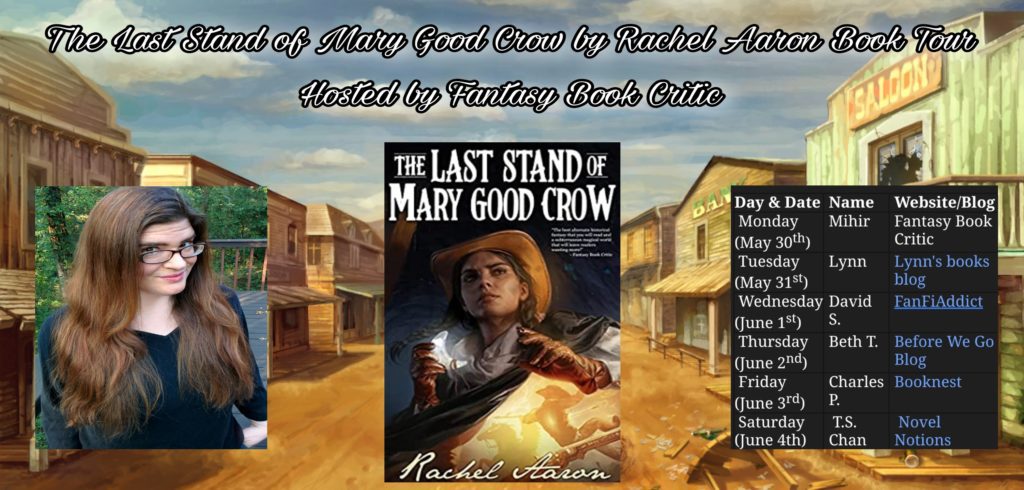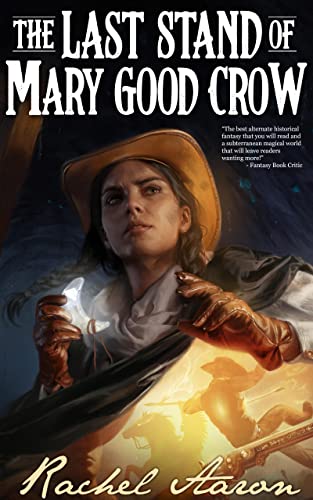 Rating: 9/10
Synopsis
Deadwood meets The Lord of the Rings in this Epic Fantasy of the West!
Hungry darkness, haunted guns, tunnels that move like snakes—the crystal mines of Medicine Rocks, Montana are a place only the bravest and greediest dare. Discovered in 1866, the miraculous rock known as crystal quickly rose to become the most expensive substance on the planet, driving thousands to break the treaties and invade the sacred buffalo lands of the Sioux. But mining crystal risks more than an arrow in the chest. The beautiful rock has a voice of its own. A voice that twists minds and calls unnatural powers.
A voice that turns men into monsters.
Mary Good Crow hears it. Half white, half Lakota, rejected by both, she's forged a new life guiding would-be miners through the treacherous caves. To her ears, the crystal sings a beautiful song, one the men she guides would gladly burn her as a witch for hearing. So, when an heiress from Boston arrives with a proposition that could change her life, Mary agrees to push deeper into the caves than she's ever dared.
But there are secrets buried in the Deep Caves that even Mary doesn't know. The farther she goes, the closer she gets to the voice that's been calling her all this time. A voice that could change the bloody story of the West, or destroy it all.
Review
"By midday, though, everyone was up and riled, and the heat made folks mean. There was a reason men dueled at noon."
Thank you so much again to the author for this advanced copy in exchange for an honest review. Specific quotes used in this review are not necessarily going to be in the finished copy.
After finishing and absolutely loving the Eli Monpress series by the same author earlier this year, I had decided to pretty much read whatever Rachel Aaron had out there. So when Fantasy Book Critic approached me about doing a book tour about this new Fantasy Western, a subgenre I've basically never read (besides Mistborn Era 2, maybe?), I couldn't possibly say no!
We find ourselves in the mining town of Medicine Rocks. A typical town most people would think of when they think of the "Wild West" era. There are saloons, a brothel, a single Sheriff, all amidst an abundance of muddy streets and hard men with six guns. I loved this setting as it reminded me of all the old westerns I used to watch with my parents growing up. It felt so easy to settle into and enjoy the story since I had context for a decent portion of the world already.
"Never underestimate the potency of ignorance mixed with greed."
That is where the similarities end. Medicine Rocks' inhabitants do not mine for gold, but for crystal. Crystal that can do amazing things. I thought it was so cool how the author used the crystal magic system to great effect in every aspect of life and showed how the discovery of such a gem could affect the world as well. If you want to learn more about the magic system I'll have to suggest reading the book though as I don't want to spoil anything.
I really enjoyed our main trio of characters. Mary Good Crow is the titular character. She is a half white, half Lakota guide for the crystal miners through the dangerous caves. With her somewhat rare ability to hear the Crystals sing, she can not only find a safe path but also find the caches of crystal that the miners so desperately want to "strike it rich." Living in Medicine Rocks comes with dangers of its own, as prejudice due to Mary's status as a "half-breed" can cause people to look at her as less than a human being. Mary's mantra is to stay low, stay quiet, and stay beneath notice so she can stay safe. Mary has significant growth throughout this novel that made her character so interesting to follow. She has a few emotional, thought provoking moments as well as a budding friendship that significantly impacted her and that have me intrigued as to where her character will go from here.
"Mary was too shocked to move at first. But after a moment, she wrapped her arms around (redacted) as well, pressing her face hard into her friend's warm shoulder. Others would surely think it foolish, getting so worked up over such a little thing. But small noises made big sounds in empty rooms, and Mary had been alone for so, so long."
I think Josie was my favorite. She is just a delight to follow and is an absolute freight train. If she wants to get something done she is gonna go at it head on until it is accomplished. Her strong will and determination, as well as a secret that could tear her world apart, is actually what ended up driving this story forward for a significant portion of this first book in the series. Josie also goes through some solid growth and development that I really enjoyed.
Rel (Reliance) was the third POV. She is a very conflicted character, torn between her loyalty to an old friend and her drive for revenge. I think in fact that Rel was the most compelling of the three POV characters. Her internal struggles throughout this novel were very engaging and it helped to make the story unpredictable. Also, her magical ability is just super cool. I'm so excited to see where her character goes throughout the series.
It comes as no surprise that I really enjoyed this book. An immersive, Wild West world combines with very well written characters and a constantly engaging plot to form a fantastic whole. I am so excited for book 2! I definitely recommend checking this out if you have any interest in the Fantasy Western subgenre or if you are looking for something different and lighter than epic fantasy.