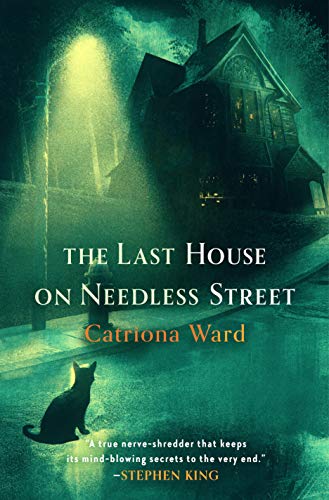 Rating: 9/10
Synopsis
This is the story of a serial killer. A stolen child. Revenge. Death. And an ordinary house at the end of an ordinary street.
All these things are true. And yet they are all lies…
You think you know what's inside the last house on Needless Street. You think you've read this story before. That's where you're wrong.
In the dark forest at the end of Needless Street, lies something buried. But it's not what you think…
Review
The Last House on Needless Street was a strong psychological ride and Catriona Ward took great vehicles to tell the story and deliver the pieces of the puzzle little by little. The only caution I would give is this book is advertised and even categorized as horror, and with Stephen King citing how much he loved the book; it might mislead readers's expectations. It's not horror, but a deeply woven psychological thriller with a man named Ted at the center.
If you've seen movies like Psycho, American Psycho or Gone Girl (which Stephen King quotes in his blurb) and loved these, you're in splendid company as Needless Street fits into the same bucket. The novel begins where our protagonist wakes up to a backyard full of dead birds, not understanding who's behind this and then the narrative throws you in several directions with a few characters knitting a web of mystery until the dots connect and you realize the genius behind the weird moments of the story. 
Catriona Ward's prose is a breeze to read and accessible to readers of all levels except the subject—I would advise against kids reading this—and allows us to enjoy the mystery at the heart of the book. But what was excellent and sometimes peculiar is how she took each character and gave them their own voices. Have you ever read a novel where a cat has its own personality and is a participant in the narrative? My point exactly. 
I have little more to say unless I reveal some elements of the story and fringe on spoiler territory, so I'll conclude by saying that I relished this book for what it was, and if you're seeking a thriller wrapped in a mystery with a slight dash of supernatural, you'll find a home in Catriona Ward's The Last House on Needless Street.