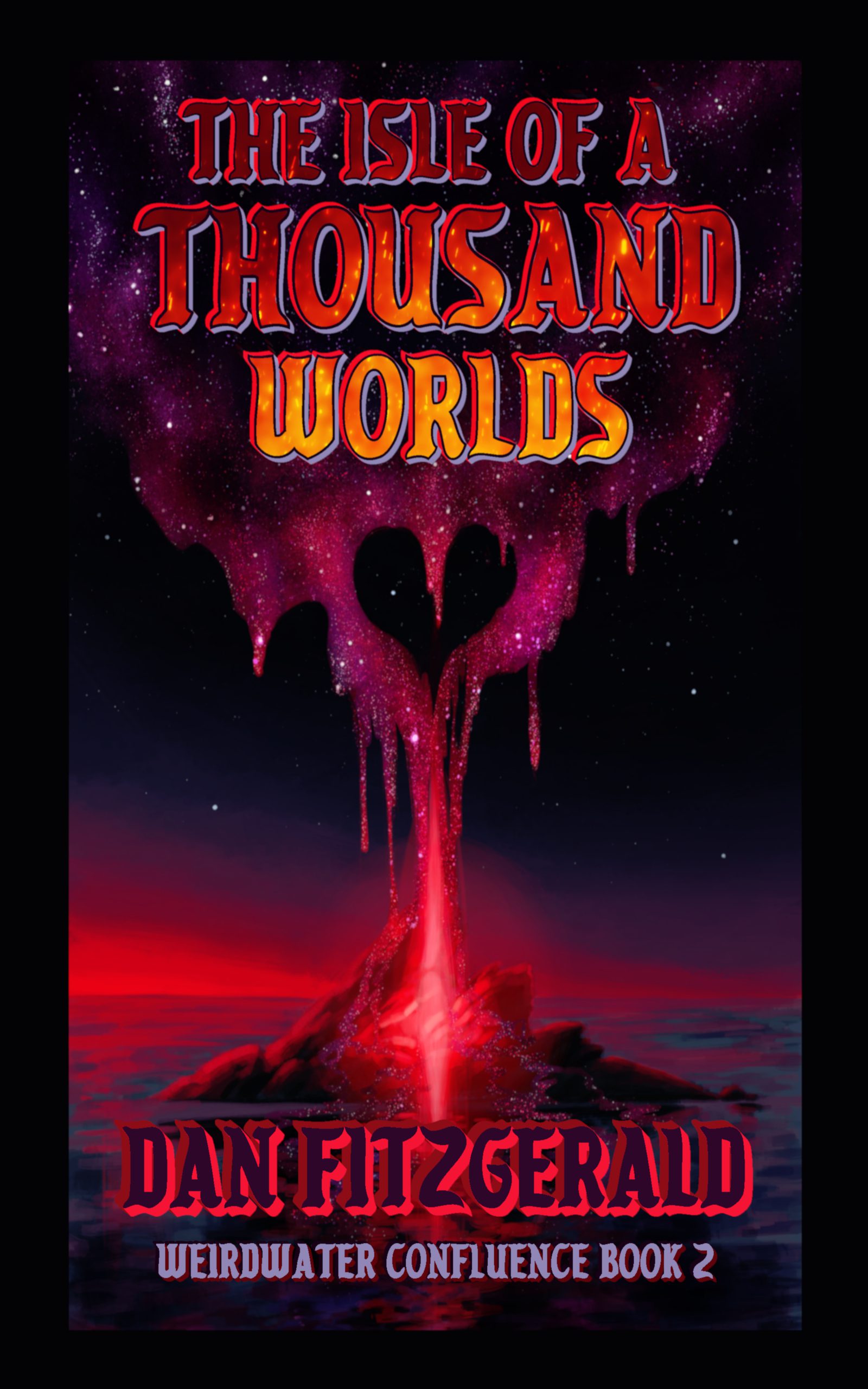 Rating: 6.5/10
Synopsis
An aging alchemist seeks the key to the Universal Tincture said to unlock the Thousand Worlds of the Mind, but she never expected to solve the riddle of the hermetic heart.
A meditation acolyte travels the mystical social media known as the Caravan and finds that the Thousand Worlds lie just below the surface, if she can only learn to see the space between the stars.
This spicy romantic fantasy explores the confluence of the physical and the metaphysical though the commingling of bodies and minds.
It is the sequel to The Living Waters and the conclusion of the Weirdwater Confluence duology, but it could be read as a standalone.
Review
There is a lot to be said about Dan's ability to make something as etherial as meditation and also love between two aging individuals exciting and fun to read. In this second book of the Weirdwater Confluence we find ourselves back in the same world with familiar characters along with some new ones. The story picks up pretty much right where The Living Waters left off with Gilea returning to Endulai to resume her meditation studies and also brings back a surprising character as well, Patia, who was the one who lost her quicksilver to the swirls in books 1.
What I think Dan does so well at is write in a way that is relaxing yet also intriguing. I wondered what it would be like to meditate to the point of literally venturing into another world. While it's something anyone seemingly could learn in this book, I do consider it a type of magic as I read because it just has that wow factor that magic in other stories do. All this to say, there is much more time spent around meditation in this book than there was in the other.
One aspect of this novel I enjoyed was getting to explore Rontaia more through the experiences of Patia. We get to understand a little more about how the culture works in this world. I won't give it all away but you learn how people get food, how trade works, and even see the class distinctions. It's very well done and easily imaginable which creates an enjoyable world to learn about.
Character wise I was a little disappointed when I started to realize that some of my favorite characters in book 1 were either not going to appear or only had minor roles in this story. However, we get to learn so much more about Gilea and watch her grow in her craft and really get to learn who she is as a person. Sadly, if you are going into this expecting to see her relationship with Temi blossom into something more, you'll only get a few pages with interactions between the two of them. Even though she is thought about often by Gilea. While this might be considered a little bit of a spoiler by some, it caught me off guard and I would have been appreciated knowing that going in so my expectations would have been different. Patia on the other hand is a feisty woman who certainly knows what she wants in life and fights for it. I like her! Content warning time haha. You see the words spicy in the synopsis and trust me when I say it is SPICY. However, what made it so interesting to me was that Patia and her lover are both far older than I am and it was interesting to read these scenes because people my age just don't think about living like that at that age. Definitely helped change my perspective on what sex can be like as you get older! Plus it may or may not have given me a few ideas for the present as well haha. Don't share this review with my wife or she'd be horrified I told you that!
There were several themes of this story that I really enjoyed. First, the question of if man is given access to the power to do everything they've ever dreamed of, are they ready for it or can they handle it in the way it deserve to handled? Or would pride, selfishness and the desire for power stand in the way? Second, while striving to become the best you can at your craft is certainly desirable and good, it is certainly not all there is in the world. The final theme that drew my attention was love. A lot can be said about love in this. I'll let you figure out what. These were the three themes that had me thinking and that I felt were very evident throughout the story.
You might be wondering why I scored this one only a 6.5 after scoring The Living Waters an 8. It's for a couple different reasons that are certainly subjective and others might completely disagree with. I struggled with this read because the end of book 1 left off on a couple expectation that I don't believe were met in book 2. Such as Temi and Galia's relationship and seeing it grow and also the other characters from book 1 who left off to do certain things. I almost expected to follow their journey's and see more of that. I also found the antagonist in this novel to not quite be as scary as characters found her to be. As I was reading I was expecting a little more difficulty and conflict towards the end but instead it was stifled quickly and that was the end of that. Again, this book is definitely meant to be more calming and contemplative than many of the other books I normally read so others looking for that kind of story will probably love it. Lastly I found the amount of spicy to be a little overwhelming at times. If Patia was around her lover it was almost a guarantee she would try and seduce him. I just found it a little much but I don't read romance much so maybe it was just the right amount. I wouldn't know!
The Isle of a Thousand Worlds is certainly a great sequel to The Living Waters. It takes Dan's world and helps flesh out many parts of it, which makes the story come to life all the more. If you're trying to decide if reading book two is worth your time let me be the first to say it's definitely worth the read. I really did enjoy it and think you will to if you were a Living Waters fan. Hopefully we'll see a book three in the future!
P.S. Also a big thank you to Dan for sending me the ebook to review!