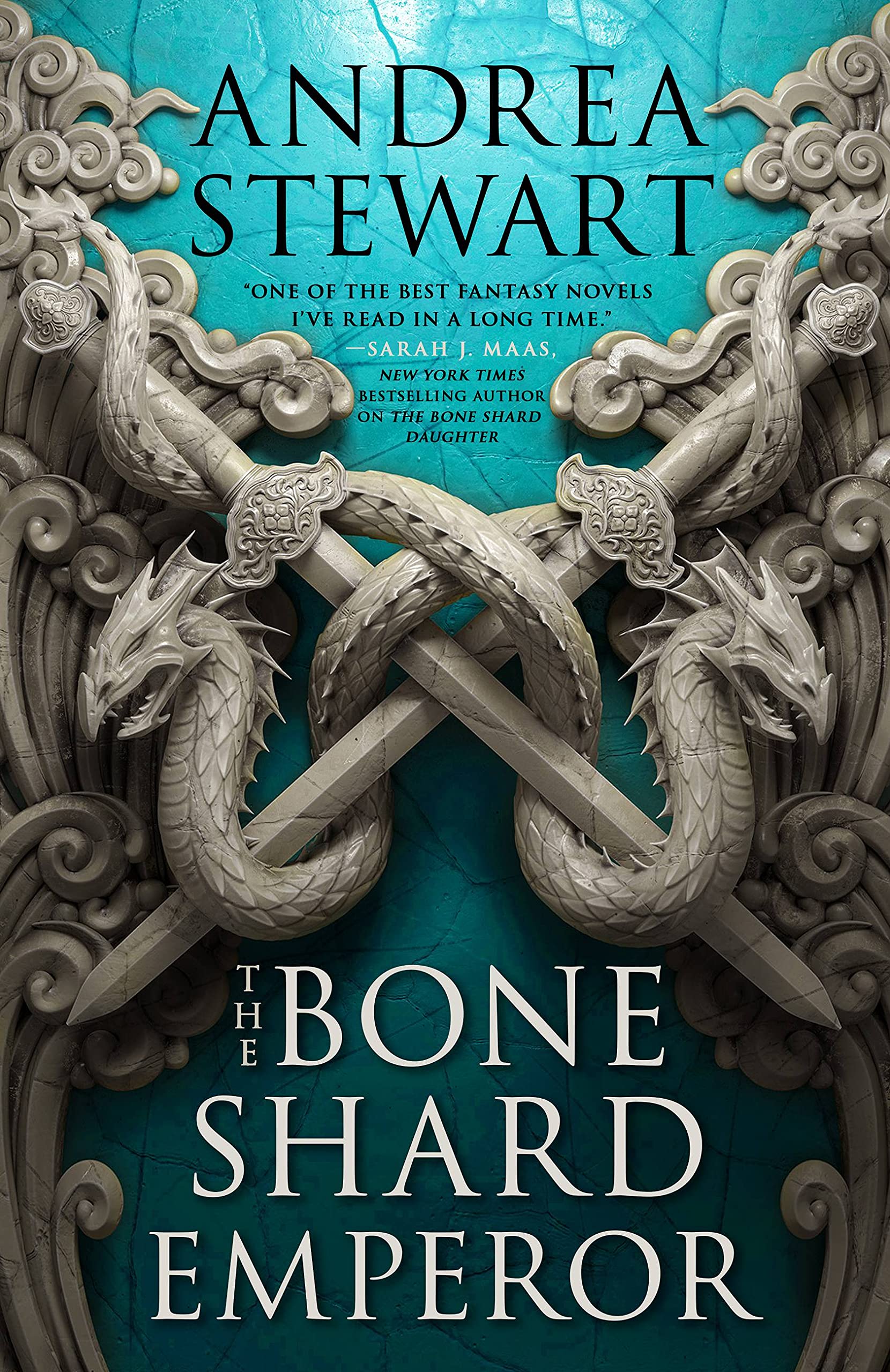 Rating: 9.5/10
Synopsis
Andrea Stewart returns with The Bone Shard Emperor, the second installment of this unmissable, action-packed, magic-laced fantasy epic.
The Emperor is Dead. Long live the Emperor.
Lin Sukai finally sits on the throne she won at so much cost, but her struggles are only just beginning. Her people don't trust her. Her political alliances are weak. And in the north-east of the Empire, a rebel army of constructs is gathering, its leader determined to take the throne by force.
Yet an even greater threat is on the horizon, for the Alanga – the powerful magicians of legend – have returned to the Empire. They claim they come in peace, and Lin will need their help in order to defeat the rebels and restore peace.
But can she trust them?
---
Review
A thrilling, emotional sophomore effort that ups the stakes of its predecessor, all the while deepening the tension, worldbuilding and characters.
Only a few chapters into Andrea Stewart's debut novel The Bone Shard Daughter and I was hooked. The vibrant world, imagining an empire of seasonal, migrating islands, and the relatable cast of characters had me fully invested to the end. But it was the richness of her prose and worldbuilding, and the gut-punch weight of the book's many twists that left me aching for more.
Thankfully, Stewart's sophomore effort and the sequel to The Bone Shard Daughter does not disappoint. In fact, The Bone Shard Emperor swiftly ups the ante, dealing with the fallout of its predecessor and building political and emotional pressure in captivating ways. With morally grey characters (in a morally grey world) that I can truly root for and a world with a deep, mysterious history I want to know more about, The Drowning Empire series just keeps getting better.
The Bone Shard Emperor has so much to offer, but, like The Bone Shard Daughter, its main characters are what hooked me and kept me hooked from beginning to end. Expanding on their arcs from the first book, each of them continues to grow in fascinating and engaging ways.
First is Lin, who has to deal with the immense weight of assuming the role of emperor of The Phoenix Empire, and it's clear that she previously underestimated that weight and everything her father and those who came before in the Sukai Dynasty did to keep this fragile island chain empire together. She is always questioning herself in a way that feels believable to someone who is learning on the job, through much trial-and-error. This is especially evident when she leaves the familiarity of the island she grew up on, as the Empire changes so much from island to island. Everywhere Lin goes, she is confronted by new customs, hierarchies, styles of dress, types of food and people.
Despite the morally questionable things she has and continues to do, she does them with the notion of it being the right thing and the hope that it will lead to the betterment of the Empire. I liked her internal battle and how it manifested externally, and it kept me engaged with her storyline such that I was always looking forward to her next chapter. And the assassination attempts! (Oh, how I loved them.)
Then there are Jovis and Phalue, who are equally as fantastic as Lin but in their own unique ways, facing their own unique struggles. Jovis' narrative is a gripping push-and-pull as he deals with his duplicitous duality. Now that he is enmeshed in Lin's world of court intrigue and power politics, he has to deal with the pain of his past all while manipulating everyone around him. It is an enjoyable circumstance of knowing who he is playing, but the true joy comes from how he handles it. And boy, are there a lot of missteps and fuck-ups, especially with certain romantic elements that were a pleasure to read (though I won't spoil them here). Suffice to say that the interplay between Jovis and Lin is captivating.
Phalue, on the other hand, is less morally ambiguous, but she has so much to deal with in her own island world, now that she is a governor. Her impatient, heart-of-gold personality is also a nice breather from Lin and Jovis, and the problems Phalue encounters—most of all, her relationship with her father—press her in ways that question her beliefs to very satisfying ends. Her relationship with her now-wife Ranami also gets the chance to breathe and develop, and their connection is the warm heart that beats throughout Phalue's story.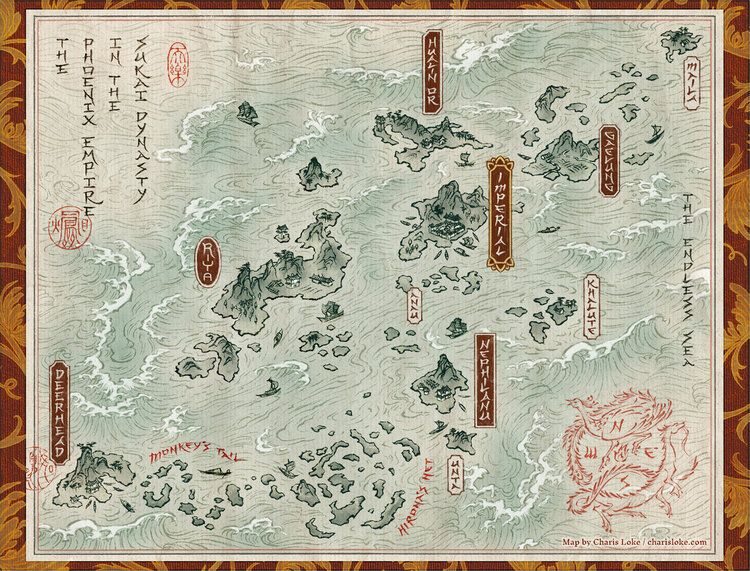 Even the side characters in this book are interesting and add to the tension and scope of the story. There is an army of rebel, human-like constructs vying for revenge, as well as a band of resistance fighters working against the Empire (whose true purpose is unclear). The ways in which Stewart interweaves the main POVs with the various side stories is a delicate dance that she handles with skillful care. The tone also gets dark at times, delving deeper into the crevices of moral greyness that the first book set up. But there is a smooth transition between darker and lighter moments that flows well, provides drama and scratches that heartfelt itch, yet doesn't overwhelm your emotions.
And then there are Mephi and Thrana, the mysterious animal companions of Lin and Jovis. Stewart went beyond making them static pieces of the story and gave them real agency. What happens to them is directly linked to the two main POVs, and the strange origins of these adorable-yet-powerful creatures starts to take shape over the course of book two. That they are also tied to the Alanga magic and supernatural lore of this world is even more intriguing. I cannot wait to see how these threads unravel in book three.
As I mentioned with Lin, there is also much more travel in The Bone Shard Emperor, giving a taste of seafaring (love it) and the unique cultures and landscapes on each island (love that even more). This also allows the Empire and its numerous islands to act as more than just set dressing, as they become part of the story itself and how the people in the world are reacting to new dangers and rumors. It's a beautiful tapestry and a world that I love spending time in.
Now, I do have a few criticisms, mind you. They weren't immersion-breaking or anything, but did catch my critical eye in ways that I noticed but wasn't entirely distracted. The pacing at times wasn't perfect, and this mostly related to how chapter were organized. I would often be left wanting to read a POV chapter of a certain character as soon as possible, but their next chapter was held off for a bit too long such that I got distracted from the chapter I was actually reading. Then there are the twists, which Stewart loves to deal out. Her choice of when to introduce twists, and how to build up to them, was handled well, but some of the twists were fairly predictable. This wasn't a bad thing, but it deflated some of the tension and payoff.
Two books into this series, and I am all in. I love the characters and the setting, the magic system and the lore, the political intrigue and the manipulations. The Bone Shard Emperor is delicious fantasy fiction at its best, wrapping its coils around my mind and heart, teasing me and toying with my emotions, breaking my heart and melting it at the same time. Stewart has truly shown her skill as a writer, with two standout books in a series that is cementing itself as a pillar of modern fantasy.
Thank you to Orbit Books for sending me an eARC of this for review. Click here to find out more about Andrea and her work, and click here to check out my one-on-one interview with the author.