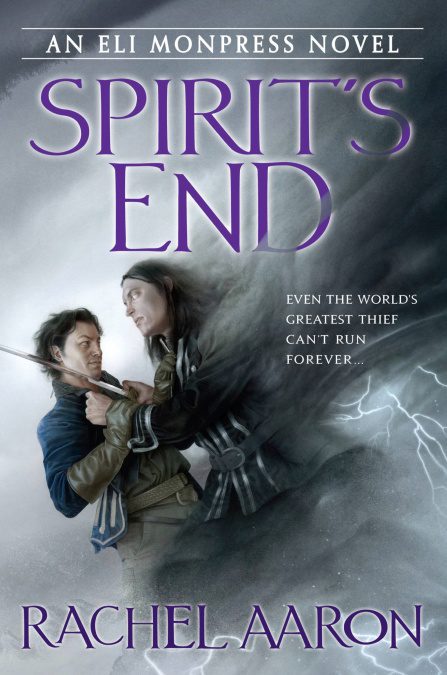 Rating: 11/10
Synopsis
Eli Monpress is clever, he's determined, and he's in way over his head.
First rule of thievery: don't be a hero. When Eli broke the rules and saved the Council Kingdoms, he thought he knew the price, but resuming his place as the Shepherdess's favorite isn't as simple as bowing his head. Now that she has her darling back, Benehime is setting in motion a plan that could destroy everything she was created to protect, and even Eli's charm might not be enough to stop her. But Eli Monpress always has a plan, and with disaster rapidly approaching, he's pulling in every favor he can think of to make it work, including the grudging help of the Spirit Court's new Rector, Miranda Lyonette.
But with the world in panic, the demon stirring, and the Lord of Storms back on the hunt, it's going to take more than luck and charm to pull Eli through this time. He's going to have to break a few more rules and work with some old enemies if he's going to survive.
Review
"Death was the reward you got for playing the hero, and he'd been frightfully heroic."
I just finished this and it may be the emotions talking, but Spirit's End is simply the most satisfyingly perfect ending to a story that I've ever read. I very rarely can point to a series, even my favorites, and say that I wouldn't change a thing about how it ended. Rachel Aaron wrapped up this 5 book series in such a way that I honestly couldn't have hoped for better. The character arcs, the climax of the plot, the emotions, the final state of the world, the falling action, every single thing felt so very right.
I honestly cannot praise Rachel Aaron enough. This series went from a fun, straightforward adventure heist in book 1 and slowly built on itself book by book until we get the perfection of a climax that is Spirit's End. We see the main trio of Eli, Josef, and Nico go through so much and grow in such believable and meaningful ways. There were times of gutwrenching sadness, but also many more times of heartwarming goodness and hysterical chaos with these three. Their relationships with each other felt so natural, flowing from their shared time spent together before the series even began and continuing to morph into something much deeper as the series goes on. I honestly couldn't pick a favorite from the three because they were all so great. I loved every single minute with them.
"Josef swore loudly. Nico was Nico…..she would sacrifice anything to keep him and Eli safe. It drove him crazy. She didn't seem to understand that she had value too, that she was worth saving."
I love how the magic system is so simple, yet so intricately built into the fabric of the world. The bonding of wizards to the spirits of typically inanimate objects such as trees, mountains, water, etc for the use of their intrinsic powers made for so many creative, fun, and action packed moments throughout the series. Aaron used the freedom and flexibility this magic system afforded her to great effect.
There were many twists and turns in this series and they all hit so well, including the ones in book 5. The plot of this last book was a wild ride from beginning to end. It was fast paced without ever feeling rushed, utilizing many different things that had been revealed or hinted at in the previous books in super cool ways.
"Obviously you're not a fan of my work, or you'd have realized by now that, overlooking today's extremely uncharacteristic heroics, I'm probably the least responsible man in this oversized spirit preserve."
I absolutely loved this final book in the Eli Monpress series without reserve. As you can see by my rating it was utter perfection in my eyes. If you are in the mood for a series that is full of hope, amazing friendships, and just utter goodness in the midst of the dark, pick it up!