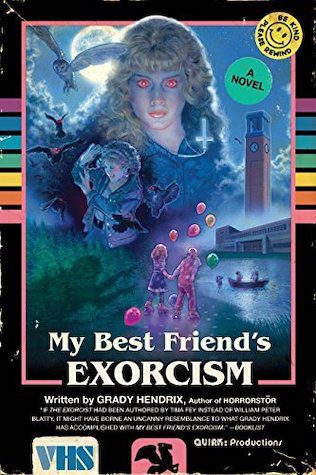 Rating: 9.0/10
Synopsis
Abby and Gretchen have been best friends since fifth grade, when they bonded over a shared love of E.T., roller-skating parties, and scratch-and-sniff stickers. But when they arrive at high school, things change. Gretchen begins to act….different. And as the strange coincidences and bizarre behavior start to pile up, Abby realizes there's only one possible explanation: Gretchen, her favorite person in the world, has a demon living inside her. And Abby is not about to let anyone or anything come between her and her best friend. With help from some unlikely allies, Abby embarks on a quest to save Gretchen. But is their friendship powerful enough to beat the devil?
Review
What happens when you brew a story that involves a friendship, 80s nostalgia, an absolutely evil demon and an exorcism, you get a brilliant book like My Best Friend's Exorcism. The reference to an era from my childhood, plus the horror tropes, were perfectly executed in this stunning package.
Grady Hendrix's near YA approach to prose—and I suggest near as it gets pretty gory/horrific later in the story and might not be a perfect fit for a younger audience, but I'll leave the PG-13 decisions to parents—makes it accessible to all kinds of readers. And if you have the chance to listen to the audiobook, Emily Woo Zeller's narration truly aims to please a younger audience by how she expresses (and sings) some highlights of this book.
The strength of this book is legitimately the relationship between our two main characters, Abby and Gretchen, and how they grow together and live through these gruesome events of a demon possessing Gretchen. Hendrix did a fascinating job of revealing what goes into the mind of a young girl growing up, and this in a horror tragic context. Add to these situations a fair amount of 80's music, dresses and cultural events and you get a delightful story.
And if you doubt this is too light in horror, and ultimately a demon story, there are some absolutely gruesome events that qualify this as the proper genre, and once the gore starts, beware the blood splatter and vomit inducing details.
As a whole, this novel truly surprised me as I was expecting YA-light-fare with suspenseful and supernatural events, but instead, My Best Friend's Exorcism is a suitable Halloween narrative that digs deep into interpersonal friend relationships and demonized-exorcism circumstances to satisfy anyone with 80s-horror-nostalgia.