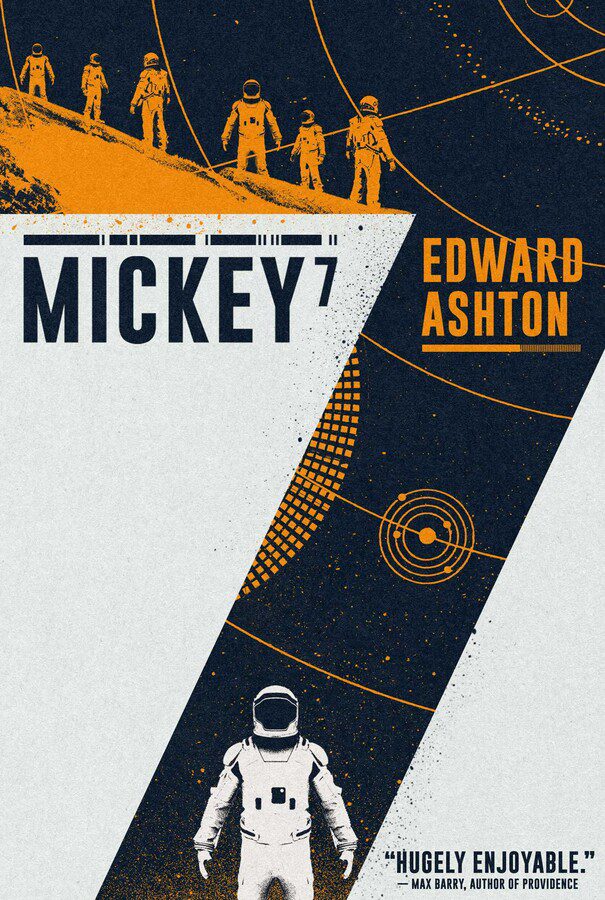 Rating: 8/10
Synopsis
Mickey Barnes is the expendable aboard the colony ship Drakkar. It's the job nobody on the ship wants because it's the job where you're very likely to die. Repeatedly.
Whenever a mission is too dangerous or has a high chance of fatality, Mickey is the go-to guy. Now in his 7th iteration, when Mickey7 goes missing and presumed dead during a mission he returns to the Drakkar to find Mickey8 has reported for duty.
With multiples not being tolerated in any corner of society, Mickey7 and Mickey8 must find a way to avoid being recycled into nutritional paste.
Review
Mickey7 is fun.
The Drakkar has been sent to settle on the ice planet Niflheim. The colonists' efforts are hampered by the "Creepers", a native automaton-like insectoid race of creatures that live beneath the planet's surface. 
Mickey Barnes' escape from what he bills as his stupidest death ever (falling into a giant hole in the ground) is aided by a giant creeper. Upon his return to the base, Mickey learns his "best friend" Berto, at fault for not recovering Mickey's body, has already reported Mickey dead and now Mickey8 is his new roommate.
It sets up a great dynamic where Mickey7 is faced with keeping his new multiple a secret, for discovery would lead to the likelihood of them both being killed for good. Barnes is as cranky as one might expect for someone who has died six (seven in Mickey8's case) times and we learn throughout the book of how the former Mickeys met their maker. The mental toll taken on the character gives a somehow very relatable feel, which is down to the skill of the writer. If I could sum up the main character of this book in two words, it'd be loveable asshole.
Oh Lor[e]d
In fact, Mickey7 delves into its own lore very regularly as Barnes also relays how he became an expendable, ill-fated colonisation attempts of other worlds and early expendable experimentation which led to a man called Alan Manikova creating an army of multiples of himself to take control of a planet. While some of the lore seemed a little too heavy for me, I loved the concept much; no more so than how Manikova was stopped by a "bullet", a mass shot at 0.97 c and creating enough kinetic energy to literally crack a planet.
As much as I enjoyed it, Mickey7 isn't flawless. The lore, while interesting, was a little overlong in places. I was also a little unsatisfied at the book's conclusion with the creepers. Finding out more about them had been alluded to throughout the book and then the plot moved to a completely different point right at the moment of contact. I understood the reasoning as it set up the ending of the book well but I was left feeling I'd have liked to stay with the action longer.
A Breath of Fresh Air
Mickey7 proudly stands as a real unique and enjoyable book. I can definitely recommend this book to anyone who enjoyed All You Need Is Kill by Hiroshi Sakurazaka and the short story Cat's Chance in Hell by Nian Yu (the latter which, incidentally, was featured in Rebellion/Solaris' epic Sinopticon last year). Barnes' shithousery makes for an entertaining and likeable protagonist, the premise is original and excellent, plus the fact I had to scrabble to find two comp titles should give a good indication of what a breath of fresh air Mickey7 is to read!