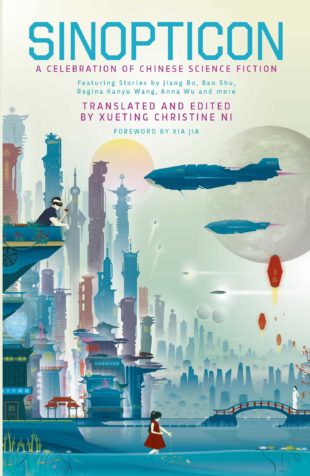 Rating: 10/10
Synopsis
An incredible omnibus of Chinese Science Fiction compiled and edited by self-confessed geek, translator and author of From Kuanyin to Chairman Mao, Xueting Ni.
Thirteen carefully-selected Chinese Science Fiction stories from Chinese voices both young and old have been translated into English for the first time. Sinopticon is an ambitious project, with a broad array of 20th Century and Speculative Fiction that will delight all SFF addicts.
Review
Let's get one thing out of the way. I have never read any Chinese Science Fiction before so Sinopticon was my gateway to help rectify this. Simply put, this is a spectacular collection of short stories.
The care and attention Xueting Ni has paid to compiling this wonderful and diverse omnibus is clear throughout the book. Ni's careful consideration is most evident in the notes explaining each story's inclusion and her impressions on translating and editing each story for a Western audience. It is a perfect addition and feels almost as if you're chatting away with Xueting over a coffee about the stories.
At it's (presumably A.I.) core, Sinopticon never fails in its bid to introduce a reader like me to Science Fiction works by Chinese authors. These aren't cookie cutter translations, each story is painstakingly recreated and intended to champion Chinese culture and literature. Footnotes throughout are handy for the times when a translation attempt wouldn't benefit the story while giving insight into Ni's editing process.
As for the stories themselves, there are no weak links at all. You're going to find all the space travel, A.I.s and robots you could hope to find in a book like this. The story order is well-balanced and perfectly suited to a book binge. I won't spoil any by reviewing each story in turn but the standouts for me were: The Great Migration, Flower of the Other Shore and Starship: Library.
The Great Migration by Ma Boyong. Inspired by the author's journey home on a crowded bus, this bleak overpopulated picture of life for workers on Mars is sweaty, sardine-packed brilliance.
Flower of the Other Shore by A Que. A knowlingly-tropey, fourth wall-breaking zombie story. The zombie-like "Stiffs" communicate with each other through their own developed sign language, often asking each other "Have you eaten?". Hilarious and cute.
Starship: Library by Jiang Bo. I loved the concept of a cosmic library floating through the galaxy forever.
Sinopticon reads like Black Mirror and Love, Death, and Robots squeezed together and poured onto the page. I laughed, I cried, I read and re-read, I stayed up through the early hours if it meant finishing one of the longer stories. This book is everything I love about Science Fiction. I hope there's a copy that will be kept safe and sound in a cosmic library millions of lightyears away …