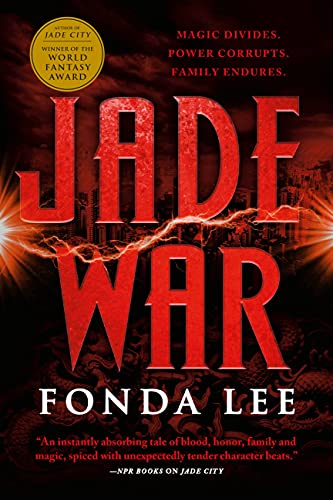 Rating: 9.0/10
Synopsis
On the island of Kekon, the Kaul family is locked in a violent feud for control of the capital city and the supply of magical jade that endows trained Green Bone warriors with supernatural powers they alone have possessed for hundreds of years.
Beyond Kekon's borders, war is brewing. Powerful foreign governments and mercenary criminal kingpins alike turn their eyes on the island nation. Jade, Kekon's most prized resource, could make them rich – or give them the edge they'd need to topple their rivals.
Faced with threats on all sides, the Kaul family is forced to form new and dangerous alliances, confront enemies in the darkest streets and the tallest office towers, and put honor aside in order to do whatever it takes to ensure their own survival – and that of all the Green Bones of Kekon.
Jade War is the second book of the Green Bone Saga, an epic trilogy about family, honor, and those who live and die by the ancient laws of blood and jade.
Review
Jade War is the sequel to Jade City and the second book in Fonda Lee's Green Bone Saga series. I was so happy after reading book 1 (review here) that I could not wait to read book 2, and I dove right in. As expected, Jade War lives up to the expectations created by the greatness of Jade City.

I love Jade War mostly for the same reasons I loved Jade City: cool magic, constant action, great fight scenes, compelling characters, persistent drama, and deliberate, meaningful writing. Of course, it tugs on the heartstrings just as well, also. As far as those aspects are concerned, not much changed.

What Jade War does do differently, though, is become a lot more expansive. In Jade City, the reader spends most of their time in Kekon; whereas, in Jade War Lee opens up the world to the reader and takes us to other places. This is really important because the ripple effects of Green Bone magic are felt all over, not just in Kekon, and bringing in different peoples, areas, and cultures showcases the importance of jade in this universe. The political consequences alone bring about a ton of suspense.

Not only is the physical world expanded upon, but the characters experience a ton of growth in this book, as well. I see this series as extremely character-driven, so development of characters is incredibly important. This is especially significant after the events of book 1. Much growth is necessary, and while I thought they were all well-done (Shae and Anden, of course, but even a lot of the minor characters), but I was especially impressed with Hilo. He is so crucial to the storyline that if he is not portrayed correctly it could easily have derailed this book. The author dug into The Mountain Clan more deeply, too, which I enjoyed.

The only reason I did not give this book a perfect score as I did the first is that at times the pacing just felt slower. That is probably more of a compliment to book 1, where the pacing was so on point it was perfect. It was still really good in book 2, I just felt there were times the narrative got a little too explain-y for my tastes, but, honestly, that is me picking things apart a little bit.

Jade War is an amazing sequel to Jade City. It is relentless and unforgiving and so compelling that it is impossible to put down once you start. If you have not started this series, I recommend doing so right away. I expect you will not regret it.