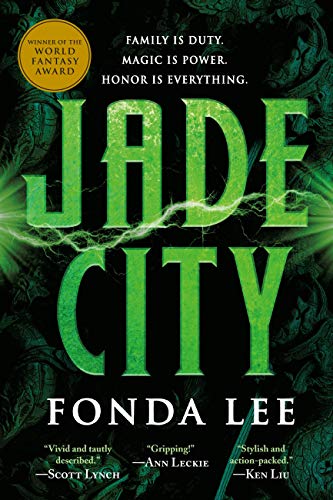 Rating: 10/10
Synopsis
The Kaul family is one of two crime syndicates that control the island of Kekon. It's the only place in the world that produces rare magical jade, which grants those with the right training and heritage superhuman abilities.
The Green Bone clans of honorable jade-wearing warriors once protected the island from foreign invasion–but nowadays, in a bustling post-war metropolis full of fast cars and foreign money, Green Bone families like the Kauls are primarily involved in commerce, construction, and the everyday upkeep of the districts under their protection.
When the simmering tension between the Kauls and their greatest rivals erupts into open violence in the streets, the outcome of this clan war will determine the fate of all Green Bones and the future of Kekon itself.
Review
Jade City is the first book in Fonda Lee's critically-acclaimed Green Bone Saga series, and… wait, what was that? I am three years late getting to it, you say? Yes, that is true, and let me tell you: no one regrets waiting to read this series more than I do. I wish I had read it earlier, because, not only do I love it, but it is clearly one of the best fantasy books of the last 5 years.

When I was about a third of the way through the book I tweeted out that I could not stop reading it, and when I had to stop reading it I could not stop thinking about it. That was absolutely true, and nothing about that situation changed from page 1 to page 498: I was captivated by it. This is the highest compliment I can give to a book, because the number one reason I read is to escape from reality. Lee absolutely delivers in that area by creating a world that envelops the reader. The writing is descriptive, the characters are well fleshed-out, and the setting is so deeply defined that when I was reading it I was living it. And living it was an absolute blast. I dreamed of being a Green Bone with supernatural powers and a member of a powerful clan. It was exhilarating, and I never wanted it to end.

Another big reason I read is because stories often help me get in touch with my feelings and emotions – the best ones do, at least. My friend Isabelle asked me if I cried when I read it, and the answer is: absolutely. It seems almost impossible to read this book without shedding tears. The characters had such emotional storylines, and the way their thoughts and feelings were laid bare made them so easy to connect with; thus, any time one of the main characters was in a tough situation where they are put in harm's way it hits the feels hard.

A third way to get to my reader heart is to have cool magic and fighting. Box number three checked. Not only is the jade magic awesome and incredibly unique, I like how much the story goes into detail about training and learning how to be effective. All of the fight scenese are incredible. The already great action in the story gets amped up when jade magic is involved.

Jade City has easily earned a spot in my top 10 all-time fantasy novels. It is emotive, explosive, and immersive, and I am so excited (and a little scared) to find out where the story goes from here. I am still thinking about it. It gets my highest of recommendations.