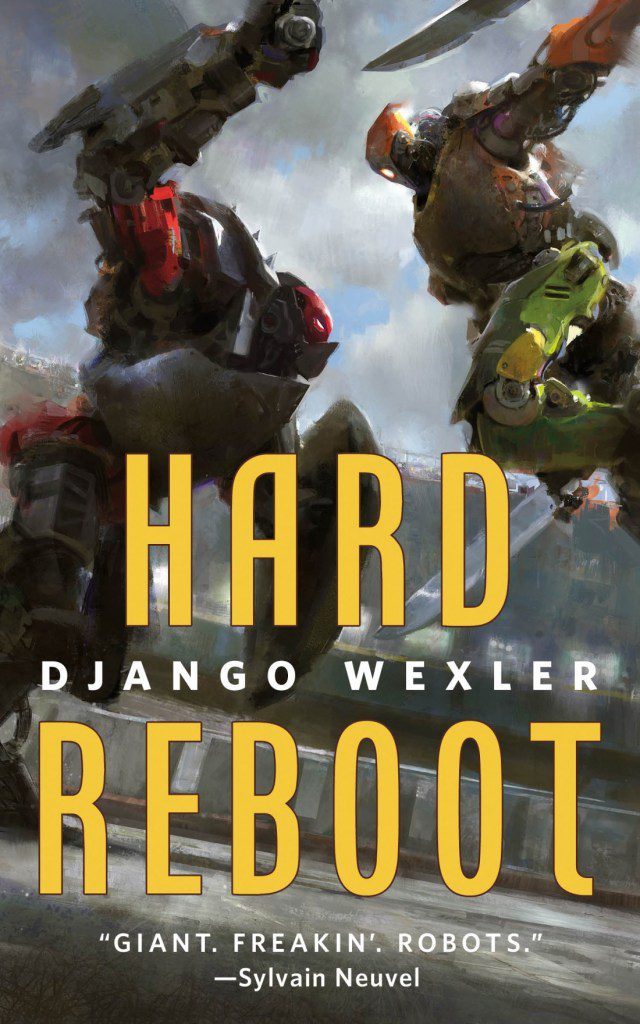 Rating: 8.0/10
Synopsis
Django Wexler's Hard Reboot features giant mech arena battles and intergalactic diplomacy. When did academia get to be so complicated?
Kas is a junior researcher on a fact-finding mission to old Earth. But when a con-artist tricks her into wagering a large sum of money belonging to her university on the outcome of a manned robot arena battle she becomes drawn into the seedy underworld of old Earth politics and state-sponsored battle-droid prizefights.
Is it time to get back to the books, yet?
Review
I'm typically not a big fan of reading Novellas and prefer longer formats and this month I read 3, and Hard Reboot was a good one. I would have preferred to read this premise in a longer format to get a better picture of the world, characters and main storyline, but Django maintained my interest and kept me turning pages despite the shorter format.
The story centers on Zhi and Kas, a robot wrangler-pilot and a researcher, and their unlikely pairing towards refurbishing an old robot for a revenge mech-fight. It reminded me a bit of Real Steel but with bigger robots. The story touched on several elements of your typical scifi action story and even inserted a brief romance, but it felt more like a screenplay to a movie than a novel, but like I said, it did what it aimed for despite the short format.
Where Django succeeded is in minimizing the number of characters so we could learn enough about Zhi and Kas to care about their struggles, the climax involving the leading fight and a few surprises I didn't foresee. I enjoyed the third act and again, not being a fan of Novellas, Django pressed all the right buttons to make this reading experience amongst the novellas I enjoyed.
In conclusion, if you love an action-packed, mech-robot-fight driven story with a dose of humanity and romance, and especially if you enjoy reading 150+ pages stories, Hard Reboot is an excellent match for you.