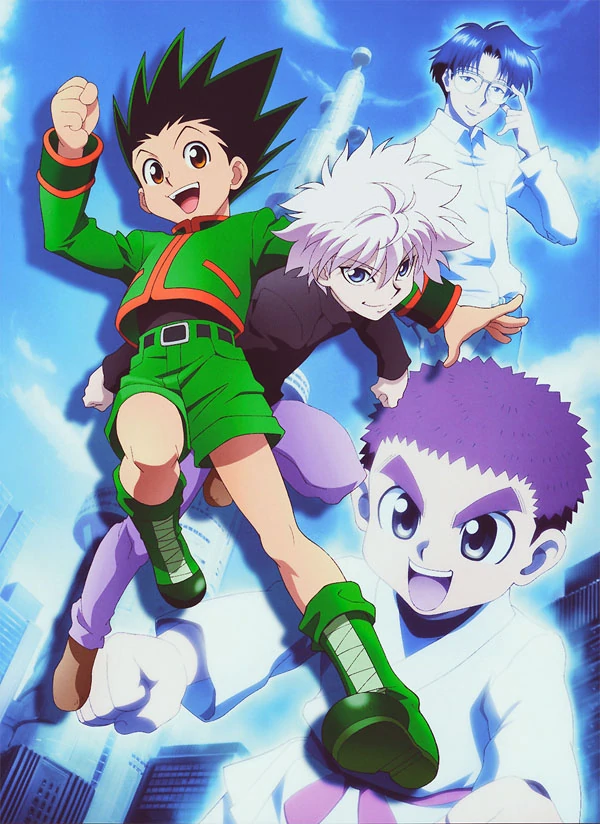 Rating: 9/10
Synopsis
The Heavens Arena arc is the third (officially second) story arc of the series and follows Gon and Killua as they journey to Heavens Arena to train and make money. In addition to encountering Hisoka, the two meet a man named Wing who agrees to teach them about the mysterious force called Nen.
Review
I have been going through a rewatch of this series and I decided it was about time that I reviewed each arc as I go, so that's what I'm doing! The Heavens Arena arc of Hunter x Hunter was essentially a training montage to get our protagonists, namely Gon and Killua, to the next level. Ultimately, this arc will not blow your mind or anything, but I think if you like training and fighting you will really like this arc.
Heavens Arena is a place where fighters from all over the world go to fight and people bet on those fights. The fighters start on floor 1 and for each fight won they win a certain amount of money and progress through each floor. It is at the referee's discretion if you just go up one floor at a time or more than that. The highest numbered floor is the 200th, where the really strong fighters reside and fight. There are a lot of other details about this arena that I'm not gonna go into, but suffice it to say I found the concept of Heavens Arena super intriguing and a lot of fun.
Along the way we meet some new characters and reunite with an old one. Wing and Zushi are my 2 favorite additions to the story. Zushi is another fighter in Heavens Arena and Wing is his Master that trains him. Because of these two, Gon and Killua are exposed to Nen and are the story focuses around Wing taking them under, well his wing, and training them in the different types and uses of Nen. I won't go into detail about that either, but I will say that this was a bit of worldbuilding that was so cool to experience in this way and was the logical next step in this story.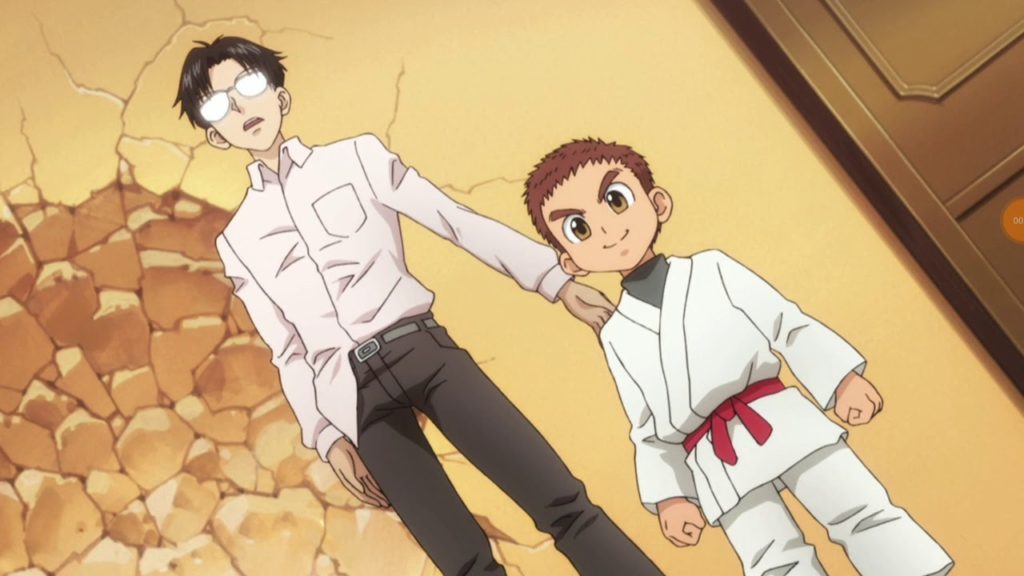 I love how Hunter x Hunter is not afraid to slow down for the every day, slice of life moments. This was not as prevalent in this arc because there was so much to get to in a small amount of time, but it was still there and I cherished every moment we got to see Gon and Killua's friendship continue to grow.
There is an overall plot and some new antagonists in this arc, but what drove the plot most of all was Gon's desire to fulfill his promise to Hisoka. Namely, Gon wants to prove that he is worthy of being a hunter by giving Hisoka his Hunter exam badge back after he is able to punch him in the face. Hisoka has creepily tracked them to Heavens Arena so it is the perfect time for Gon to train and eventually fight him.
SPOILER filled Discussion
That Hisoka and Gon fight was so awesome!!! It was the best fight in the anime so far and shows just a glimpse of the future potential of the fights to come. I also love magic systems or whatever you want to call them in Shonen that are unique to the user. Even the small amount we get to see of Hisoka's abilities give him so much uniqueness and allow him to use a ton of creativity in his battle strategy. This is not an anime where its simply the strongest who win. The mind matters just as much as the body/strength of aura and I love that!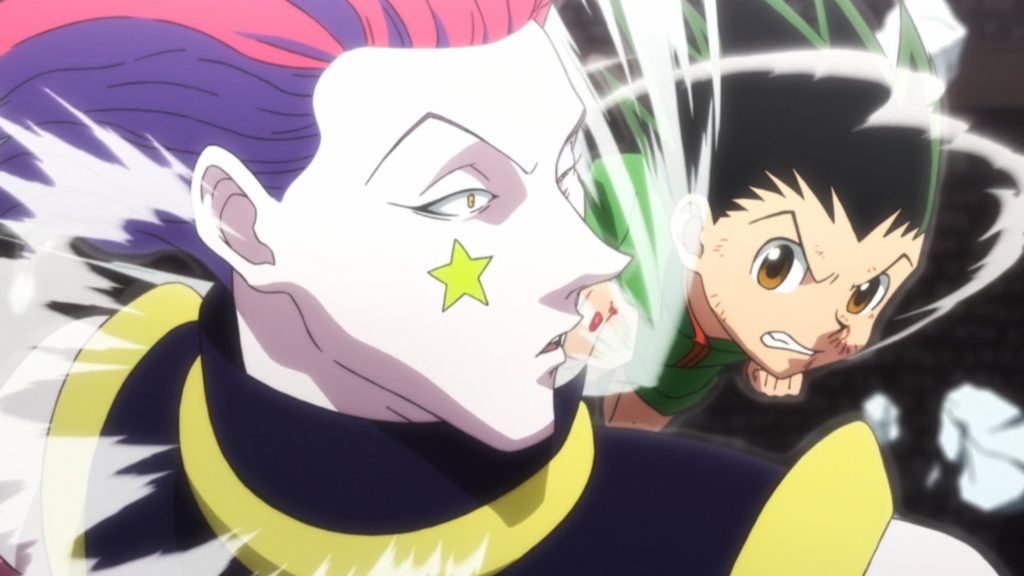 I also really liked that Gon lost the fight. So many anime/manga level up the protagonist and never let them fail. This is not the case with Hunter X Hunter and I think that makes both the story and all of the main protagonists more compelling. That's not to say that Gon didn't get his win in, as evidenced by the punch above that was SO satisfying. However, he ultimately loses the fight and that was definitely the correct choice narratively.
I really enjoyed both Wing and Zushi's characters as I said above. Specifically, Wing's mentorship of Gon and Killua in this arc was so important for their advancement. While Gon and Killua basically adopting Zushi as their little brother was so heartwarming and fun. Killua and Gon get super protective of Zushi when a trio of fighters threaten Zushi's life in order to gain an advantage. It was again so heartwarming to see them protect the little guy.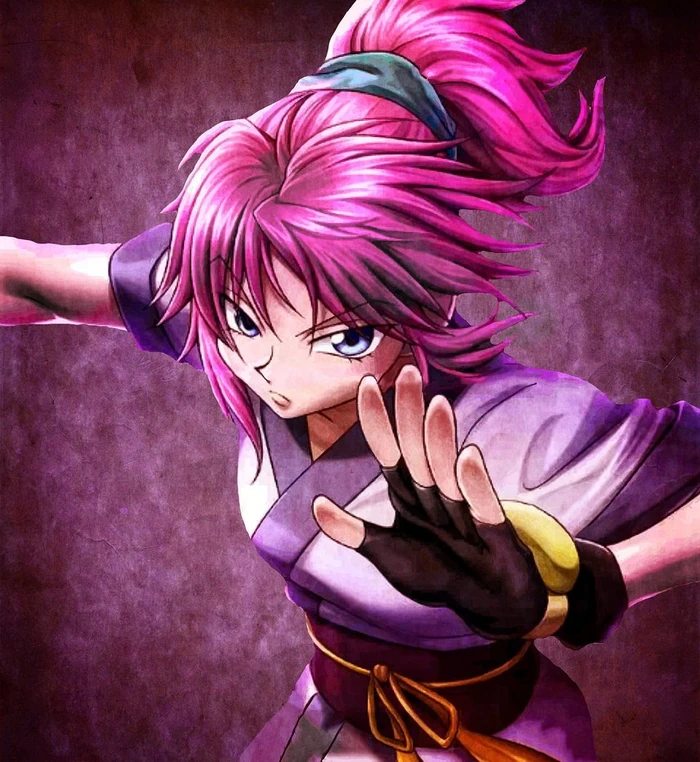 We finally get introduced to our first Spider! There was mention here and there of the phantom troupe previously, mostly through Kurapika and his desire for revenge, but we hadn't seen any of this notorious group yet. Machi Komacine immediately impresses and shows her strength with nen. Her healing ability along with a no nonsense approach to dealing with Hisoka who had hired her as his healer make for a surprisingly likable character despite the despicable things we as the viewers know she's been involved with. Her character got me even more excited than I was already to once again meet this shadowy group of antagonists!
This was a really fun arc that showcased the magic system in some really cool ways, had some significant character development moments, and served an important purpose in advancing the protagonist's powers and abilities. On to Yorknew City!