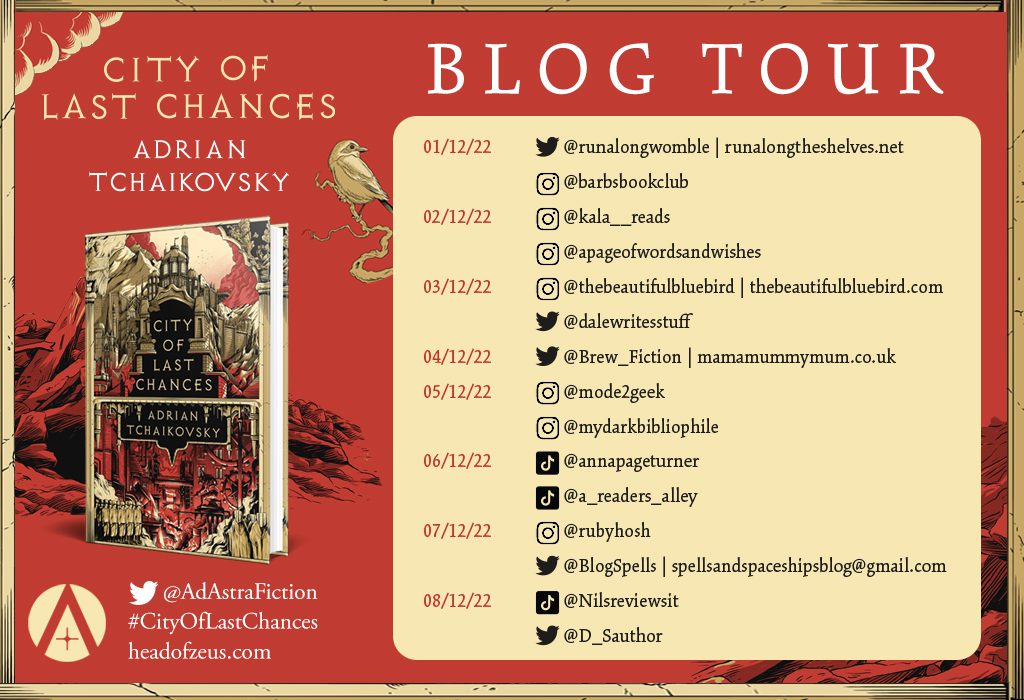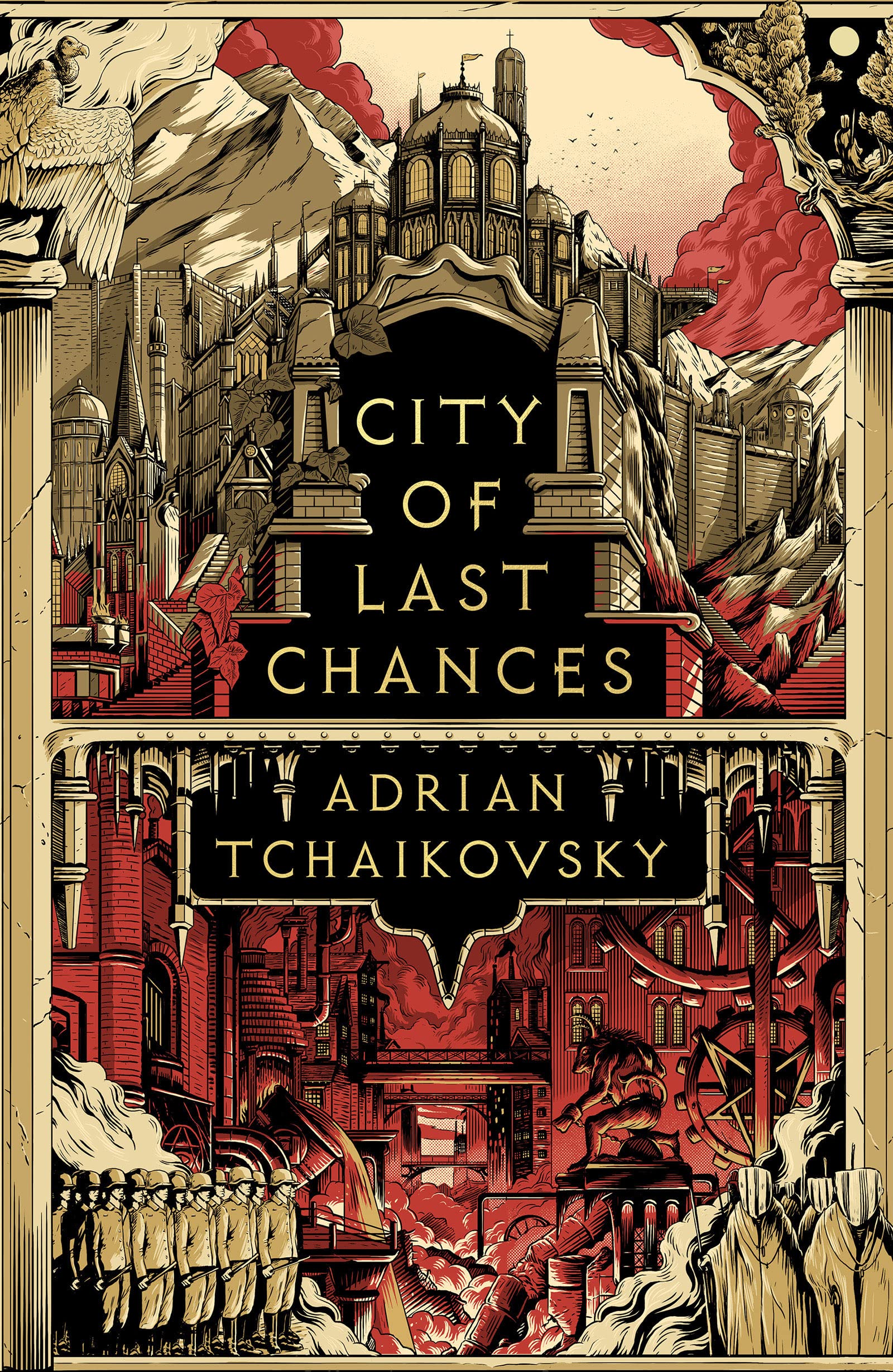 Rating: 7/10
Synopsis
There has always been a darkness to Ilmar, but never more so than now. The city chafes under the heavy hand of the Palleseen occupation, the choke-hold of its criminal underworld, the boot of its factory owners, the weight of its wretched poor and the burden of its ancient curse.
What will be the spark that lights the conflagration?
Despite the city's refugees, wanderers, murderers, madmen, fanatics and thieves, the catalyst, as always, will be the Anchorwood – that dark grove of trees, that primeval remnant, that portal, when the moon is full, to strange and distant shores.
Ilmar, some say, is the worst place in the world and the gateway to a thousand worse places.
Ilmar,
City of Long Shadows.
City of Bad Decisions.
City of Last Chances.
Review
A huge thank you to Cassie and Head of Zeus for including me on this blog tour!
Tchaikovsky's City of Last Chances weaves complex family structures, pantheons, and warring factions into a gloomy, occupied city-scape – Ilmar has long been without hope, long been a city of divided beliefs and downright debauchery and crime, now occupied by the perfectionist Pals. This work wore its inspirations on its sleeves, heavily reminiscent of the Black Iron Legacy and The Last War. Immediately, I was transported back to Jia and Guerdon in these pages, but it was only a passing whiff of their scents because Ilmar itself was a blend of something in itself.
IIlmar takes on a life of its own, just like Guerdon, and Mordew, it seems to breathe a life of its own, though the breaths are wretched and filled with Demons, despair, and knives that will slit your throat. I really do love a city setting in a fantasy, but only when it is as grim and full of its own life as this is. The way Tchaikovsky writes the city as its own living and breathing animal only adds to the intrigue. There's buildings and walls and brick that are like drunkards slouched and it all comes alive as something that splutters and just barely clings to life with the characters in it. More specifically, it reminds me of Guerdon from the Gutter Prayer, for all its layers and magics and different people sandwiched on top of each other. And below the depths, worse. Demons.
The gods: God, Zenotheus, both of different faiths and both lacking in worshippers and followers because the School of Correct Thought stamped them out. This too bares its resemblance to other works and perhaps I couldn't help but let this flavour my opinion of the work: the gods here are manifested by their followers, or lack-of and their power relies directly on how many followers they have. If they have few followers, they too are reduced to a ghoul, a lowly sprite.
I won't begin to examine all the characters, families, and factions because that was one complexity that didn't stick with me. When there seemed like as many POVs as there were chapters, all belonging to as many families, gangs, and resistances, all with beliefs and old gods and Demons-or-beasts lurking, there was ALOT to take it. All of this is great and shows a real depth of world-building, I even like stories that require you to do all the heavy lifting, as with The Locked Tomb etc, but it didn't relent. The Occupiers, the Pals, belong to as many different factions themselves, so when you've got ten different enemies turning up from ten different sects within their hierarchy and they are arresting, attacking, or talking to people different people, it was safe to say I got lost. I felt overwhelmed. I couldn't come up for air.
The plot itself was intriguing and followed the catalyst of the trip in the woods, amongst the Indwellers, and well, a demon fish.
Overall, it is an ambitious book that didn't quite hit the mark for me. It felt like I was waiting for that moment in fantasy where you break the surface, and everything clicks together but it never got there for me, unfortunately. I spent the entire book above the water trying to see the bottom of the lake.