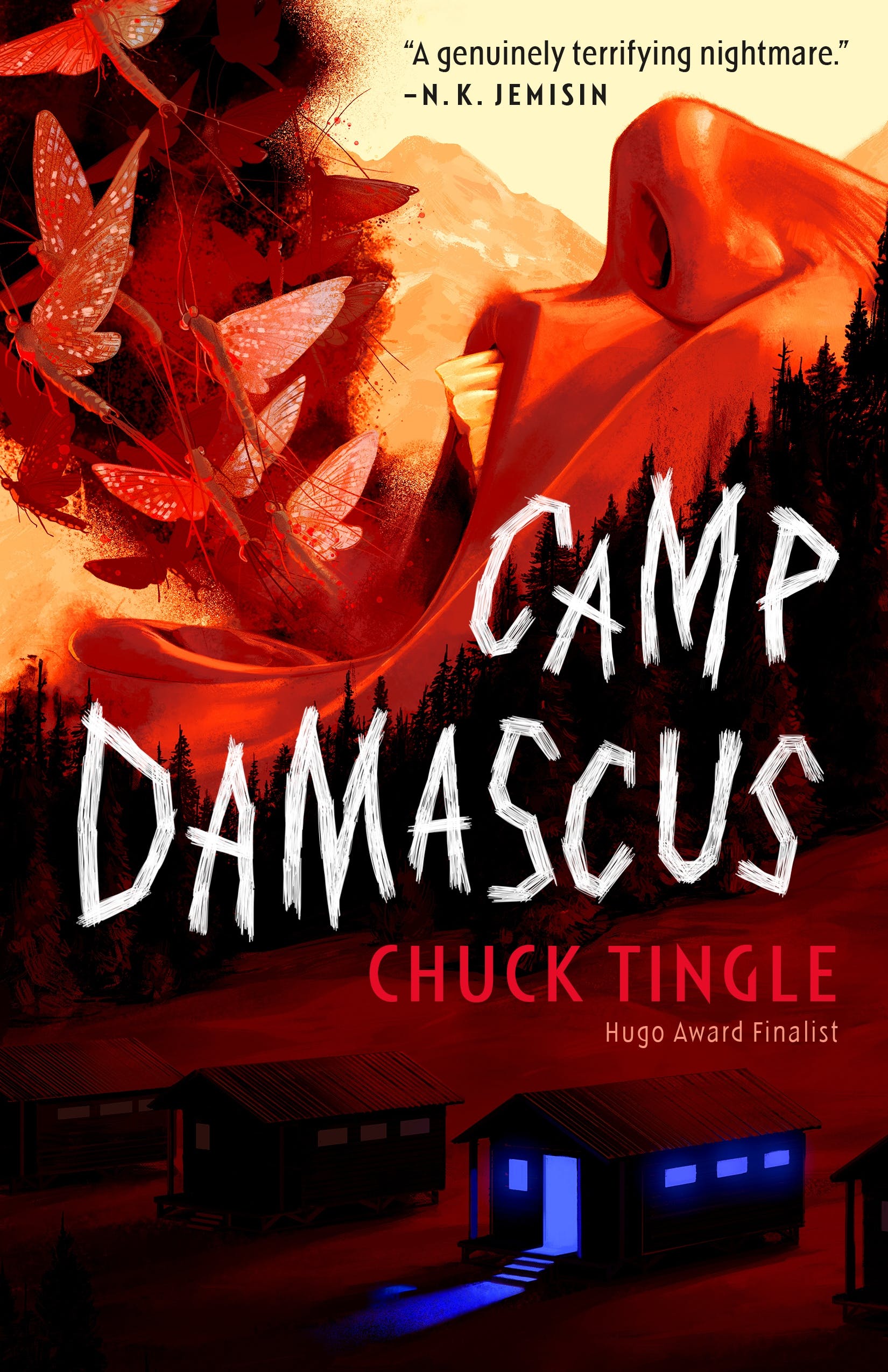 Rating: 8/10
Synopsis
Welcome to Neverton, Montana: home to a God-fearing community with a heart of gold.
Nestled high up in the mountains is Camp Damascus, the self-proclaimed "most effective" gay conversion camp in the country. Here, a life free from sin awaits. But the secret behind that success is anything but holy.
And they'll scare you straight to hell.
Review
Chuck Tingle has gained wild popularity with a long string of humorous gay romance books that are instantly recognizable for their charmingly photoshopped covers and formulaic titles that involve the protagonist being pounded in the butt by some abstract concept or another. Tingle's books tend to operate more as memes than literature, and are so effective in that regard that I can call myself a true fan without ever having read one of his books. 
Until now.
Camp Damascus (Tor Nightfire) marks Tingle's first entry into mainstream horror, offering a tale of toxic Christianity, demonic warfare, found family, and a shockingly poignant love story.
Rose Darling is a twenty-year old woman who loves her family, and loves her church. She doesn't drink coffee. She doesn't watch secular movies or listen to secular music. She is the poster child for Kingdom of the Pine, an evangelical church nestled in the Montana wilderness.
But she's also gay, a fact that she slowly remembers over the opening chapters. Rose comes to believe that her strange visions and lost time have something to do with Camp Damascus, the church's gay conversion camp that boasts "perfect" results with its revolutionary "ex-gay therapy."
It's hard to talk about Camp Damascus without giving away key points in Rose's journey, but we can say that Rose's insatiable curiosity and her hyper-focused research, leads her to uncover the truth of the camp, and her own history there, and it turns out that the hallucinations of a white-eyed figure haunting her, aren't hallucinations at all.
In Camp Damascus, characters fight their demons, literally, in ways that subvert traditional cosmology and redefine sin. But the horrors here are real. Demons, body horror, and a paranoia-inducing, cultish milieu, all build toward a conclusion in which Rose and her compatriots set out to destroy Camp Damascus.
Tucked within this adventure are the multiple scenes of great poignancy in which queer characters revel in brief moments in which they are simply able to exist, outside the eyes of the church, outside of fear, and outside of their own internalized self-hatred. These scenes are beautifully and subtly rendered, and they give real heart to a story about demon possession and mad scientists. 
Camp Damascus announces Tingle as a real voice in horror fiction, using the genre in unique and powerful ways.