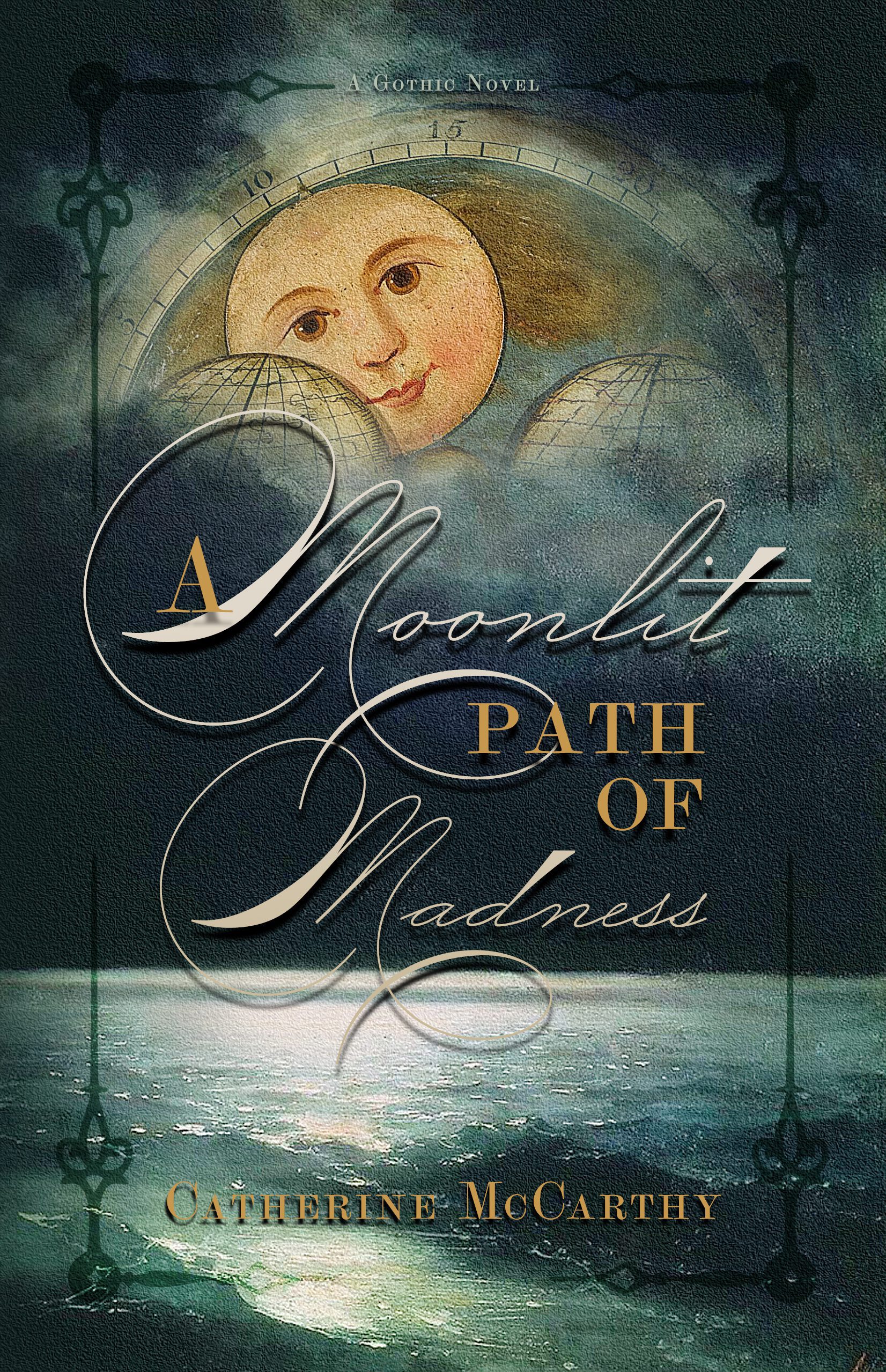 Rating: 9.5/10
A new twist on the gothic genre that will haunt your dreams
Synopsis
Grief haunts her every step.

Inheriting a family heirloom in the form of an antique clock with a broken moon dial as well as a seaside house in Wales, Grace Morgan mourns the loss of her mother and dreads the manifestation of a family curse that threatens to lay claim to her and everything she holds dear.
Review
Is this the year of Catherine McCarthy? I first became aware of the Welsh horror writer through her excellent short story collection Mists and Megaliths, which contains, in its final entry 'Carreg Samson', one of the best short stories I've ever read – go read it, it's ok, I'll wait for you. Done? Great. She also has a previous novel, Immortelle, which I have not read. But as I write this, she has two books coming out around the same time. Mosaic, which I have heard impressive things about, and this. A Moonlit Path of Madness, from Nosetouch Press, released 11 July.
This is a novel that makes you think it is one thing – a very familiar Gothic tome – but then, with the uniquely strong voice that McCarthy has come to be known for, whips the rug out from under you in so many subtle – and in one case astonishing – ways that you are left with the distinct feeling that this is an author doing something rare – taking the Gothic, and moulding it into something new.
Or, to put it more simply, McCarthy is so at the top of her horror game right now that if she was an athlete, she'd be banned for doping.
The plot on the face of it is boilerplate Gothic. At the turn of the century, Vermont-based Grace, whose seemingly mentally ill mother has recently died, starts seeing things. Moving with her loyal servant to the seaside family home in Wales bequeathed to her in the will, she hopes for a new start, but the ghosts – both literal and metaphorical – of her family's past won't let her go – and the answers, it seems, can only be found in the phases of the moon.
In this plot, we have all the classic tenets of the good gothic story: the strange house full of secrets, a la Jane Eyre, the complex family past also full of secrets, the dreaded symbolism of Edgar Allen Poe, the mental health issues of novels such as Daphne Du Maurier's Rebecca. But McCarthy is an author who brings so much to the table that she refuses to simply follow the classic Gothic text. In particular, she's not afraid to intersperse the standard 'spooky thing seen in the corridor' cliché of the Gothic with gloriously disgusting, macabre imagery, often portrayed through Grace's dreams. Take this brilliantly vile little nugget:
A horse's skull, it's jaw hung open, scraps of flesh and muscle still attached, and the maggots. Maggots that oozed through each and every crevice. Maggots that buried themselves in the crown of molars before wriggling themselves to sleep.
This flourish – Gothic gross, I call it ­– is used sparingly but effectively throughout. Another twist McCarthy has for this seemingly most traditional of stories is to focus on the mental health aspect. While always prevalent in such stories, modern Gothic tales must examine this from modern perspectives, and McCarthy does so with aplomb. In one awkward and infuriating scene, a doctor patronises Grace's description of her symptoms, concluding that she is hysterical and resorting to questions about her menstruation.
McCarthy also has a longstanding fascination with the sea, and with Wales, and with folklore, and all these are given due attention as she slowly builds the creeping atmosphere of beauty but also dread around Grace's new Welsh seaside home. This is helped in no small part by the descriptive knack for portraying nature McCarthy has:
The sea is a distant sheet of grey, but the water in the estuary bubbles and broils in the easterly wind, displaying its mighty cross-currents as a threat to those who dare venture across. Patches of iron-grey cloud scud across the sky, and the air is filled with the whistling wind and the tinkling of anchor chains.
But for all the beauty, it is the ultimately creeping dread that wins out here; through a drip feed of bizarre clues found around the house, followed by a slow unrevealing of devastating family secret after devastating family secret, we feel ourselves being taken down the path – the moonlit path you might almost say – with something dreadful at the end. McCarthy has a gift for writing warm scenes and loving characters – the relationship between Grace and her Lithuanian maid are touching, as are her letters with her niece who adores her – so for a time you forget what is inevitably coming down the road.
But soon the storm clouds start to gather, and when the denouement comes… well, the less said the better, but it is stunning, revelatory. The kind of ending that adds a star to a book and resides in your mind for weeks. The kind of ending where you realise that every step has been building towards this, and that the book you hold in your hands was never the one you thought it was.
My god, that ending.
All in all, McCarthy has added her own unique touch to the Gothic genre, and, when the final sinister puzzle piece descends, the result is astonishing. This novel will live in your head rent-free for days after reading. So read it. Just not when the moon is full.