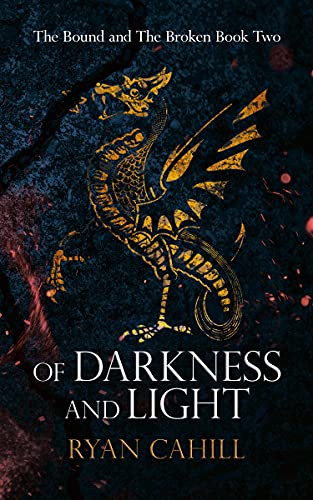 Rating: 10/10
Synopsis
Heroes will rise. Nations will fall.
Behind the towering walls of Belduar, Calen Bryer and his companions stand in defense of the city and its new king. In over a thousand years, Belduar has never fallen. It has stood as a bastion of hope. But the Lorian empire are at its walls once more, and the Dragonguard are coming.
In the North, with Faenir by her side, Calen's sister Ella arrives at the port of Antiquar. She holds no fear of the unknown. She will see this through, no matter what – or who – gets in her way.
Meanwhile, at the embassy of the Circle of Magii in Al'Nasla, Rist Havel hones his newfound powers in preparation for the trials. Unbeknownst to Rist, he is being watched, measured, and judged. He was not taken into the Circle by chance. There is greatness in him. But great men can do terrible things.
As Lorian forces land on southern shores and Aeson Virandr's letters of rebellion find their way to the right hands, only the Knights of Achyron see the true danger. The danger that stirs in the darkness. The coming shadow will not stop. It will consume all in its path. It wants for nothing but blood and fire.
Review
Firstly, I wanted to say a big thanks to Ryan for providing me with an ARC of Of Darkness and Light. This review is of course completely my opinion and not at all influenced by this.
Of Darkness and Light is a huge step up from Of Blood and Fire in many ways and is a huge testament to how far Ryan has come in his ability as a writer and story teller. I almost felt that ability jump out at me as I relentlessly read through page after page. This was most definitely Cahill's love letter to his fans and something that cements him as one of my all time favourite authors.
Being the second book in The Bound and the Broken, it continues the journey of Calen and his friends as they stand against the ruthless Lorian Empire, facing insurmountable odds and very few allies. As before, Cahill takes us on an immersive journey of fantasy nostalgia, mixed in with some historical spice and a good dose of action to form the perfect read. Of Darkness and Light opens up in the midst of a huge battle at Belduar, contrasting the slower start of book one. Things look pretty bleak for our beloved characters. However, Cahill masterfully gives us a shimmer of hope at the end of every page through the heroic actions of Calen and his friends. Although, I guess it also helps to have a badass dragon on your side. Without giving to much away, Of Darkness and Light continues to follow the stories of multiple characters, each coming to terms with a continent on the brink of complete war, while also dealing with their own separate adventures.
It's hard to say which characters stood out the most, as each and every character filled the pages in differently unique and capturing ways. I'm a huge sucker for a heroic protagonist, who is basically John Wick with a dragon, so naturally Calen was one of my favourite characters. Despite having the weight of the world on his shoulders, it was interesting to see him develop throughout the book from a village boy to a Draleid. It was interesting seeing him develop not just due to his own actions, but also by the influence of those around, and it was that fellowship and comradery which was a particular strong point in this book.
While Calen was of course the focus, there were multiple viewpoints, including his best friends Dann and Rist. Alongside this there was Ella, Calen's sister, who was an highly intriguing character due her somehow mysterious nature. At first it wasn't clear as to what exactly her role would be, but I found her journey with Farda and eventual reveal to be much more satisfying when it came. An additionally interesting POV was also from the Knights of Achyron, who are basically a group of badass nights with an arsenal of magical gear that appears out of an amulet – fantasy Ironman? Their 'soul' purpose (see what I did there) is to rid the world of the coming shadow, which just sounds awesome on its own – can these guys get their own book? Ryan? Somebody find Ryan.
Cahill's writing felt much more fluid and immersive in Of Darkness and Light. This especially included his descriptions of battles, making them feel fast paced, movie-like and epically sheer in scale. The amount of visceral brutality in some scenes added such a thrilling effect for action freaks like me, giving me the kicks that I craved. It got to the point where Calen and his friends felt like some kind of superhero team fighting the forces of evil. Interestingly, it was also Cahill's descriptions of taverns that really stood out. These snippets always somehow felt important; like a short break for the characters to step inside the safety of a tavern and enjoy some good old banter and a copious amount of alcohol, while resting their weary selves, making these the perfect contrast to the constant action and stress of fighting off the forces of evil.
Special mention must be given, not only to the gorgeous cover and map inside, but also to the fantastic pieces of artwork scattered throughout the book, which really added to that fantasy immersion. That is what I would call luxury reading.
Could this be the fantasy thrill ride you're looking for? Or are you looking for that nostalgic fantasy feel with a huge cast of interesting characters and mind bogglingly huge battles? Worry not, this has it all. Now pick it up!