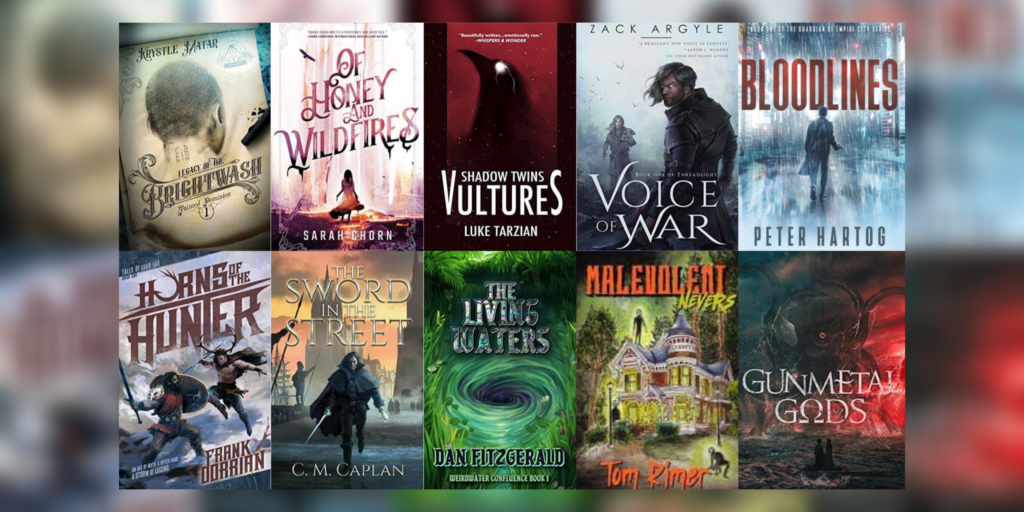 ---
Oh my gosh, what a year! 2021 has truly been a great year of reading for me. I may not have read the most books of any year this year, but I made up for it by reading more widely than I ever have before. I read my first ever self-published book this year and that proved to be a trend, with the vast majority of my books read being Indie. Looking forward to 2022, I have no plans to stop the Indie train. With more books being added to the TBR daily and my new venture with Escapist Book Tours I will continue to champion what I believe is some of the greatest works of SFF in print.
But, we're not here to look forward, but backward. Specifically, we're here to talk about how incredible 2021 was for my reading and completely ignore how much more devastating it was for my TBR. Out of all the books I read this year there were only a few that didn't work for me, so it was incredibly hard to narrow down this list. However, here, listed in no particular order, are my top 10 reads of 2021.
(NOTE: For the sake of clarity, I have read several series this year. For the purpose of this list, I am only including the first volume, but I wholeheartedly recommend any and all sequels to these books. In fact, you can take their standing on this list as my endorsement for their entire catalogue. Additionally, I have only included books that I have already written reviews for. Sorry, We Break Immortals.)
---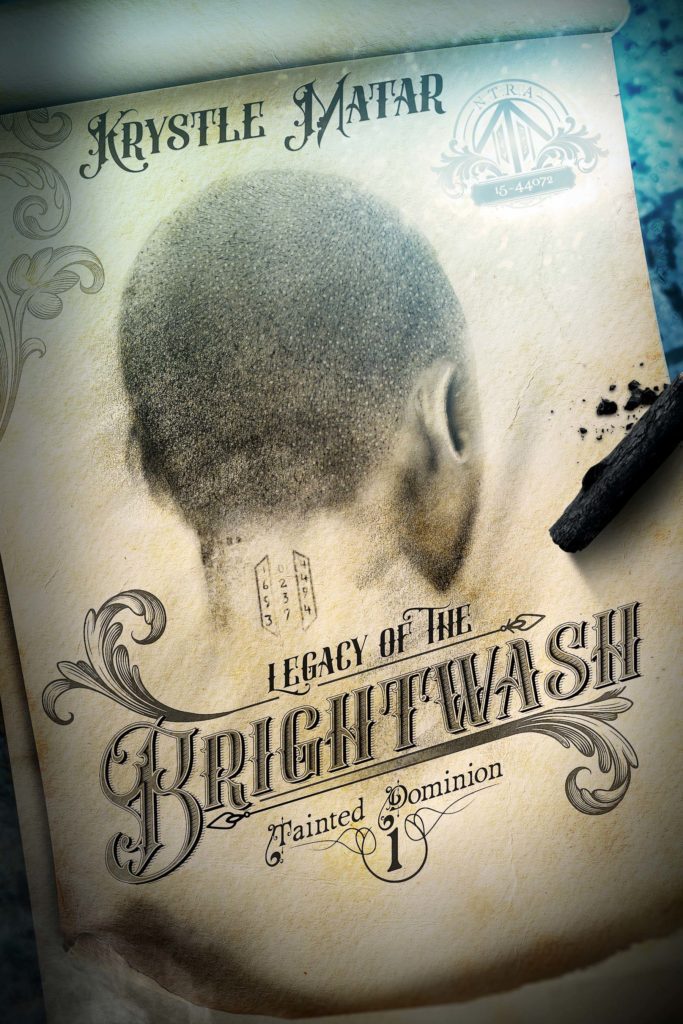 Legacy of the Brightwash (Tainted Dominion #1) by Krystle Matar
Follow the law and you'll stay safe. But what if the law is wrong?
Tashué's faith in the law is beginning to crack.
Three years ago, he stood by when the Authority condemned his son to the brutality of the Rift for non-compliance. When Tashué's son refused to register as tainted, the laws had to be upheld. He'd never doubted his job as a Regulation Officer before, but three years of watching your son wither away can break down even the strongest convictions.
Then a dead girl washed up on the bank of the Brightwash, tattooed and mutilated. Where had she come from? Who would tattoo a child? Was it the same person who killed her?
Why was he the only one who cared?
Will Tashué be able to stand against everything he thought he believed in to get the answers he's looking for?
"This is a heartbreakingly beautiful story full of pain, betrayal, love and found family and friendship, of sacrifice and reclamation, and of what depths a parent will reach to protect their child. Not a word is wasted here, with everything written lending a depth of character and storytelling that I don't often see. Books like this make me believe in the magic of storytelling, cementing in me the idea that reading can be a transformative experience. Legacy of the Brightwash is as close to perfection as a book can get."
You can read my full review here!
---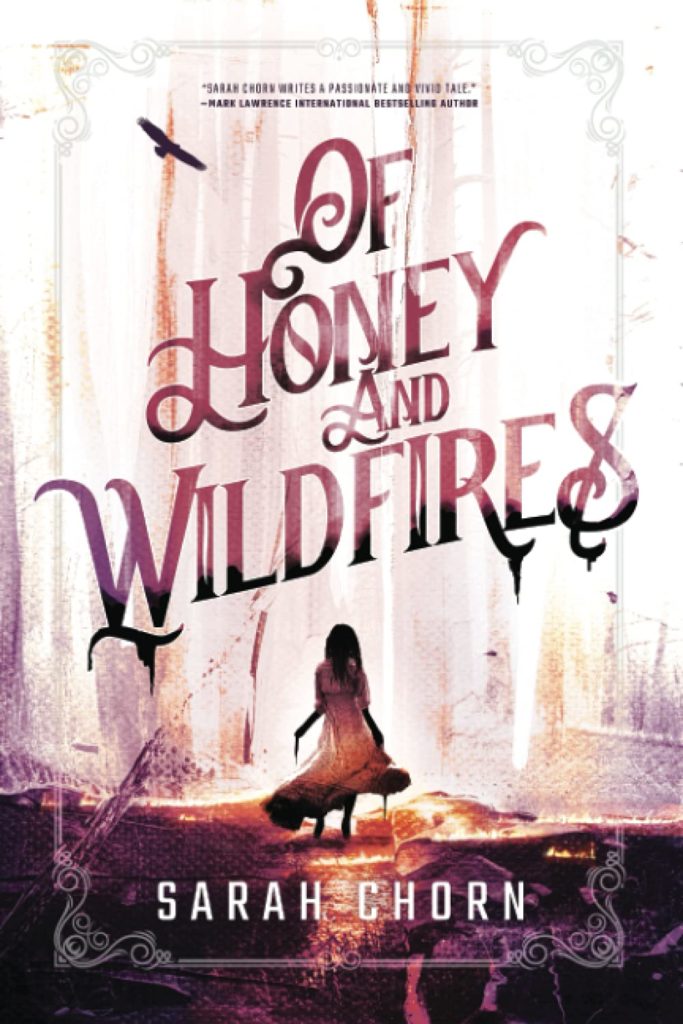 Of Honey and Wildfires (The Songs of Sefate #1) by Sarah Chorn
From the moment the first settler dug a well and struck a lode of shine, the world changed. Now, everything revolves around that magical oil.
What began as a simple scouting expedition becomes a life-changing ordeal for Arlen Esco. The son of a powerful mogul, Arlen is kidnapped and forced to confront uncomfortable truths his father has kept hidden. In his hands lies a decision that will determine the fate of everyone he loves—and impact the lives of every person in Shine Territory.
The daughter of an infamous saboteur and outlaw, Cassandra has her own dangerous secrets to protect. When the lives of those she loves are threatened, she realizes that she is uniquely placed to change the balance of power in Shine Territory once and for all.
Secrets breed more secrets. Somehow, Arlen and Cassandra must find their own truths in the middle of a garden of lies.
"I really enjoyed Of Honey and Wildfires. This has been the best start to a year of reading that I have probably ever had. Sarah has created something that is equal parts poetic and heart wrenching. I was immediately immersed in Sarah's take on the weird west and the gut-wrenching path the novel took left me both gasping for air and begging for more. I will definitely be picking up the recently released sequel novella and waiting with baited breath for the full sequel to come."
You can read my full review here!
---
Vultures (Shadow Twins #1) by Luke Tarzian
TRUTH FROM MADNESS
In Ariath, this is more than a simple adage. For Theailys An, they are words to live by, especially in the city of Helveden, where he and his demon brethren, the dissident, are looked upon with scorn. Viewed as cohorts of the dead progenitor of Ariathan suffering, they are outcasts.
Still, Theailys has a job to do: destroy the Heart of Mirkúr and end the war for good. Though Te Mirkvahíl is dead, its progeny leak endlessly from the Heart, sowing death with their passage. With The Keepers' Wrath, a power focus of his own design, Theailys believes there is hope to restore peace to Ariath once again.
But ending a war is easier said than done, especially for a man haunted by past tragedies and occasionally possessed by a murderous presence keen to take his body for its own. As Theailys works to forge The Keepers' Wrath, amid a creeping shadow over Helveden, one thing becomes increasingly and horrifyingly clear:
These events have played out many times before.
"Overall, Vultures is fantastic and I highly recommend it. It is not an easy read and you should expect to be challenged along the way, but I promise that if you put in the effort you will be rewarded. It is expertly plotted, with twists and turns at every other corner. Vultures is a book that I expect will stick with me for some time. With an ending like that, I cannot wait for the sequel to arrive."
You can read my full review here!
---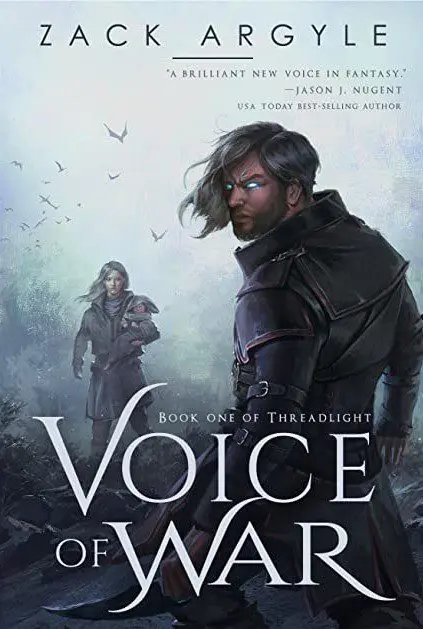 Voice of War (Threadlight #1) by Zack Argyle
Their child will save the world…if they can keep the damn kid alive.
While preparing for the birth of his first child, Chrys Valerian is tasked with uncovering the group responsible for a series of missing threadweavers—those able to see and manipulate threadlight. With each failure, the dark voice in his head grows louder, begging to be released.
A young girl from a secret city in the center of the Fairenwild veers off course to explore the streets of Alchea, never expecting that her journey would end in chains.
Far in the deserts to the south, a young man's life changes after he dies.
When Chrys learns who is responsible for the missing threadweavers, they come for him and his family. He must do everything in his power to protect those he loves, even if it means trusting strangers or, worse, the growing voice in his mind.
Together, these three will change the world—whether they intend to or not.
"I have read some really fantastic books this year and nearly all of them have been by self published authors. The fact that Voice of War can hold its own against my most recent reads is really saying something. I was thoroughly engrossed in the worldbuilding that Argyle managed to fit in Voice of War's trim >400 pages and a lot of the character work was handled exceptionally well. While one of the PoVs fell a little flat for me, I greatly enjoyed the unfolding of the mystery at the core of the novel. It would also be very remiss to not mention the whiplash inducing speed at which the climax ran over the last 15% of the book. I've never been so happy to have a book 2 immediately available as I was upon finishing this one."
You can read my full review here!
---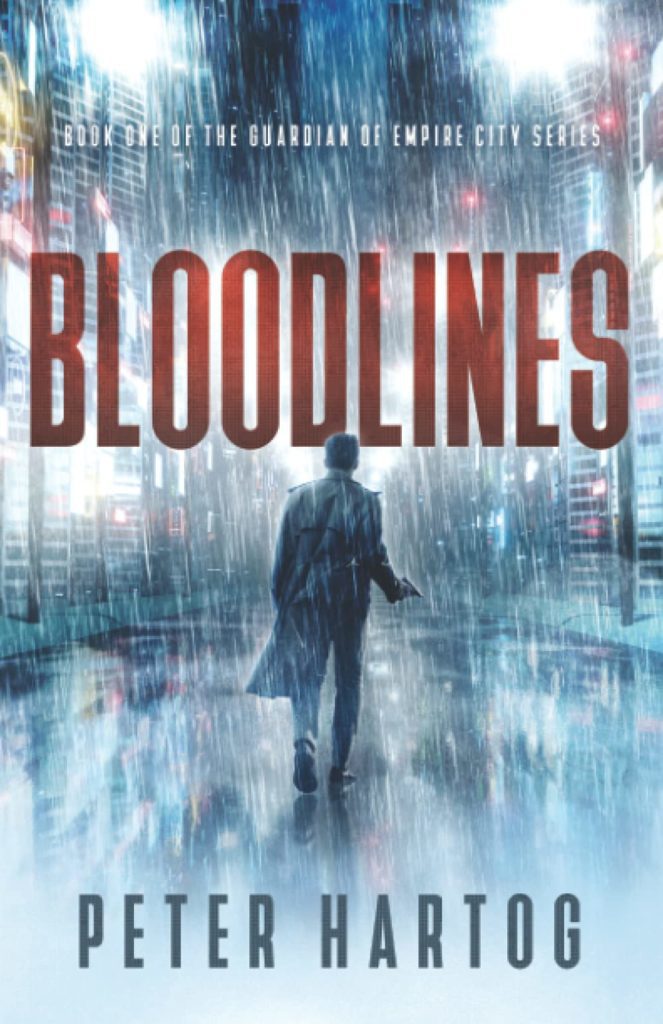 Bloodlines (The Guardian of Empire City #1) by Peter Hartog
When former hotshot homicide detective Tom "Doc" Holliday is recruited to join Special Crimes, he trades in his boring desk job for a second chance to do what he does best, hunt down killers. And his first case doesn't disappoint: a murdered woman with a bogus past, her body drained of blood, and two eyewitnesses wasted on the designer drug goldjoy claiming a vampire did it.
For Holliday is no stranger to the unusual. He wields the Insight, a fickle clairvoyance that allows him to see the dark and terrible things that hide upon his world. After all, when you live in Empire City, where magic and technology co-exist, and humanity endures behind walls of stone and spell-forged steel, anything is possible.
Saddled with a team whose past is as checkered as his own, Holliday embarks upon an investigation that pits them against bio-engineered vampires, interdimensional parasites and the magical masterminds behind it all.
From nightclubs and skyscrapers, to underground drug labs and coffee shops, Holliday's search for the truth will uncover a shadowy conspiracy that spans the ages, and forces him to confront a destiny he never wanted.
"For this to be his debut, I am really impressed with the level of writing that is on display. Hartog manages to navigate a complex murder mystery plot, while adding in loads of worldbuilding and character development. Each of the characters have their own demons (maybe literally?) that they have to face and watching the team come together and learn to respect each other, albeit sometimes grudgingly, was really satisfying. All in all, I thought Bloodlines was wonderful and I can't wait for Holliday's next case."
You can read my full review here!
---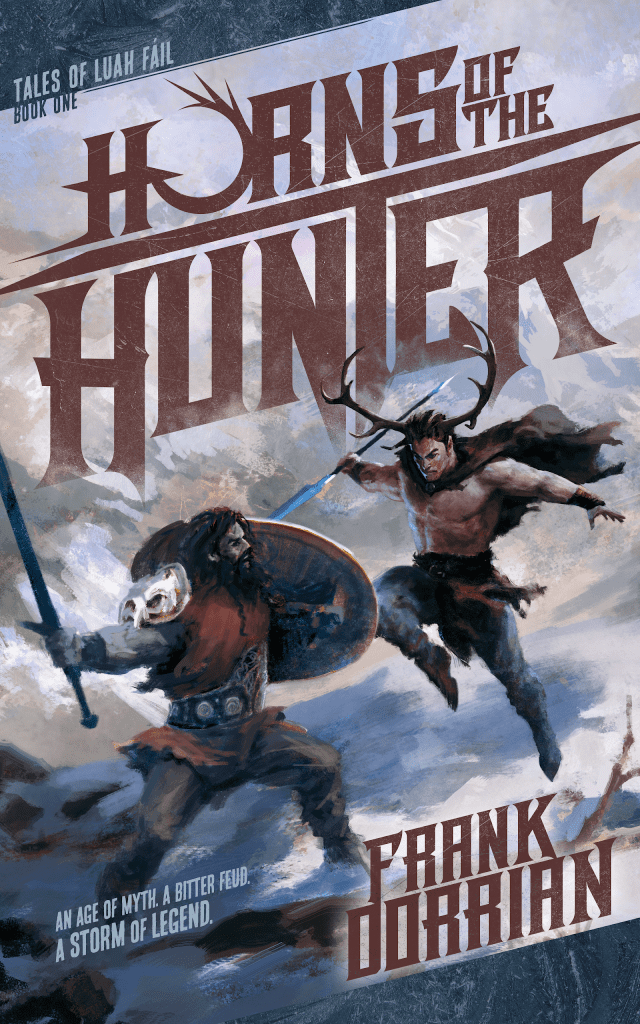 Horns of the Hunter (Tales of Luah Fáil #1) by Frank Dorrian
An age of myth. A bitter feud. A storm of legend.
It is the closing days of the Enkindled King's wars for Earthblood, when a cycle of violence and hatred sparks a bitter feud in his shadow.
Náith, the Warrior. Luw, the Hunter. Cast aside and burned by their lover's betrayal, the two find themselves trapped in a bloody struggle for the affections of Síle, the Maid of Mael Tulla.
Cherished as a healer and bringer of verdant life to barren lands, Síle stands as a mystery unto all – even those who would claim her heart. For one so gentle and kind, secrets and bloodshed swarm about her like flies upon a corpse.
Consumed by hatred and heartache, both Náith and Luw will take the darkest of trials and challenge death itself, unaware of the true game being played.
A storm beyond imagining waits for the Warrior and the Hunter. One that will decide the fate of Luah Fáil.
"Horns of the Hunter has catapulted itself into being one of my favorite reads this year. I was swept away by the story and completely enraptured by the struggle between these two larger than life characters. Horns of the Hunter is a story of opposites and the struggle to claim something as your own only to learn that it was never yours to begin with. It feels like a cautionary tale torn straight out of mythology, with Náith and Luw feeling like real-world gods lost to memory. I urge you to read this for yourself and the rest of Dorrian's bibliography has been added to my TBR."
You can read my full review here!
---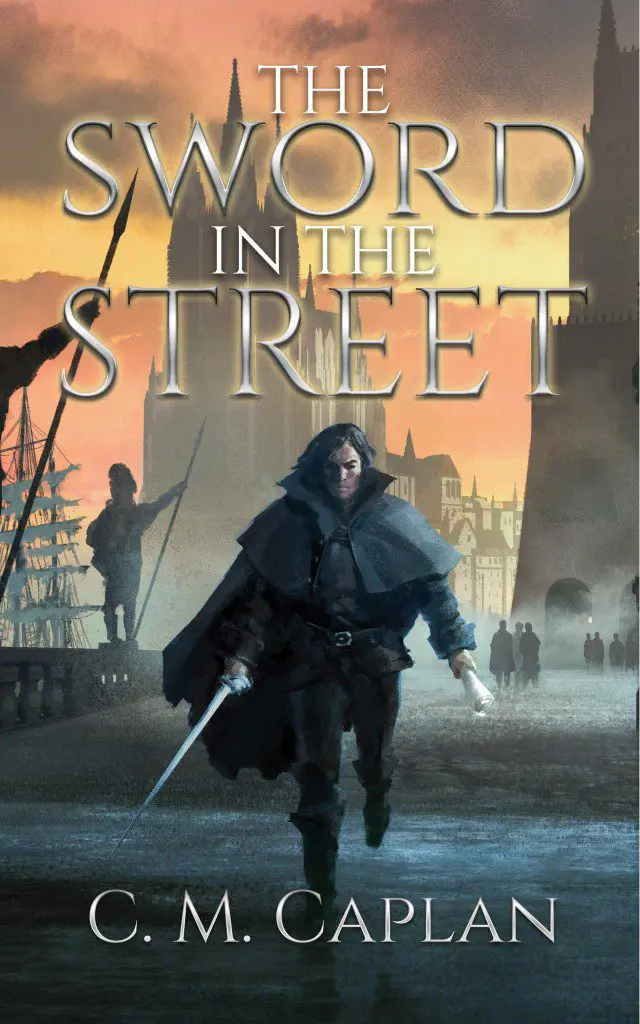 The Sword in the Street by C.M. Caplan
Hired blades ought to be better at making ends meet. John Chronicle bleeds his patron's foes in savage duels. While he's disgusted by the petty grievances and corporate laws he champions, even the promise of security is better than nothing at all. But how long can he depend on a wage that barely pays enough to cover his rent?
His boyfriend Edwin is familiar with dependency. Reliant on his parents' goodwill to supply the drugs that keep the spirals of his mind in check, he wants nothing more than to get out from under their thumb. A solution comes when he finds a document full of knowledge that was, impossibly, forgotten. But while he could use those secrets to rewrite the gentry's unjust laws, it might cost him his relationship – or John's life.
The two find themselves entangled in the web of intrigue surrounding the laws, the swordsmen, and their sponsors. They're forced to question how bloody they're willing to get for a shred of agency. But will they survive this tangle of deceit together?
"Caplan wears his influences on his sleeves and very early on I determined that one of those is undoubtedly Robin Hobb. His skill with writing believable, nuanced characters reminded me so much of Hobb that I had to message him halfway through reading The Sword in the Street just to let him know. While the worldbuilding is a bit on the slim side, the novel really shines when Caplan dives deep into the emotions and internal thoughts of the characters. John and Edwin's relationship is equal parts beautiful and tragic and their persistence to become who the other needs was wonderful to witness, even when they were making the wrong choices for the right reasons. Even though there were a few things that felt a little underdeveloped, I really loved The Sword in the Street and I hope that this review conveys that in some small way."
You can read my full review here!
---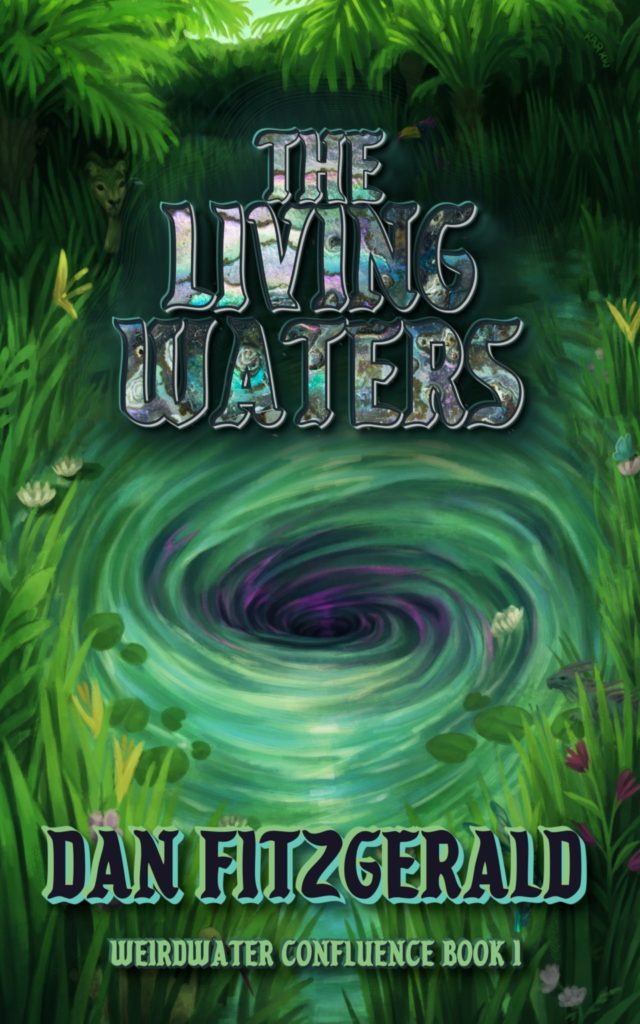 The Living Waters (Weirdwater Confluence #1) by Dan Fitzgerald
Wonder swirls beneath murky water.
When two painted-faced nobles take a guided raft trip on a muddy river, they expect to rough it for a few weeks before returning to their life of sheltered ease. But when mysterious swirls start appearing in the water, even their seasoned guides get rattled.
The mystery of the swirls lures them on to the mythical wetlands known as the Living Waters. They discover a world beyond their imagining, but stranger still are the worlds they find inside their own minds as they are drawn deep into the troubles of this hidden place.
"I could really go on forever about how much I adored this book. The Living Waters came at just the right time for me. I have been struggling with burnout and so much depression and anxiety, but this book gave me a safe space to lose myself in the pages and float. The book had an almost magnetic attraction in a way that no other book has before and I couldn't quit going back to it with shorter and shorter periods between reading. I really think that Fitzgerald has stumbled upon something great with Sword-Free Fantasy and, while I do love a read filled with murder and mayhem, this story was alive with hope and the promise of adventure and that's something I really needed right now. I think we all do."
You can read my full review here!
---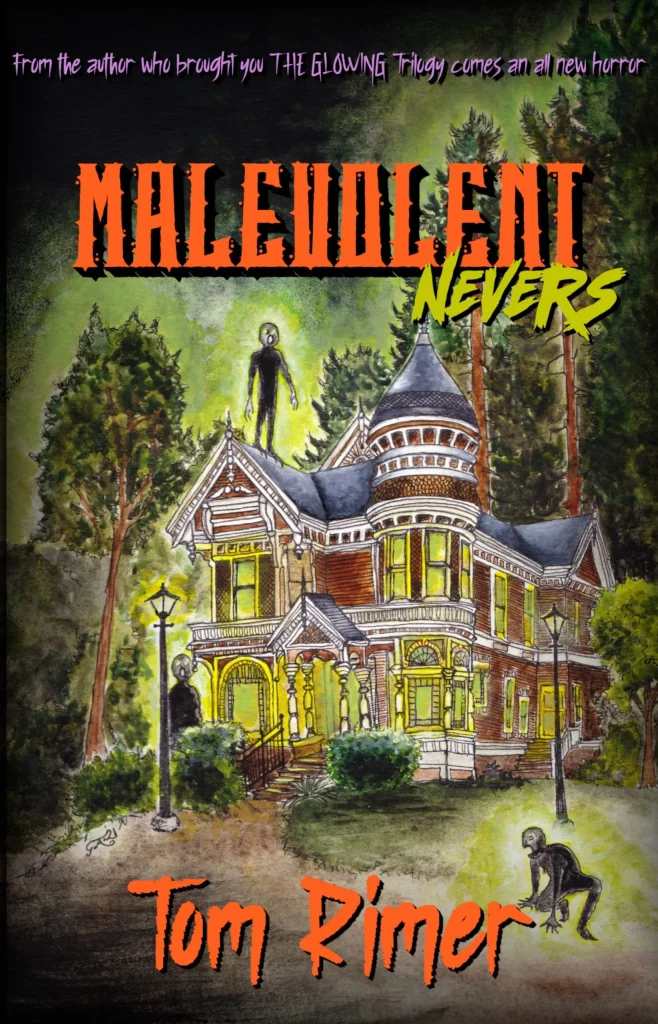 Malevolent Nevers by Tom Rimer
'Tis thy turn.
Abel Ward just wants to reconnect with his son. After having been a ghost for seventeen years, he's returned and trying to be a parent again. He doesn't want to mess it up. If only he knew where to start.
Here they wait for all our evers.
Simi Ward wants his dad to leave him alone. He's happy just hanging with his girlfriend, Mags, and though Abel is trying, it's far too late. Sometimes you really can't make up for lost time.
Our demons to bear.
And when a mysterious midnight call summons them both to an old family estate in New England, neither could have expected what would be lying in wait. An ancient evil so rooted in the story of their ancestors, it'd be impossible to dig up.
Our demons to share.
Will the secret remain buried, or will Simi and Abel finally learn the truth?
Does knowing the truth do anything to stop the evil from spreading?
Sometimes they be locked away, where no one can see 'em, outter sight.

Sometimes they be a droolin' face, starin' in through 'yer winder, in the dead of night!
"I absolutely loved Malevolent Nevers! The mystery of Ward House, the amazing characters that Rimer has written, and the chilling descriptions of the Nevers themselves were all perfectly executed. I completely tore through this book at lightning speed. Initially, it was because I couldn't get enough, but then an action packed second half had me tearing through the pages to discover the secret of Ward House and the fate of all those entertwined in its mystery! Malevolent Nevers easily takes a place in my top reads of the year. Horror isn't just for Halloween; I'd be hard-pressed to suggest a better book to curl up with under the covers on a cold Winter night. But, be warned. Some secrets should remain buried."
You can read my full review here!
---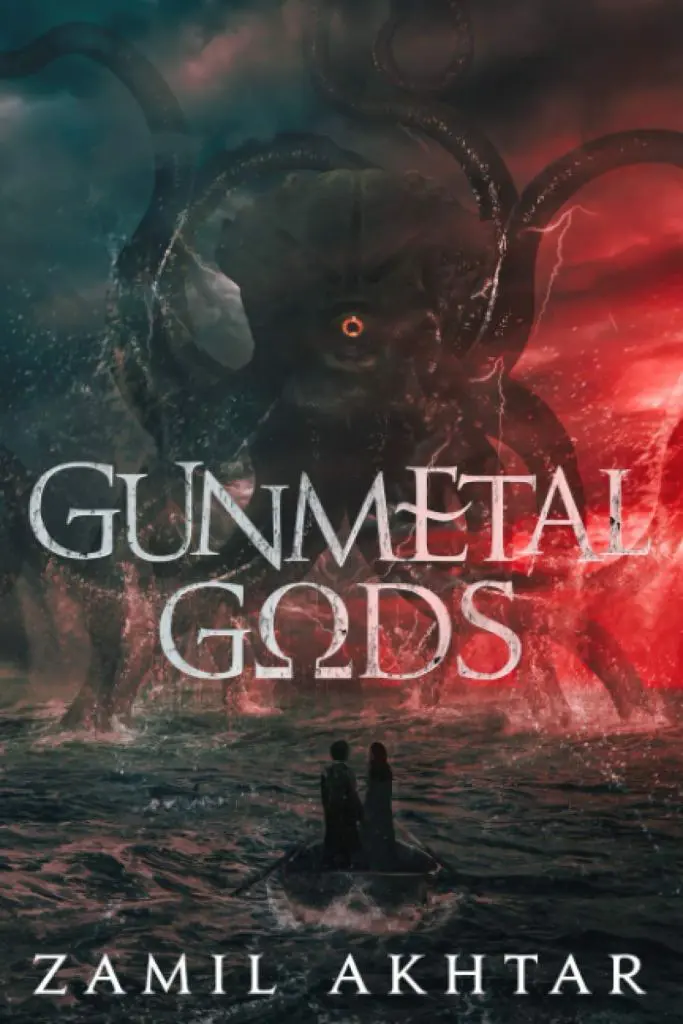 Gunmetal Gods (Gunmetal Gods #1) by Zamil Akhtar
They took his daughter, so Micah comes to take their kingdom. Fifty thousand gun-toting paladins march behind him, all baptized in angel blood, thirsty to burn unbelievers.
Only the janissaries can stand against them. Their living legend, Kevah, once beheaded a magus amid a hail of ice daggers. But ever since his wife disappeared, he spends his days in a haze of hashish and poetry.
To save the kingdom, Kevah must conquer his grief and become the legend he once was. But Micah writes his own legend in blood, and his righteous conquest will stop at nothing.
When the gods choose sides, a legend will be etched upon the stars.
"I really enjoyed my time with Gunmetal Gods and I can't wait to get lost in its sequel. From the beginning, I was swept away by the incredible worldbuilding and sweeping narrative. The real-world inspiration grounded the story and leant a lot of credibility to it, but the inventiveness in the worldbuilding was the real star for me. A decidedly dark and bleak tale, Gunmetal Gods nevertheless had me on the edge of my seat with its blistering pace, but I wish there was a little more time to sit quietly with the characters. Micah and Kevah are true leading men and watching their stories unfold was both exciting and heartbreaking in turn. Akhtar told them with an unflinchingly honest look at the realities of war and what loss and grief will do to a person."
You can read my full review here!
---