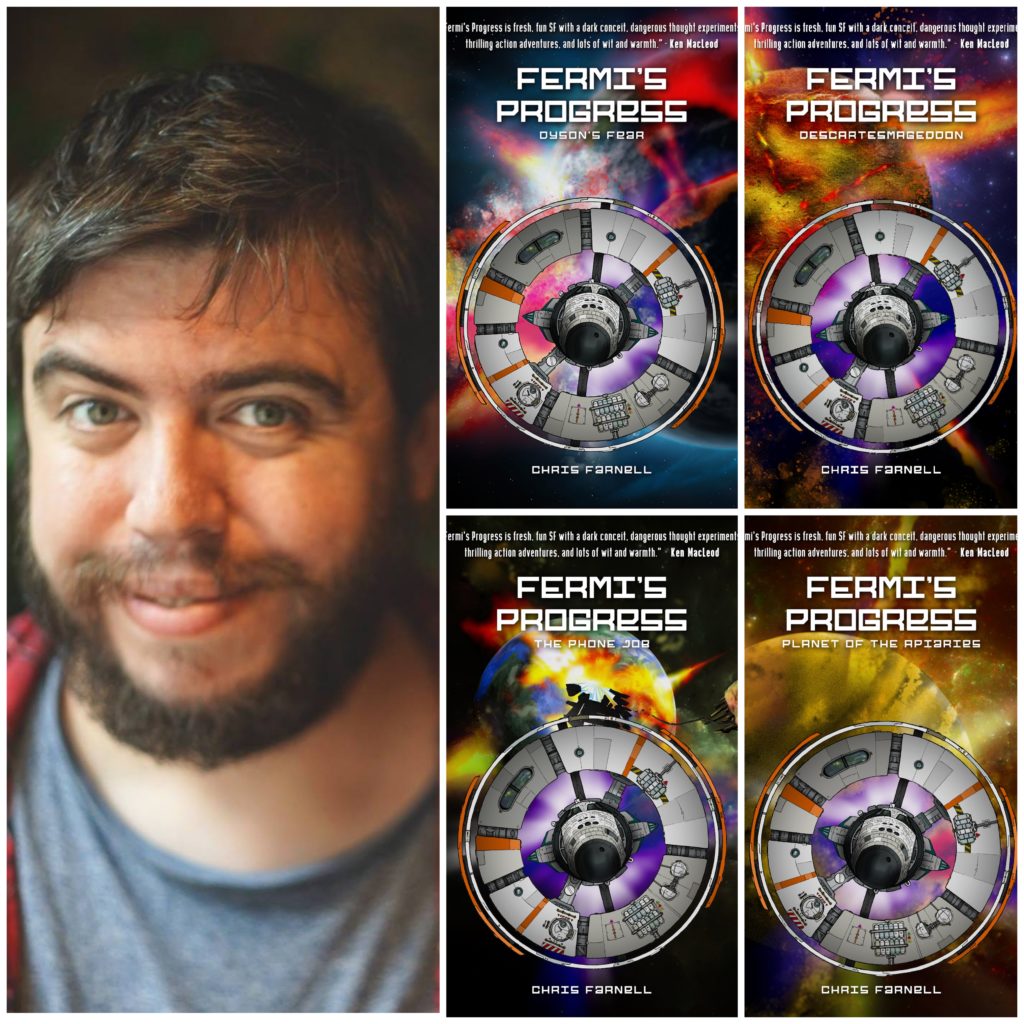 Thank you to Chris Farnell for interviewing with us here at Fanfiaddict! Chris is the author of the Science Fiction series Fermi's Progress and other works. Links for his Fermi's Progress series are included below!
Author/Book Links
Author Website: http://christfarnell.com/
Buy Directly from the Author: https://scarletferret.com/books/fermis-progress-season-pass
Amazon UK: https://www.amazon.co.uk/dp/B08QG5BLFD
Amazon US: https://www.amazon.com/Fermis-Progress/dp/B08QG5BLFD
Interview
1) Tell us a little about yourself
I've been writing since I was a kid, had my first novel published in 2006, and then spent 15 years bar tending, temping and eventually freelance writing. As well as Fermi's Progress I've written scenarios for the Spire: The City Must Fall TTRPG, once got a room full of people to write an entirely collaborative novella in just over an hour, and the achievement I'm most proud of- I am the author of the official Doctor Who joke book, "Knock, Knock! Who's There?"
2) What made you want to become an author?
When I have downtime, when there's not an immediate task demanding my attention or something else occupying it, my brain's natural screensaver is to put stories together. I think that's probably true of most people, but I get satisfaction from writing them down, and generally feel happier and healthier when there's a story going on than when there isn't.
3) Why write Science Fiction?
The honest answer is at an early age I realised that dinosaurs were real. A couple of years later I discovered the concept of time machines, which would let you visit dinosaurs. Not long after that I learned about Einstein's theory of relativity (as understood by a six year old after having it explained to me by an adult who, probably, just wanted to stop me explaining the plot of Back to the Future for five minutes), and how that could possibly lead to real time machines. A few years later, Jurassic Park introduced me to the possibilities of cloning.
Anyway, I write science fiction because it is a good genre for telling us we're wrong. It shows us what being human might look like from the outside, it shows that the borders of the thing we call "human" are broader and fuzzier than we can begin to understand. It shows us that the world can be different to the way it is arranged right now- for better or worse or, perhaps most wonderfully, neither. And it invites us to look at the world and ourselves through the lens of an impossibly large, constantly expanding universe where even the most catastrophic things we can imagine aren't even barely registerable blips.
But also I really want to see a dinosaur.
4) Tell us a little bit about Fermi's Progress. In your own words what is the story about?
A tech billionaire, scientist, a eugenic superman, and his control group discover a prototype faster-than-light starship cobbled together from obsolete Cold War tech. But when they turn it on they discover the ship's FTL obliterates every star system in its wake, and it can't be turned off.
But mainly it's about the planets they see along the way (before destroying them). A floating city on the inside of a Dyson Sphere, a planet of blind, sentient mushrooms fighting off a zombie apocalypse, beekeepers working in the atmosphere of a gas giant, and a planet running a SETI-like project as a telesales scam.
I wrote Fermi's Progress because I wanted an alien planet procedural- where our space explorers would turn up at a planet, explore, have an adventure, then fly off never to see it again.
And the best way to do that seemed to be to vaporise the planet when I was done with it.
5) What is a great book that you've read recently and why should we read it?
The most recent book I finished was Ken MacLeod's Beneath the Hallowed Sky. This was the book he Ken had just finished writing when I sent him Fermi's Progress, and he mentioned that there was a little thematic crossover.
Sure enough, Hallowed Sky features experimental, oddly British-Isles-centric faster-than-light travel, an alien planet with bees on it, and even something called "the Fermi". I'm also genuinely annoyed I didn't think of his title for Chapter Twelve first.
Of course, the major difference is that MacLeod is a legitimate master of the genre, and he's created a genuinely fresh and unique take on humanity's first steps into an interstellar universe. It's also set in the kind of deeply flawed, problematic, plausible yet somehow optimistic future that I think we really need right now.
6) Who are some of your favourite authors and why?
I think anyone who's read anything I've written will see Pratchett's grubby fingerprints all over it. Almost every major leap forward I made as a writer growing up- for an extremely extended definition of "growing up"- I made by finally figuring out how Pratchett pulled off a given trick and trying it myself.
Stanislaw Lem was a big influence on Fermi's Progress. His "The Star Diaries" stories are gorgeously surreal, satirical and cutting. He does Douglas Adams before Douglas Adams. At the same time "The Invincible" is another great example of the sort of story I wanted Fermi to be. It is a genuinely unnerving story about a completely alien form of life, where the danger isn't a malevolent alien intelligence but the blind and brutal forces of natural selection at work. Also, he was born in what is now the Ukrainian city of Lviv, and saw his country occupied by both the Soviets and Nazis, so it seems like a good time to read his work.
Another of my all time favourite books that's apt to read right now is "Roadside Picnic" by Arkady and Boris Strugatsky. Firstly, it is a deeply humane and wonderfully written book about ordinary people struggling in a hostile world. Secondly, it features one of the most successful depictions of aliens that are literally beyond our comprehension I've ever seen. Thirdly, it is a book by Russian authors which went on to inspire a Ukrainian videogame franchise about the aftermath of the Chernobyl disaster, to the point where scavengers and tour guides around the Chernobyl site have adopted the name "Stalkers" from the book. At a time when people are throwing at disavowing or distancing themselves from Russian artists who have nothing to do with Putin's murderous shit, I think it's a good time to revisit them as well.
Oh and Adrian Tchaikovsky's brilliant, perceptive, full of ideas and endlessly readable, just so we've got someone actually alive on the list.
7) I love book quotes. Do you have a favorite, non-spoiler quote from Fermi's Progress that you'd like to share?
"Are you trying to teach me how to be human?" the World interrupted.
"What? No!"
The World was silent for a few moments, then said, "It's just, in all your fiction, the monsters trend towards creatures that try to forcibly make their victims resemble them – vampires, zombies, pod people – yet whenever a human character meets an alien their response is immediately 'Hi! Let me teach you the virtues of slapstick humour and dimorphic sexual reproduction!'"
9) What is one thing that you love about the current state of Science Fiction and what is one thing that you wish you saw more of?
Science fiction at the moment seems like it's trying to present actual alternatives. Not political manifestos, but presenting worlds that are still full of their share of massive problems but which show things can be better than they are now.
Books like Charlie Jane Anders "Victories Greater Than Death", Elizabeth May and Laura Lam's "Seven Devils", even stories like "The Ninth" trilogy are showing that there can be better worlds, but also that even if you're in a dystopia it doesn't have to be this dystopia. There are ways of doing nightmare futures and evil alien empires without our own historical niche's hang-ups about race, gender, and sexual orientation.
10) What's up next for you as a writer?
I'm not done with the Fermi just yet. They've got more adventures to go on, more planets to explode.
Before that, however, I'm going to be announcing the paperback release of Fermi's Progress soon, with all four adventures together in one volume!