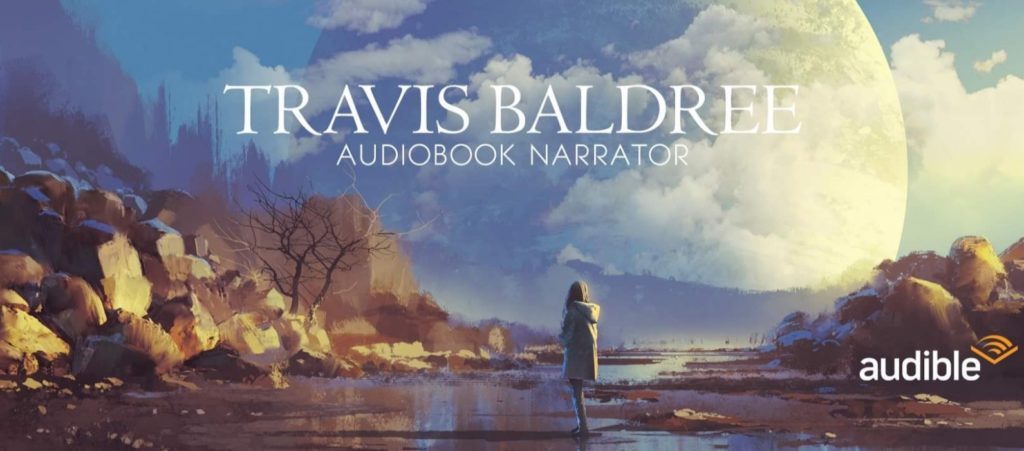 Travis Baldree is the award winning audiobook narrator of many, many books including the Cradle series by Will Wight, Divine Apostacy series by A. F. Kay, The Beginning After the End series by TurtleMe, War Priest (Mask of the Fallen #1) by Harmon Cooper, A Thousand Li series by Tao Wong, The Ripple System series by Kyle Kirrin, Threads of Fate series by Michael Head, and many more. Travis has done the majority of his work in the LitRPG and progression/cultivation fantasy subgenres, as well as other subgenres of fantasy.
1) Tell me about yourself
I'm a farm kid, grew up in Central Texas, moved to Washington State in the 4th grade, and have been here someplace or other ever since. Growing up I wanted to be an animator, a comic book artist, a robot builder, a novelist, a musician, a game developer, and probably a bunch of other things that had nothing to do with audiobook narration (or farming).
I've got a wife, two kids, and a dog, and I live in Spokane, Washington, which I very much enjoy.
I was a game developer for a few decades, ran Runic Games and Double Damage Games, made Torchlight, Fate, and Rebel Galaxy – and now I don't really do that anymore.
I like coffee, chocolate, and I would kill for a really good bowl of ramen.
2) Were you a big reader growing up?
I was – I've always enjoyed books and language. When I was a kid in Central Texas on a dairy in the middle of nowhere, stumbling across the Freddy the Pig series, and then the Hobbit, and muddling my way through Dune felt like discovering a secret that nobody else my age knew.
3) What is your personal favorite book series?
That's a tough one, and my answer would probably change every week… I'm pretty partial to The Dark Tower. Robin Hobb's Farseer Trilogy… Julian May's Galactic Milieu…This is really difficult! I fail entirely at this question.
4) Why did you decide to get into narration?
Initially I did it purely as a hobby. I used to read aloud to my wife and kids a lot, but they ended up needing that less and less. I was also a big fan of audiobooks, especially the GOAT narrator, Frank Muller, and I listened to an unbelievable amount of Jim Dale. For years, my wife couldn't go to sleep without listening to his narration of Harry Potter – it's still rattling around in my subconscious.
As a fulltime game developer, I put together the equipment to do more professional VO recording, and somehow stumbled across ACX at the same time. ACX is a service that Audible offers to allow authors and publishers to put books up for audition with individual narrators, and that facilitates the entire publication process.
Those elements all sort of collided, and I decided to give it a go – and it turned out that I loved it. My plan was to narrate on the side to entertain myself, but after a few years it became clear that I could make it a full-time prospect. Eventually I felt the wheels of the plane start to leave the runway, so to speak, and it aligned with wrapping up a big project at the game company I co-own…. and I decided to make the switch.
5) Is this your dream job? And if not, what is?
It certainly wasn't ever a twinkle in my eye, even 6 or 7 years ago. I've never considered myself an actor, and it was never an aspiration of mine – and the technology and pervasiveness of audiobooks didn't exist in a way that made it a viable option before relatively recently. I can't imagine doing anything else, now, and mostly I feel impossibly fortunate that I happened to be ready to do it at a time where personal devices and the audiobook industry reached this inflection point to make it an option.
So, now, I guess it IS my dream job – I just never dreamed of it.
6) You were a game developer before you started audiobook narration. Both deal in bringing stories to life. How does audiobook narration differ from game development?
Apart from the fact that they're both creative endeavors, they really couldn't be more different.
For game development, the player is really telling the story, and narrative just functions differently in that medium. Game development as a job is an act of endurance – you work extremely hard, solving problems that are always new with a timeline that is almost impossible to predict, ship your title, and then deal with the aftermath of fixes and player requests. After years of draining your finances, you crawl out of the crater of release and hope enough money comes in the door to let you do it again. It's tough. It can be very rewarding, but it's a tightrope walk over lava. I don't regret my time doing it, but it's not something I plan to go back to.
The things you build also have a very short shelf life – technology renders each thing you make obsolete in a handful of years (Except for high profile titles that get remasters) – whereas an audiobook performance can endure.
With audiobook narration, the problems aren't technical – they're always of interpretation. But you've got a limited toolset, just your voice, which keeps things simple. You don't need to develop new technologies or approaches, you just continually hone your ability to transmit what the author is saying to the listener. Maybe you're learning a new dialect. You ship every week or two, and once the project is out of your hands, you're done – releasing audiobooks is actually usually really pleasant, versus nerve-wracking.
You've got a limited amount of time you can work in a day – your voice just can't do more. For workaholics like me, this is great, as it puts a hard cap on your daily hours, and you can't burn yourself out as easily.
Audiobook production, as an industry, is also a lot more diverse. Game development is largely white guys from 21-45, but the Audiobook industry is hugely more varied, which is really, really nice.
7) Did you specifically choose fantasy as a go-to genre for your narration?
Not really – it sort of chose me. I have always loved speculative fiction first and foremost, so I greeted it with open arms, but I sort of expected I'd be doing more horror or thriller titles. I think the fact that I lean into character voice work probably paved the way, and reading Will's books opened a lot of doors for me. Cradle did a lot more for me than it ever did for Will. Fantasy/Gamelit/Genre fiction just came way as a result.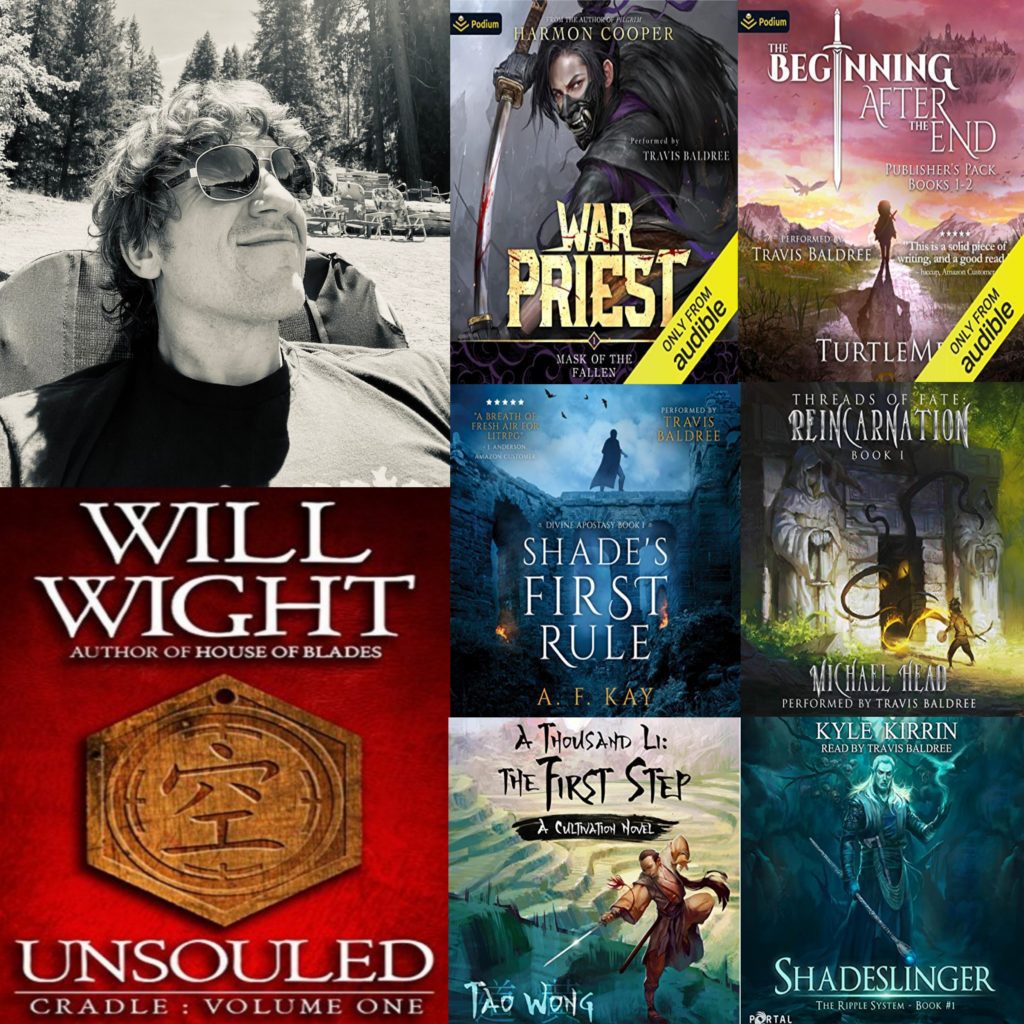 8) If you could pick any series to narrate, which would it be?
This is actually a really dicey question, because I'd never want to take away a series that someone has already narrated. Selfishly, I'd enjoy doing them for my own personal enjoyment, but I wouldn't want to mention any of those for fear it would come across as a commentary on the current audio incarnation.
So, if I had to pick, it would be a forthcoming series from an author I love. And that list is really, really long. To prune it down to something manageable, I'd love to do a Sanderson series, or a King book, or Robert Jackson Bennett. If Scott Hawkins (The Library at Mount Char) writes something new, I'd burn to read it. I will read this short list later and slap my head at someone else I should have mentioned. Probably 20 someone elses.
9) Tell everyone about your experience with Will Wight's Cradle series.
Well, that might take longer than this interview could accommodate –
I feel like I lucked into this and thank my lucky stars every day. Unsouled went up for audition on ACX, I briefly read the blurb, checked out the audition text, and thought it sounded like a lot of fun. Sent in my audition – and then much later had a call with Will to talk over it. I really didn't know the ride I was getting on at the time, and I don't think I fully grasped it until Blackflame. (To be fair, I'm not sure if many other people did either).
The best feeling you can have as a narrator is to be performing a book where you feel like you're in sync with it, and I feel that with Cradle. I can see it in my head, I feel like I know the characters, how the humor is supposed to land. I think I can see and understand what Will is doing with his prose – the economy, the way he manages his worldbuilding, how he effectively hints at rather than overworks the background, the way he folds character development into action sequences. It has a very clear and strong tone that I can hear. The beats all feel self-evident to me.
Getting to narrate books like that is a gift that can never be over-appreciated.
I'm just very grateful I get to do it.
10) I recently saw you and Will Wight met for the first time. That has to be pretty cool!
It WAS actually pretty incredible, and… comfortable. We'd spoken on the phone, there have been plenty of emails, but Will and his family are just good people, and it was amazing to be able to spend time with them. It felt like we'd known each other in person for a lot longer. I was really grateful to finally be able to see them in the real world.
11) Do you have any upcoming audiobook projects that you would like to talk about?
There are a LOT of books that are either not released yet, or are soon on the schedule that I'm excited about, but here are a couple- Unbound from Necariin – I recorded this several months ago, and it totally took me by surprise, and I loved it. It hasn't been released yet, but I thought it was fantastic. Jake's Magical Market is on my schedule for next month and looks like a blast. I just recorded Forthright's Galleries of Stone 1, which was so peaceful and wonderful (also not released yet).
12) The final question and the most important. Between you and Will Wight, who likes Oreos more?
There's no question it's Will. I don't think I'm even in the running.
---
I hope you enjoyed this interview! You can find Travis Baldree on Twitter, Facebook and his website to keep up with all of the things that he is narrating.