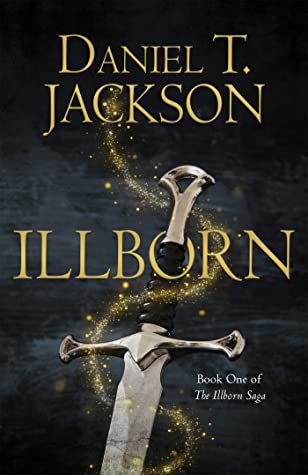 Rating: 10/10
Synopsis
Long ago, The Lord Aiduel emerged from the deserts of the Holy Land, possessed with divine powers. He used these to forcibly unite the peoples of Angall, before His ascension to heaven.
Over eight hundred years later, in a medieval world which is threatened by war and religious persecution, four young men and women begin to develop supernatural abilities. These forbidden and secret powers will shatter the lives that they have known, and will force each of them to confront the mystery of the ethereal Gate which haunts their dreams. What does the dream mean, and how is it connected to their burgeoning abilities?
As they experience conflict, love, lust and betrayal, in lands which are being overtaken by war, they must try to stay ahead of and to survive the sinister forces which are now pursuing them. For they are being hunted…
ILLBORN is Daniel T. Jackson's powerful and gritty debut novel, and is the thrilling opening chapter in the epic fantasy story of The Illborn Saga.
Review
Illborn is a one of a kind fantasy debut from Daniel T. Jackson, that instantly captured me (yes I'm looking at that prologue) and had me addictively reading it anytime I could. I can't fully describe my feelings after finishing it, so instead I'll try to convince each and every one of you to read it.
Rarely has a book captured my attention so quickly and to this level. In fact I can probably count the authors who have achieved that on one hand. I started seeing more and more of this book appear online and after a few recommendations from friends decided to pick it up. I'm so glad that I did because this book blew my mind.
The setting of Illborn had me completely engrossed. There were a lot of similarities drawn from medieval Europe, which yes is prevalent in a lot of fantasy, but in this case felt so fresh and different that it did not matter. Since history is another passion of mine I enjoyed seeing similarities to The Inquisition and The Crusades. There is a European-esque continent constantly squabbling over meaningless power struggles and on the verge of war, there are parts of a fanatical church vowing to increase their domination over it's people and there is of course the promised holy land that is so sought after. Jackson did a fantastic job of highlighting the issue with people rather than their religion. Normally fantasy with heavy elements of religion fall short of this, but I think Jackson handled this perfectly. What really stood out for me is how Jackson made his world feel alive and teaming with a unique characters and secrets to be found. I really felt like I was being introduced to a huge new world, that I wanted to discover more of.
The characters in Illborn are what really stood out for me and you'll quickly realise why this book is so aptly named Illborn. Despite the overarching theme of the story, each character also had their own conflicts to deal with. The story follows four main characters, each possessing some kind of innate magical ability that coincides with their character also linking them to each other. Following their development while they each discovered this ability one by one, felt quite entrancing.
Firstly there was Arion, son of a duke and wanting to make his mark on the world, Allana, who finds herself struggling to survive on her own, Leanna who is set to decide her future between two huge choices and lastly Corin who finds himself an outcast from his clan. What made these characters feel special is that each was so different to the other and came from such different backgrounds, while possessing different yet even complimentary abilities. The issues each character had to deal with felt real and aided in their character development. Now, I usually find I have a clear favourite character, but in this case all four were extremely likeable and relatable, so that I found self engrossed in every single one of their chapters. I will say Allana and Arion stood out for me just a tad bit more. Allana's struggle and drive to survive was an extremely addicting read and I found myself rooting for her survival. Arion on the other hand had a much more privileged upbringing, but was no less interesting due to his drive to become a leader among his people and prove to his family he was a capable of this. I will say, if you read fantasy for it's characters, then this is a must for you.
The writing in Illborn was absolutely excellent and it surprises me just how good it is for a debut novel. It's clear that Jackson has a huge amount of experience writing and has decided it was finally time to make use of his skill by writing fantasy. Never was there a slow moment, so that I took in every sentence like the sweet taste of wine. I can at times be a serial skipper if a book doesn't engross me, but in this case I can safely say I savoured every-single-word.
I cant express enough how much I can recommend this absolutely phenomenal book. This really is for anyone looking for a fresh character driven fantasy from an indie author, who I firmly believe everyone needs to know about. Really, just go read it! Oh, but be ready for that ending…phewwwww!